How to store tights to avoid damage
Posted by SOCKSHOP
Tights are a wardrobe essential, with most women owning a minimum of one or two pairs. They are a wonderful accessory that everyone can wear with ease. Thanks to the wide array of styles, thicknesses and patterns, tights can also be worn at different times of the year.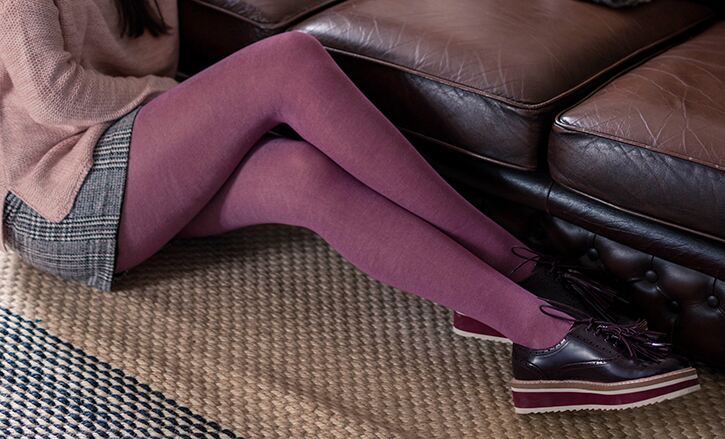 However, many people are not aware of the best ways to store tights, often finding themselves disappointed or stuck for something to wear when they select their favourite trusty pair of tights from the wardrobe, only to find a rip or ladder in one of the legs. By learning how to store tights correctly, you can avoid these problems and ensure the maximum use of your tights. You will also own the title of being organised and well put together, every time.

At SOCK SHOP, we know all about this problem, so we have written this helpful guide to ensure that you will be able to keep your tights in tip-top condition. Here are some of our top tips to help you learn how to store tights.

Bag your tights
When it comes to organisation, many people differ in organising by type and style. If you find yourself with a large selection of tights and very little storage space, this is the ideal solution. All you need is a plastic food bag or a silk bag and some labels. Choose how you would like to organise your tights and label each bag accordingly.
Carefully roll your tights or stockings neatly and place them inside the bag of your choice. In doing so, you will quickly be able to search through your collection to find the perfect pair of tights without pulling or damaging any other items in your draw.
Knot your tights
Knotting your tights is another ideal storage method, as it will enable your tights to be kept together in an organised way. If you want to keep your tights organised and neat, tie each pair gently into a loose knot and then place each pair of tights next to each other in your drawer.
Again, you won't need to pull on each pair as you remove them from the drawer. Each knotted pair of tights could either be lined up next to each other or stacked one on top of the other to make use of storage space. In order to protect your tights, avoid storing them next to any bras or sharp-edged items, as this will most likely cause unwanted damage to your tights.
Use a coat hanger
If you find yourself short of drawer space, you can easily maximise any available hanging space by gently hanging your tights on clothes hangers. You will need to use the coathanger with the long bar across the bottom. Although usually used for trousers, this will serve as the perfect tight storage accessory.
Again, an organisation system is key, so make sure that you choose a way to group your tights into categories. Once you've done that, you will need to knot them gently around the bar at the bottom of the hanger, ensuring that you're not pulling firmly on the tights.
To knot your tights without damaging them, you'll need to fold them lengthways and carefully loop them around the lower bar of the clothes hanger. You can then knot them like a shoelace - the tights will stay in place with a tiny, loose knot. Try not to pull or stretch your tights in the process, as this will cause them to lose their shape.
Roll your tights
If you find yourself with enough drawer space for your tights, you can roll them into small neat rolls and store your tights gently in a section of your draw. We recommend sectioning your drawer into different areas or even using a drawer organiser to ensure the highest level of organisation.
Use a pocket hanger
Another good idea that you can try is to use a hanging pocket organiser. A hanging pocket organiser is especially useful for optimising wardrobe space, especially if you currently feel like you don't have enough room in your wardrobe for additional garments. A hanging organiser will also offer good protection against damage. It includes protective plastic pockets that enable items to be tucked away and kept safe, making them easy to access.
Make use of space under the bed
If you can't think of any additional space in your room, try using an under the bed storage box. These boxes can be purchased in several homeware stores and fit nicely under the bed. These boxes usually come with a lid and provide ample storage space for tights and stockings. All you need to do is roll up your tights and order them by your preference.
A good organisation system allows you to find the perfect pair of tights quickly, and a solid lid protects your tights from dust or dirt.
If you've been thinking about purchasing a new pair of tights to compliment an outfit, why not explore our range of ladies' tights? Whether plain or patterned, ribbed or cotton touch, we have a wide selection of tights to compliment any stylish look. Tights can complement any figure, so find your perfect pair of tights at SOCKSHOP.