Polyester vs cotton socks: What's the difference?
Posted by SOCKSHOP
When you're on the lookout for a new pair of socks, the design and colour are often the deciding factors before purchasing. However, the material should be a major thinking point before selecting your new socks. For example, for you, which material would be better: polyester or cotton socks?

Keep reading our helpful guide if you'd like to find out the pros and cons of polyester socks vs cotton socks, so you can make an informed choice about the material the next time you purchase a new pair.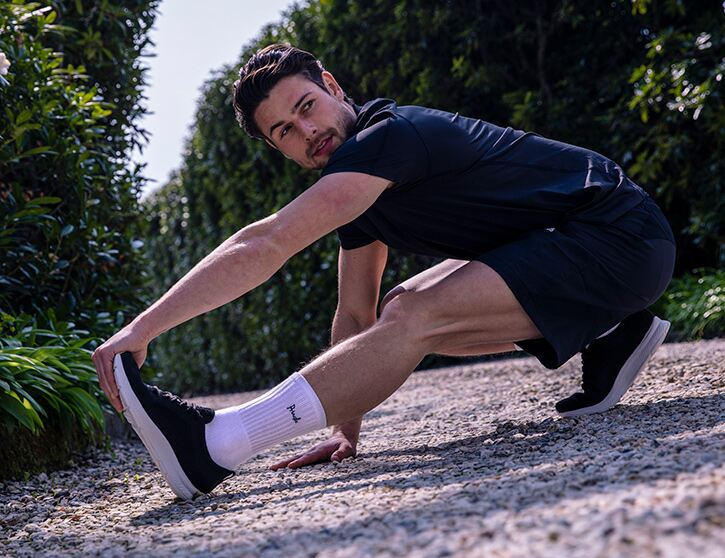 What benefits do polyester socks have?
Polyester is a man-made synthetic fibre made up of incredibly small pieces of plastic tightly woven together, making it a strong and durable fabric. Because of polyester's dependability, polyester socks are longer lasting and retain their shape better than socks made from other materials. Not only can you depend on polyester socks to keep going for a long time, the colour remains truer to its original shade and pattern for much longer than cotton or wool.

Breathability has also become a major factor in why polyester socks have become so popular, especially for wearing during exercise. Manufacturers have developed synthetic fabrics that are superior to rival materials when it comes to ventilation and perspiration. It means that the material keeps your feet cool in warmer temperatures. Polyester socks are also able to pull moisture and sweat away from the skin, making them a more comfortable option in many different settings.
Polyester socks are extremely lightweight and comfortable too, providing warmth and softness to your feet. This makes them ideal for wearing in outdoor settings while on your feet, but also provides comfort during a day at the office.
In summary, polyester socks are:
Strong and durable

Lightweight and comfortable

Quick drying

Wrinkle resistant

More colourful
What benefits do cotton socks have?
Cotton is a natural material that provides great warmth and comfort to your feet. Made of natural fibres, cotton socks are known to be breathable and are often favoured to polyester because they're not man-made.
Wearing cotton socks during exercise and outdoor activities has been shown to provide great ventilation and ensure you sweat less. However, manufacturers have been able to create polyester fabric that works just as well. The comfort cotton offers is a major reason as to why many people choose this natural fibre, though.
Plus, cotton socks do still hold colour relatively well, and are excellent for people who suffer from any allergies, or have sensitive skin, thanks to those natural fibres.
The benefits of cotton socks are:
Comfort

Breathability and ventilation

Made of natural fibres

Great for use on sensitive skin

Anti-allergenic
Polyester socks vs cotton socks
When it comes to making your mind up on the polyester vs cotton socks debate, it's important to note that both fabrics have their benefits, and whatever suits you better is the smarter choice.
For instance, if you suffer from any allergies or sensitive skin, cotton socks would be ideal for you. However, cotton socks don't deal well with moisture, so polyester socks would be a better option if you plan on wearing them while exercising or working outdoors in warm weather. This is because they dry quicker thanks to polyester's non-absorbency.
In certain situations you can interchange materials. If you work in an office environment and are looking for something warm, soft and comfortable for all-day use, then cotton is an excellent choice. Equally, polyester is durable, soft and long-lasting. You can rely on those socks for longer, they'll keep their shape and colour, and they'll always be comfortable.
With the advancement of technology, though, manufacturers have been able to cross-blend different fabrics to create newer, better materials with the benefits of both polyester and cotton. Studies have shown that moisture absorption of a polyester and cotton blend is improved, and dries quicker than either fabric on its own.
Personal preference
At the end of the day, polyester socks vs cotton socks may just come down to your personal preference, or the setting in which you'll be wearing them. The design, colour and absorption qualities of polyester may be just your thing. However, the manufactured nature of the fabric may put you off. In which case, you might prefer the more natural fibre of cotton, which holds plenty of comfort, warmth and breathability.
There are also other fabrics available to choose from, like wool, cashmere and silk. Meanwhile, bamboo socks have become a newly popular option.
Socks at SOCKSHOP
Now you know everything there is to know about polyester socks vs cotton, it could be the perfect time to restock your drawer with a range of new socks. Check out our selection of socks for kids, ladies and men today, in a variety of fabrics. For more information about any of our SOCKSHOP products or for help with orders, please contact us on 08000 195 667.