What colour socks should you wear with white trainers?
Posted by SOCKSHOP
Is your sock game slacking? You'll probably be no stranger to spending time looking in the mirror pairing the right trainer to your outfit, but you may not spend much time thinking about which sock to wear with your trainers! Don't let the simple sock be an afterthought because it could make or break your outfit and take that 9/10 outfit to a 10/10… Here is our guide to what colour sock to wear with white trainers.


What colour sock to wear with trainers and why…
What is a picture without the frame it's in? Well, socks should be considered as the item that frames your favourite pair of trainers! But colour and style is all dependent on your shoe choice. For instance, your colour choice of socks with white trainers may be completely different to what you'd wear with colourful trainers.
There may be many reasons for wearing trainers such as exercise, day to day wear, or even date night. It's important to think about the purpose and how you want to stand out when picking your socks. You may want to consider things such as material, colour, and length. To get you inspired here are some of our favourite trainer sock combos!
Make a statement
View this post on Instagram
A simple outfit doesn't always mean a simple sock. In fact, this is your chance to have some fun and get a little creative with your footwear option. So why not try a bold print with some personality? From polka dot to animal print, we have a style to bring your outfit to life.
Take inspiration from one of our favourite trainers and sock combos from @lana_chaos - answering the age old question "what colour socks to wear with white trainers?" She effortlessly matches her statement sock to her accessories and brings an otherwise neutral tone outfit to life.
Ravishing in red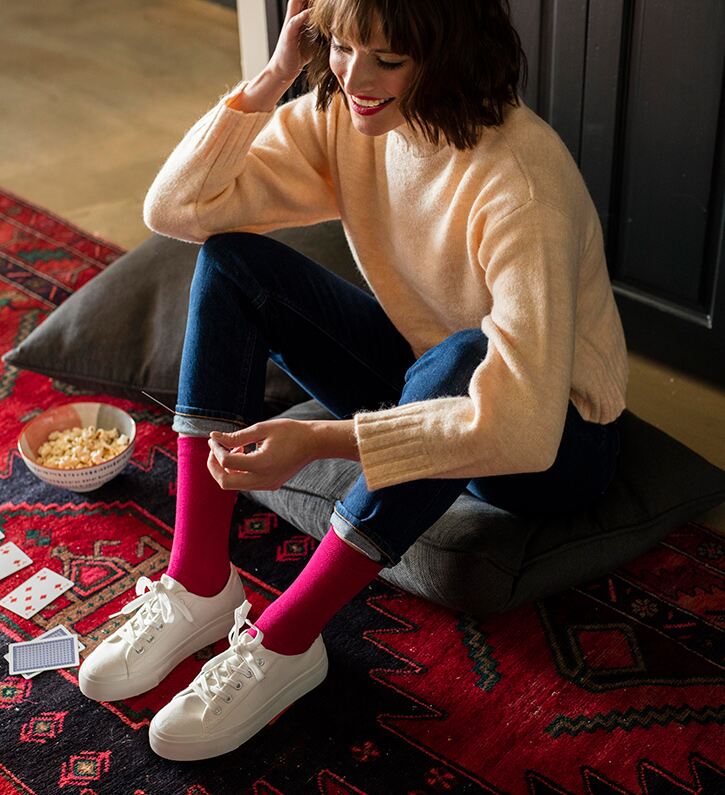 Red socks can add some flair to your casual attire to help bring that little bit of spring to your step. Red can be perfectly coupled with both a light or a dark shoe and pairs incredibly well with a variety of jeans.
Dark trainers with red socks –Pairing with a dark trainer gives a surprising and vibrant element to an outfit and could be a perfect option for a night out look.
Light trainers with red socks –Take inspiration from @hanbritland and style a red sock to a light comfortable trainer and blue jeans for a casual and sleek look that will elevate and bring any outfit on trend.
Red is a confident and bold colour and doesn't need to be a scary choice. We have a whole range of red tones from burgundy to coral and recommend you give it a go!


Get matchy matchy
View this post on Instagram

Layering tones could be a perfect way to make you stand out! Using different shades of the same colour can create a dramatic statement and channel a modern style.

But be careful of the 'booty effect'! This is where your socks blend to the shoe and create an ankle boot like style, this is often caused by black on black.

Take some inspiration from @kwadwobenko who perfectly uses different shades of the same colour to create an interesting look that makes your favourite trainer become the statement.


Classically monochrome in black or white
View this post on Instagram

A monochromatic black and white colour palette never goes out of fashion and can be a good way to start thinking more about your sock choice. It may seem like a simple choice, but this neutral style can't steer you wrong. So if you have that panic about what colour socks go with white trainers, or black trainers: DON'T WORRY! We have you covered.

Take inspiration from @aloiserita who combines white socks and trainers beautifully, her style is immediately elevated and looks almost effortless.

A good pair of black socks or white socks are a solid investment because they pair well with most colour trainers.


Looking super in sports socks
View this post on Instagram

Why not try the all-purpose sports sock and trainer combo? Whether you're training or relaxing, these are the socks to wear wherever you go – to the gym, to the bar, or even to work!
The high sock with trainer combo creates an effortless 90's style. Want to know how to master this look? Take inspiration from the fashion icon Princess Diana, who looked effortlessly chic and sporty and still inspires others with her outfits today!
Comfort and style - what more could you want? Get gym ready with mid length men's and women's socks.


Ready for action with a classic trainer sock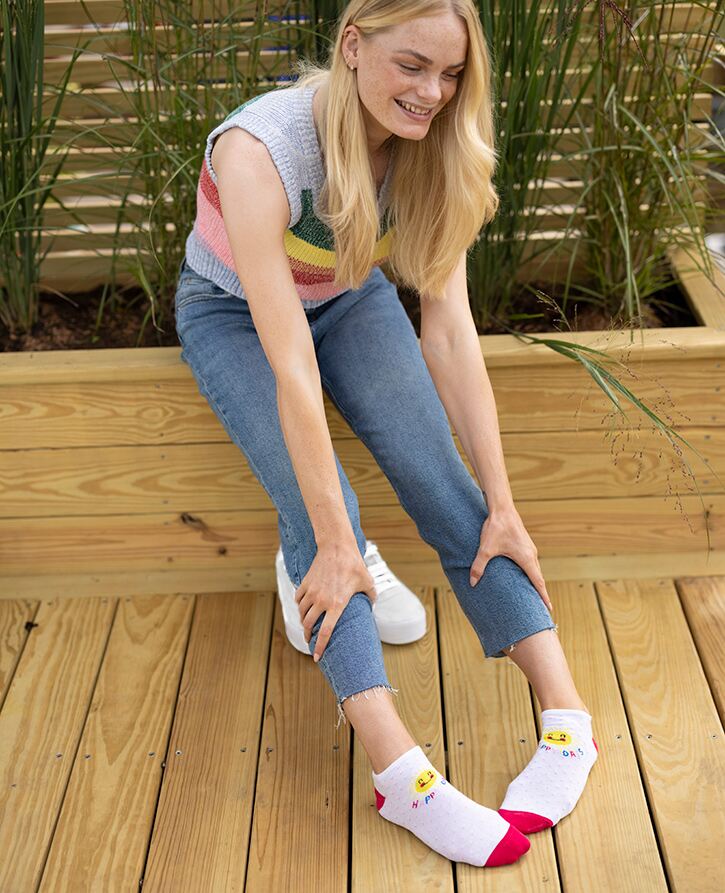 In a rush? You can't go wrong with the staple trainer sock. They act as an invisible liner which makes them perfect for any activity. So whether you're wearing workout trainers or Converse, sports socks are the perfect accessory.

Trainer socks come in a range of fabrics and styles, from patterned to plain, bamboo to cushioned. So you can be comfy and ready to conquer the gym.


Channel your favourite character
View this post on Instagram

Want to channel your inner strength and get inspired? A novelty sock could be just what you need! Cheer those feet up and brighten up your next gym sesh.
Take inspiration from @olima_omega who becomes the hulk during every gym set! Who will you be? Wonder Woman or Superman… We have so many characters you can channel with our novelty sock range!
What is your favourite sock style? Don't forget to tag us and let us know on Facebook or Instagram!
Check out our selection of kids' socks, ladies' socks and men's socks! For more information about any of our SOCKSHOP products or for help with orders, please contact us on 08000 195 667.