What socks should you wear with brown shoes?
Posted by SOCKSHOP
Whether you're in a professional setting like the office, or at a social event, brown shoes can complement an outfit well. However, there are actually some unwritten, and to many people unknown, rules when it comes to wearing socks for brown shoes. There are a few colours to avoid, so keep reading our helpful guide on which men's socks you should wear with brown shoes.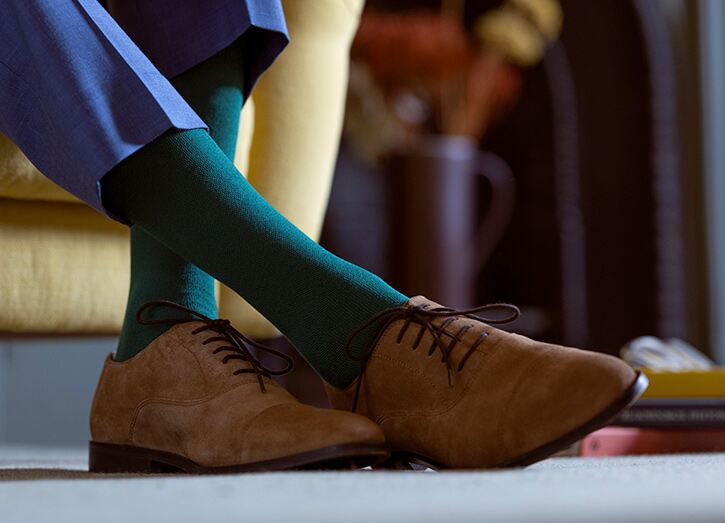 When to wear brown shoes
It may be very tempting to wear your brand new brown shoes to your next social event, but there are certain occasions where black shoes are more suitable. In general, black shoes are considered to be the better option for social events, but you should avoid brown shoes specifically for funerals, black and white tie events, and weddings.
Brown shoes are ideal for tailored or dark jeans, so are the better choice for an outdoor event or reception, especially if the weather is glorious and the sun is shining. Wear them with confidence when you do decide to make them a part of your outfit, but be careful which colour socks you wear with brown shoes.
Colours and shades
Picking the right colour socks for brown shoes can be tricky but navy, blue and black are the easy go-to options, generally.
Deciding on the correct shade is where it becomes difficult. Black socks match black shoes and trousers easily, but you need a different shade of brown to match those brown shoes you've got your eye on. If you're matching the same shade of brown between your socks and shoes, you're heading in the wrong direction. Try a slightly different shade of brown and incorporate a complementary colour for an even better match.
Your best bet for socks to wear with brown shoes is blue or navy. They contrast well with brown and are ideal for social or professional events. Plus, you can never really go wrong with shades of blue, with or without brown shoes.
You can also try to match the colour of your socks with another aspect of your outfit, like a tie, jacket or shirt. Wearing a light blue shirt? Try a pair of socks the same colour. Along with your brown shoes, the outfit will match up well. The light colours work well in an outdoor setting as well as the office too.
Patterned socks
Of course, when wondering which socks to wear with brown shoes you don't have to restrict yourself to solid colours and plain designs. Patterned socks, in the right colour, work very well in different environments.
When considering patterned socks, think about what it would look like on a tie. If that pattern was on a tie, would you wear it? If the answer is 'no' then avoid wearing the socks. In a professional setting, patterns such as pinstripe, argyle and ribbing are generally acceptable.
In a social gathering with friends, you can be a bit freer with your thinking and pattern choice. But remember: the colour still has to match the brown shoes, so try a patterned sock with a navy base as a starting point.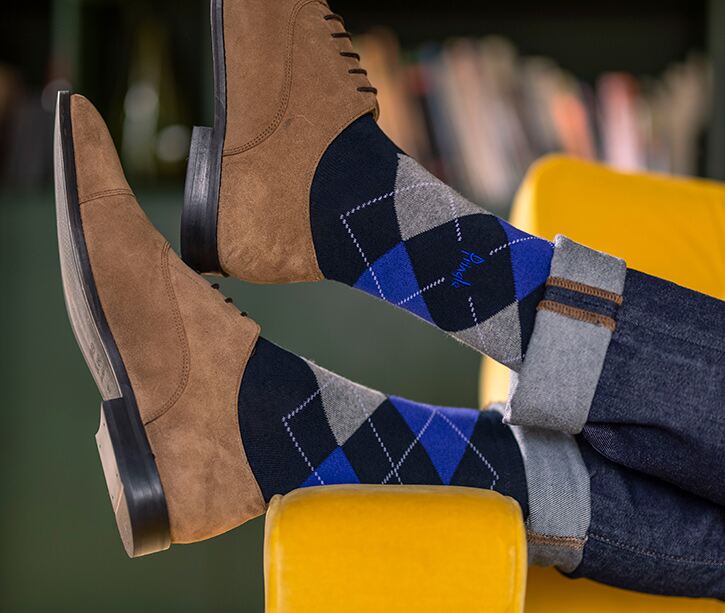 White socks
White socks haven't been mentioned yet as we thought it best to leave it to its own section. This is because you should never wear white socks with slacks or smart shoes.
White socks are only appropriate for casual clothing, so shorts, joggers, and jeans. They should never be worn with professional attire or to a formal event, even if they're unlikely to show through your outfit.
So, remember: avoid white socks with brown shoes!
Materials
Wool, polyester, cotton and nylon are the most commonly used materials for socks. But you can experiment with other fabrics, especially for formal occasions or professional environments.
When considering the material of the sock you're wearing, you must first think of the weather conditions, and the setting you'll be wearing them in. If you're planning on wearing your brown shoes at a summer event, wool socks would be a poor choice due to them holding in heat; they're much better for a colder environment. Cotton socks are also not the wisest choice for such an occasion, so consider polyester or bamboo socks.
Bamboo socks are not only cooler in warmer temperatures, but offer more warmth in colder weather too because of the bamboo fibre's microstructure, which is filled with various micro-gaps and micro-holes.
For a professional setting, navy thin silk socks are an ideal pairing for brown shoes.
Socks at SOCKSHOP
Now you know everything there is to know about the ideal socks for brown shoes, it could be time to restock your drawer with a range of new socks. Check out our selection of socks for kids, ladies and men today. For more information about any of our SOCKSHOP products or for help with orders, please contact us on 08000 195 667.