Get the perfect socks for hitting the slopes
Posted by SOCKSHOP
It's important to get the right equipment and clothing when you're hitting the slopes this winter - and the best place to start is your feet. After all, they're not only attached to the board or skis but they're also closest to the ice-cold snow.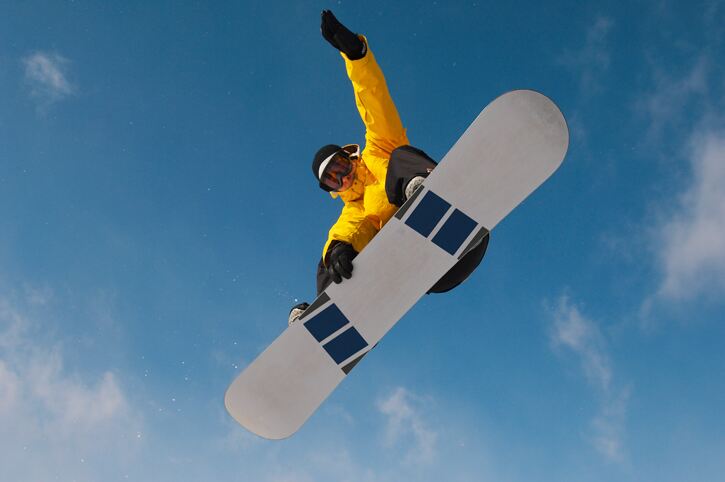 Here's our shopping guide to getting the best snow socks whether you're going to the Alps or the Cairngorms.

Get the right size

It's vital that you shop around and look for socks that have actual sizes on instead of being just one-size fits all. Socks that are the wrong size can often bunch up and rub or pinch your skin.

Remember also that while boots appear larger than your everyday shoes, the sizing should be the same. So go for socks that are the same size as your shoes, erring on the smaller size as they are less likely to fall down as often.

Also, only ever wear one pair of socks. Don't be tempted to wear two pairs to add warmth or make the boots fit better as they will rub against each other and end up bunching at the bottom of your boots.

Which type to go for?

There are a number of suitable sock types to choose from. These include:
Tube: your basic, everyday winter sports sock. They're like regular socks but a bit longer than normal to account for the height of the boots.
Ergonomic: designed to mould to the shape of your foot and often come with a right and left sock. As they're fitted to your foot, they're less likely to move around inside the boot providing a comfier ride.
Cushioned: skiing and snowboarding can put your feet through the wringer, so cushioned or padded socks can offer welcome protection.
Special features:
you'll also find a range of special features from anti-ripple zones to stop your socks from bunching up to knitted-in additional ankle and arch support.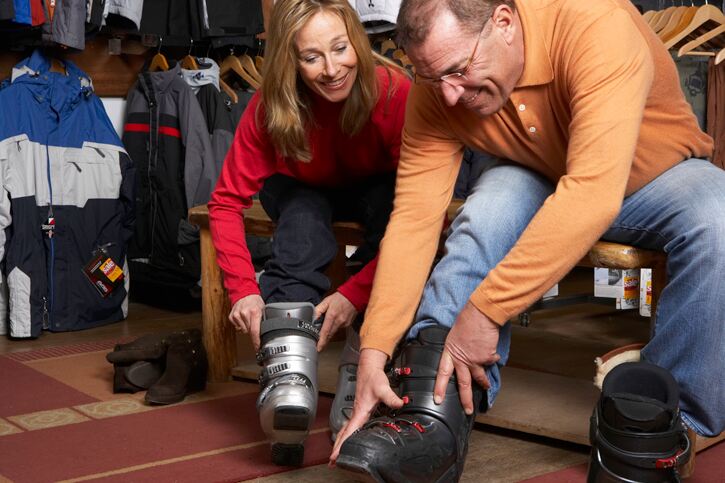 What's the best material?

Again, there's a range of materials coming in a variety of prices.
Wool: whether it's standard or merino, wool socks are lightweight, breathable and comfy. The natural wicking ability helps keep your feet dry and warm. It also means you can wear them more than once without washing.
Cotton: while everyday socks are often cotton, you'll be hard pressed to find winter sports socks that are 100% cotton. But you can find pairs than have a small percentage of cotton - usually more affordable than 100% wool.
Synthetic: from nylon to polyester, synthetic fabrics have been fine-tuned to create the perfect sock for all occasions. Sock makers have developed ways to make them wick moisture and be lighter than wool. They also retain their shape better than wool socks.
Mixture: many socks for snowboarding or skiing tend to be a mixture of the above, taking the best properties of each and combining them into one sock.

How about weight?

Do you want your socks to be thick or lightweight? It very much depends on where you're skiing and the boots you're wearing.

Old boots worn in cold temperatures mean you might want to opt for a heavier, warmer sock. But as technology has progressed, boots now offer greater protection from the cold, so lightweight socks are often preferred. This is also because a thinner sock means you'll have more freedom to move your feet, which is important on the slopes.

Thicker, padded socks are, however, good for beginners as they up the comfort level. Or you could go in the middle with mid-weight socks that offer a compromise in comfort and movement.

Shouldn't they look good?

Hey, we're all for practicality but we also know that there'll be a lot of removing and putting on of boots in front of people, so we like our socks to be smart as well.

We suggest something bright and colourful in darker shades. Geometric patterns are big this season or go for some bold colour blocks.