The evolution of a sock: Designed, made and ready to go!
Posted 17th January 2013 by Katrina
Way back last year, last spring even, I wrote a few blog posts on the evolution of the whole sock-making process, following the progression of our Elle spring/summer 2013 range.
Well, rather crazily, it is almost time for those socks to go on sale! And as a way of trying to combat against the cold, dark and (now) snowy days of January, I thought I'd share with you what some of the final socks now look like (cos let's face it, we could all do with a bit of colour in our lives at the moment!).
So just a quick recap, the process started with researching colours and patterns:
Which were then used as inspiration for the designers to go on and create some bright and interesting designs on computer templates: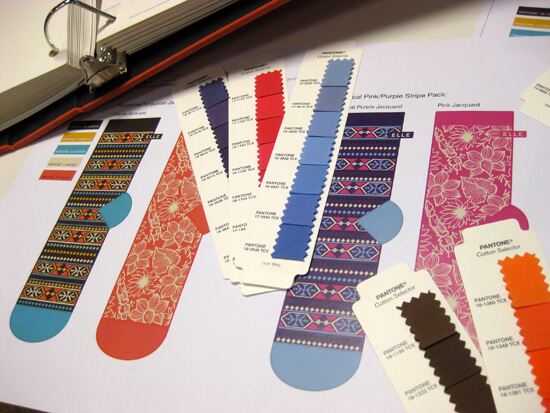 Which were then made into samples:
Which were finally approved, manufactured, shipped and photographed:
The inspiration behind the collection was to continue on with the Nordic style that featured heavily in autumn/winter 2012, but introduce some bright, tropical colours which are on-trend this season. And by the looks of it, the design team have nailed it!

Now, all that's left is to put them on the site for our lovely customers to buy. I've already bagsied a pair of the orange floral print :)

Katrina x