The Twitter battle of bed socks – on or off?
Posted by SOCKSHOP
It's an age old question that no one has been able to provide a definitive answer to.

Should you wear your socks in bed?

Scientists have even delved into the issue, with some claiming that having socks on during bed time increases your sex drive, while others say socks off is the way to go as your feet are the body's natural thermostat.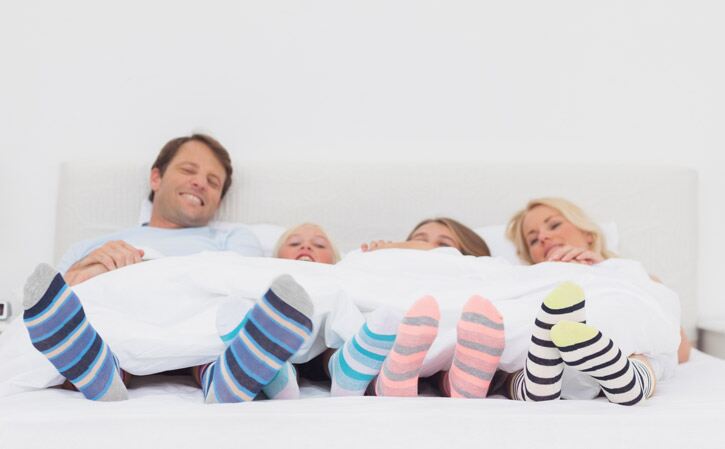 But in the end, it comes down to personal point of view – and there are a lot of these on Twitter…

Keep your socks on…

There's a big camp that basically can't live without putting their socks on before they go to bed…

I just want to shower, put my fuzzy socks on, and go to bed😴

— Simone Santa Cruz (@Santa_Cruz202) December 5, 2016
Big t-shirt and fuzzy socks in bed is really hitting the spot.

— Luc (@LuceroDeluna4) December 4, 2016
Big t-shirt and fuzzy socks in bed is really hitting the spot.

— Luc (@LuceroDeluna4) December 4, 2016
But it's not all plain sailing. Even those who are in the 'on' camp often have issues…

It's that time of year when you go to bed w/ fuzzy socks on & wake up with one flung across the room & the other lost forever in your covers

— Kelsey Siemons (@KelseySiemons) December 5, 2016
Already got into bed but have forgotten to put socks on🤔🤔 am willing to ruin tonight's sleep so I don't have to get back up ☹️

— Emily (@EmilySovSafadi) December 4, 2016
The last three nights I've gone to bed with socks on. The last three mornings, I've woken up with one sock on and one in my hand...why?

— Alysa (@___alysa) December 4, 2016
Went to bed last night with 3 hot water bottles, and fluffy socks on my hands???

— ✨Mia✨ (@MiaaSimpson) December 4, 2016
Take those socks off…
The 'off' camp is a little more militant about their views. It's not just a personal preference, but a feeling that anyone who does put on socks at night is, frankly, wrong and there's something seriously strange about them…

Nah people who wear socks to bed can't be trusted

— paz (@ParisKirkham29) December 4, 2016
People who can wear socks to bed scare me, like what else could they be capable of

— Ayesha Powell (@Ayesha_Lois) December 4, 2016
Unless you wore socks to bed last night, have a blessed Sunday

— Jordan (@Jordan_Sluma) December 4, 2016
In fact, no matter the conditions they simply won't put socks on in bed…

My feet feel like ice cubes, but I refuse to wear socks to bed

— Spencer (@seldred32) December 5, 2016
People that wear socks to bed give me anxiety

— Danny (@dgarrard2013) December 5, 2016
And whatever you do, don't make someone go to sleep with their socks on if they don't want to…

*has to go to bed wearing socks* what fresh hell is this?!?!? My feet need to be free!!!

— RedRodent (@realredrodent) December 5, 2016
Can't decide…
There is a middle ground – not a compromise, just those who can't actually make up their mind…

Going to sleep: It's so cold in here, I'm totally wearing these socks to bed

Middle of the night: GET THESE DEVIL FOOT GLOVES OFF ME

— bananafanafofisa (@lisaxy424) December 8, 2016
I don't like sleeping in socks but I always put them on before bed

— Be You ❗️ (@shesbackkk_) December 5, 2016
Or people who just wants the best of both worlds…

New Invention: Air Conditioned Socks for Bed

— chirrut imwe (@OriginallyNolan) December 5, 2016