The next exercise trend to jump into this January
Posted 23rd January 2020 by SOCKSHOP
It's "new year, new me" season and nothing says fleeting fad more than a new fitness routine. Here are five suggestions for excellent exercises that deserve your attention beyond January…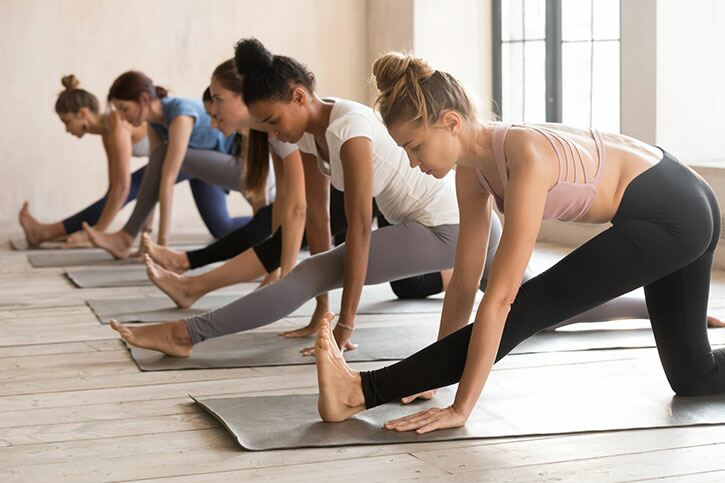 HILIT
Most of us are familiar with high impact interval training, (HIIT) by now. But, the calorie burning, metabolism boosting exercise is set to evolve in 2020, with a focus on sustainability. High intensity, low-impact training (HILIT) offers a similar sweat-inducing workout but with reduced exertion on your body. Think stress-free joints and more stress on raising your heart rate.

Live workout experiences
Companies like Peloton have taken home workouts and cycled away with them. Their indoor bikes stream live spinning classes on a screen and let instructors encourage your efforts from anywhere in the world. The fitness firm offers a treadmill and are developing a rowing machine too. 2020 could be the year other companies go with the stream.

Team fitness
Fitness studios across the country have started to add team-based sessions to their schedules. Groups of three or four join forces to compete in rep counts and calorie burning contests in crossfit style. The format makes for a sociable and engaging experience and those who take part often find more in the tank when pushed by their teammates.

Hybrid exercise sessions
As fitness experts recognise the perks of alternative exercises, expect tweaks to tradition and classes to borrow from others. Classes like HIIT Yoga will put you through your paces before allowing you to stretch the muscles that saw you lunging and lifting moments earlier. Yogalates (Yoga and Pilates) combines strength and flexibility training for a more complete workout.

Personalised supplement plans
Capsules, tablets and shakes have been a fixture in our fitness regimes for many years now but the one-size-fits-all approach to nutrition is due an upgrade this year. DNA swab and blood tests will make targeted supplements the next health and fitness craze. Bespoke shakes and nutritionist consultations will ensure your body gets everything it needs to reach it's full fitness potential.