4 WAYS TO WEAR FISHNET TIGHTS IN 2022
Posted by SOCKSHOP
Fishnet tights are a fabulous fashion icon that have trended on and off since the 1920s. Now very much back on-trend, thanks to the likes of Beyoncé and Miley Cyrus, fishnets are a versatile legwear staple that can elevate virtually any outfit. Whether it be rock or goth chic, vintage glamour, or power dressing with an edge, fishnets can land you that look. Here, SOCKSHOP explains how to wear fishnet tights with five inspirational looks.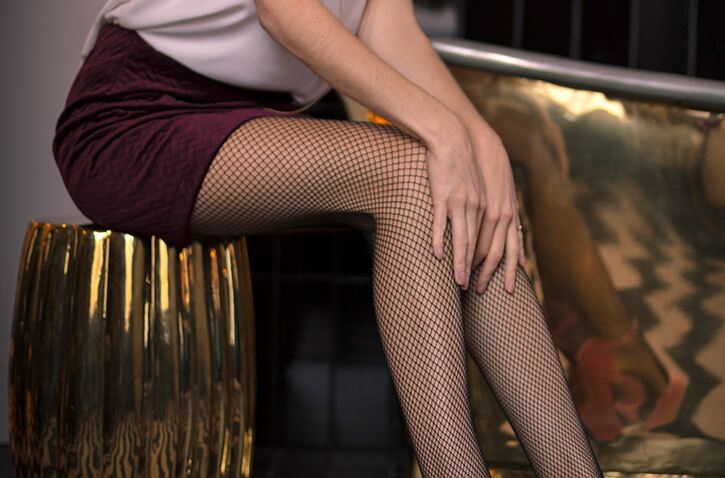 Fishnet tights can vamp up any outfit, adding a rock chick, counterculture edge or vintage film star elegance, depending on the look you're going for. Fishnets are a fabulous choice for formal wear and evening wear, bringing instant glamour to any ensemble. Although matte black never goes out of fashion, nude fishnets have become increasingly popular in recent years, offering a flattering and slightly more discreet alternative.


What are fishnet tights?
Fishnets may take their name from the fisherman's tool of choice but that's as far as the comparisons go. Because these timeless style icons, famed for their open, diamond-shaped knit, have elevated a simple design and turned it into something altogether more seductive and edgy. Fishnets come in a wide variety of styles and colours, from micronet to whalenet, traditional matte black or discreet nude. There's a look for everyone.
A brief history of fishnets
One of the earliest references to fishnets appears in the Aesop fable, The Peasant's Wise Daughter, published in the early 1900s. By the 1920s, fishnet tights had grown in popularity but really took off in the post-war era, when Hollywood starlets, like Marilyn Monroe and Jane Russell, began wearing them. Since the 1970s, fishnets have crossed over from a symbol of punk, rock and emo counterculture into a mainstream fashion staple.
How to wear fishnet tights
Here are four simple outfit ideas to show you how to wear fishnet tights with total confidence:
Micronet fishnets with a structured suit
Micronet fishnets add a subtle sophistication to your tights collection. Finer and softer than normal fishnets, making them suitable for day and evening wear, micronet fishnets give you the aesthetic of a sheer with an added designer twist. These Jonathan Aston Micronet Tights and Trasparenze Ambra Micro Fishnet Tights, feature a classic seamed toe and slim elasticated waistband for style and comfort.

Style Tip: Try pairing your micronet fishnets with a structured suit for a power dressing ensemble that oozes class and elegance. Stick to one single tonal colour scheme throughout for a truly elevated formal look.
Black midi fishnets with shorts or a minidress
If micronets are too subtle for the look you're after, you'll probably want a bigger, more open weave to make an impact. Something like these Jonathan Aston Fishnet Tights will do the trick. Sporting a midi-sized mesh pattern, these fishnet tights evoke the quintessential fishnet design. These fishnets are perfect if you want to make a bold statement on a night out, particularly if you'd like to inject some rock or goth chic to your outfit.

Style Tip: Why not take a leaf out of Miley Cyrus' style book by teaming your fishnets with either a plaid miniskirt, graphic tee and chunky heels or black denim shorts, a strappy top and mid-calf boots?
Hold up fishnets with bohemian florals
What better way to celebrate the classic roots of the fishnet than with a pair of fabulously flirtatious hold ups? Sporting a pretty floral lace band, classic backseam and opaque point heel, these Jonathan Aston Fishnet Hold Ups have a wonderfully vintage feel to them. Guaranteed to make you feel confident, sexy and feminine, these throwback hold ups are sure to add a dash of glamour to any evening ensemble or special occasion.

Style Tip: Fully embrace the retro vibe of the current trend for bohemian florals by pairing a flower print midi wrap dress with some fishnet hold ups and strappy closed toe heels. Demure but playful at the same time!
Crotchless fishnets with a bardot maxi dress
For an added layer of glamour, as well as comfort, freedom and hygiene, crotchless fishnet tights have become a popular alternative to standard fishnets. Open crotch fishnets are an especially useful choice in the warmer summer months, providing greater ventilation and freedom of movement. Our Miss Naughty Fishnet Crotchless Tights feature silky-soft, seamless netting for a comfortable fit and feel from waist to toe.

Style Tip: For a romantic evening or formal event, take some crotchless fishnets for a spin with a cute Bardot maxi dress and some towering platform heels. Is that the dancefloor calling?!
Land some fabulous fishnets at SOCKSHOP
SOCKSHOP has a gorgeous selection of fishnet tights from big brands, like Falke, Trasparenze, Jonathan Ashton and Miss Naughty. Designed for comfort just as much as style – with plenty of high-quality Italian woven mesh, comfort waistbands and seamed toes – our fishnets are the perfect fashion-forward addition to your hosiery collection. With great deals across many of our fishnet products, you'll find the perfect catch at SOCKSHOP!

Shop our selection of fishnet tights at SOCKSHOP today. For more information about any of our SOCKSHOP products or for help with orders, please contact us on 08000 195 667.