GET ORGANISED: HOW TO FOLD UNDERWEAR LIKE A PRO!
Posted by SOCKSHOP
What's the point of folding underwear? After all, it's such a fiddly job! Well, if you don't mind a disorganised underwear drawer, then that's perfectly fine. But if you'd like to create a sense of peace and harmony amongst your smalls collection, as well as being able to find your favourite pair with ease, it's worth learning how to fold your underwear properly. SOCKSHOP is here to give you the skinny on how to fold underwear like a pro.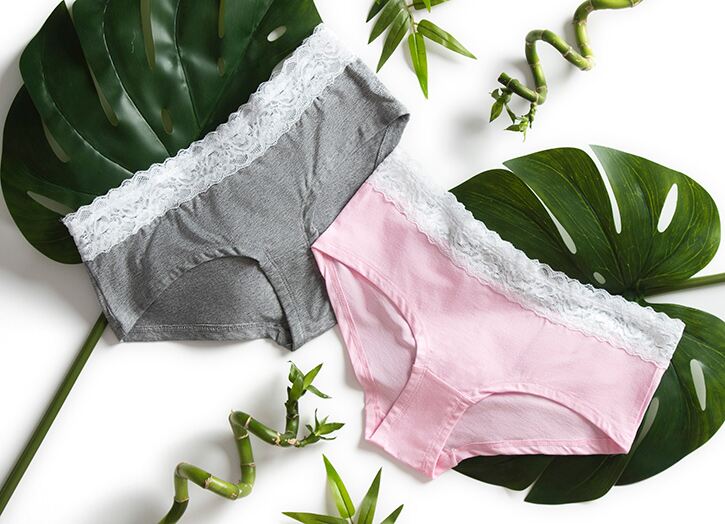 Okay, we know it's really tempting to tip out that clothes basket of freshly laundered garments onto the bed, grab a handful of underwear, and stuff them into your top drawer. We get it. You're busy. Life is too short to be folding underwear! But this is one of those delayed gratification things where your future self will thank you for investing a little bit of time and effort into getting your underwear drawer ship-shape.

HOW TO FOLD LADIES' UNDERWEAR
It's fair to say that underwear can be tricky to fold, especially certain types of ladies' underwear (we're looking at you thongs!). But with this failsafe, three-step technique, you'll be folding your smalls like a boss in no time. The great thing about this method is that it can be used across all sorts of ladies' underwear, from your everyday shorts and briefs to those pesky aforementioned thongs. On your marks, get set… fold!


Lay your underwear waistband up. Place your underwear on a flat surface, like your bed or a countertop, with the waistband facing upwards. Use your hands to iron out any wrinkles.

Fold your underwear into thirds. Now you'll want to fold your underwear into thirds by folding the left side into the centre and repeating the process on the right. Smooth out any creases again.

Fold the crotch up to the waistband. Finally, fold the crotch up to the top of the waistband. Smooth them over one last time and now you'll have a perfectly neat pair of pants to pack away!
HOW TO FOLD MEN'S UNDERWEAR
You could be forgiven for thinking that
men's underwear
would be a whole lot easier to fold than women's. But that's not necessarily the case. Because boxers are a law unto themselves, with more fabric to fold and a bit more effort needed as a result. But don't fret, because once you've mastered this quick and easy folding technique, you'll be folding your boxer shorts like a certified pants-folding wizard in no time!
Lay your boxers waistband up. Put your boxers or trunks on a flat surface, like your bed or a countertop, with the waistband facing up. Flatten out any creases with your hands.

Fold your boxers in half. Now, fold your boxers in half by folding the right leg over the left leg. You'll know when you've done this right because both of the outer seams will line up perfectly.
Spin 180 and fold in half again. Next up, spin the boxers 180 degrees, so the waistband is on the left and the leg holes are on the right. Then fold them in half, top to bottom, to make a long, thin rectangle.
Fold the boxers into thirds. For the final flourish, fold your boxers into thirds. Bring the leg-hole end to the middle, then once more to the waistband. They're now ready to go in the drawer!
STOCK UP ON PANTS AT SOCKSHOP
Now you know how to fold underwear properly, you'll probably want to get some practice under your belt. Once you've mastered the art of folding pants, the world is your oyster! Sure, you can set about perfecting your folding skills on your trusty, old smalls. But now that you've got the skills to present your pants beautifully, don't you think it's high time to treat yourself to some new underwear to show off?!
Here at SOCKSHOP, we stock a huge selection of premium ladies' underwear and men's underwear in an array of sizes, styles and materials. With all your favourite designer brands, like Calvin Klein, Pringle and Sloggi – and soft, breathable fabrics like bamboo and 100% cotton – we've got you covered for all eventualities. With same-day shipping when you order before 5pm, Monday to Friday, you could be folding your brand-new pants before you can say Marie Kondo!
Check out our fabulous collections of ladies' underwear and men's underwear here at SOCKSHOP. We've got everything from hipsters, bras and shapewear for her to briefs, vests and T-shirts for him. For more information about any of our SOCKSHOP products or for help with orders, please contact us on 08000 195 667.