Showcasing the warmest socks for the winter months
Posted by SOCKSHOP
As soon as the winter months hit one of the most frequently asked questions we receive is 'what are the warmest socks'. This is hardly surprising as the minute the temperatures start to drop, our feet usually feel the cold first.

There is nothing worse than having cold feet, and whether they are chilly on your commute to work in the mornings, or are keeping you awake at night, having warm socks can make a huge difference. To save you time we have put together the ultimate SOCKSHOP guide showcasing the warmest sock for the winter months.

Believe us when we say, your feet will thank us for it!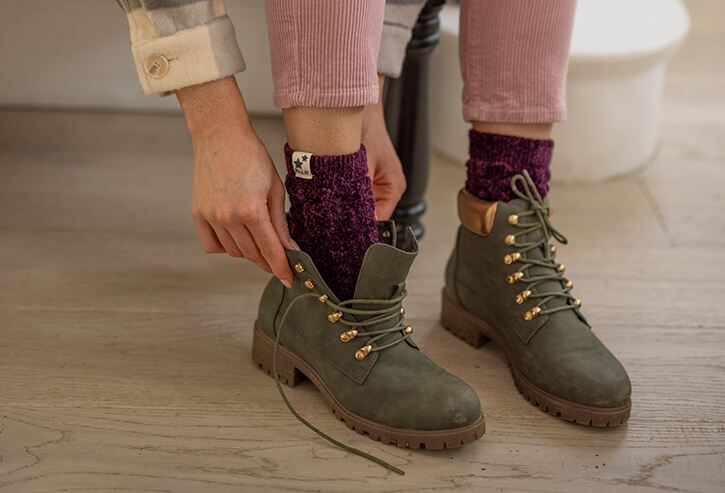 Wool Winter Running Socks
One of the biggest challenges that you can face when finding the right socks for the winter months are socks suitable for you to work out in. While you want to keep your feet warm and protected, it is also important that they are light and thin so that they fit into your trainers or running shoes.
Well, our wool winter running socks are ideal for exercise in the cold weather, especially for running, cycling, and even climbing. They have a thermal grade of 2 and their two-layer structure keeps your feet natural warmth while also staying breathable.
By getting yourself a pair of these socks, you can keep fit in the winter months while keeping your feet nice and toasty.
Thermal Ankle Socks
If you find that your feet are often chilly when you are lounging around at home but you don't like to wear big thick socks that come up your leg then these thermal ankle socks are the one for you. These
men's socks
are called heat holders as they provide all the heat you'd expect but at a shorter length.
They have a brushed heat-retaining lining with a slip-resistant tread making them perfect for a range of surfaces. With standard cuffs and toe seams, they also go with any footwear. Sounds perfect, right?
Kids Falke Catspads Slipper Socks
We realise that it can be difficult to get kids to keep their socks on, but this can cause problems during the winter months when the temperature drops considerably. But with these kids' socks which come in a range of kids sizes and colours, you should have no problem keeping your little ones toes' warm on a long cold day out.
They are made from warm but breathable cotton on the outside, and merino wool inside, making them perfect for keeping small feet warm for hours.
Parents will also be glad to hear that they come with several tacky silicone pads along the sole which helps your kids keep two feet on the floor at all times, even when on slippy surfaces such as tiled, laminated, or polished floors.
Finding out what are the warmest socks are in preparation for the winter months doesn't have to be as difficult as you might think, especially when you have us at SOCKSHOP on hand to guide you through. But with the socks we have mentioned above, as well as all other socks we have available for men, women, and kids, you and your family's feet can say no to being chilly during the winter and stay warm and toasty all year round.