WHAT TO DO WITH OLD UNDERWEAR
Posted by SOCKSHOP
The turn of a new year is a great chance to clear out your wardrobe and take pre-loved garments to a charity shop. But while that's all very well and good for jumpers and jeans, what are you supposed to do with your time-worn old pants?! Well, believe it or not, there are plenty of ways to recycle, upcycle and donate them to a good cause. SOCKSHOP is here with some inspirational ideas about what to do with old underwear in the UK.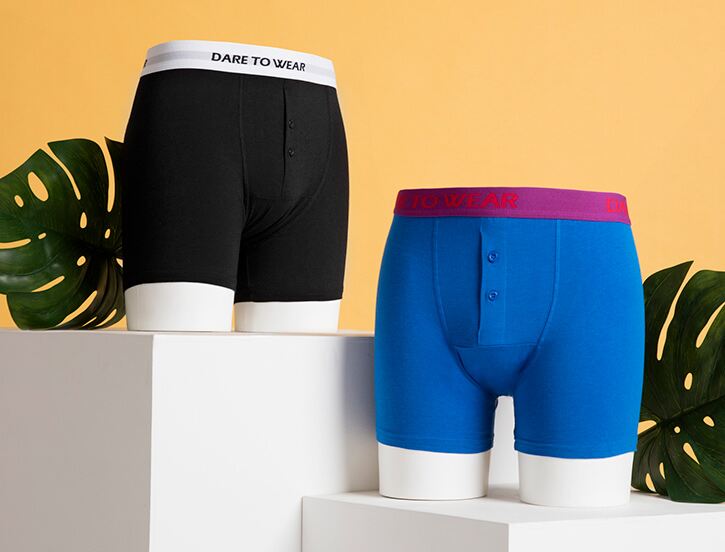 Okay, so the thought of your well-worn underwear being sorted at a recycling plant or rehomed to a person in need somewhere far from our shores is, frankly, a bizarre concept. But it's something we really need to get to grips with, especially in the midst of the current climate crisis. So let's dispense with the British stiff-upper-lip and turn our useless old undies into something altogether more sustainable and worthwhile!
What to do with old underwear in the UK
If you've drawn a blank as to the best way to dispose of your old underwear, SOCKSHOP has some useful hints and tips to show you how to get rid of your pants in a practical and ethical way.
If your holey old underwear needs a new home, why not consider the following ideas:
RECYCLE – CLOTHING BANKS

UPCYCLE – GET CRAFTY!

DONATE – RE-GIFT UNWANTED GIFTS
Recycle - Clothing banks
Used underwear isn't something a charity shop will thank you for (they can only accept new and unworn items to sell). This is where clothing banks come into their own. Because even the holiest underwear will be sorted and separated for recycling or to be sold by weight to rag merchants. Next time you're visiting your local supermarket, why not take a bag of old clothes (including pre-loved underwear) to the clothes bank? It all goes to a good cause.
Upcycle - Get crafty!
If you're of the crafty persuasion, there are plenty of ways you can upcycle your old underwear. No, really! For instance you can make scrunchies for your hair (just avoid lacy underwear if you're going to do this because it's not the most 'scrunchable' material). You could stuff several layers of old underwear fabric into a plastic onion or orange bag to create an eco-friendly scourer. If you're feeling creative, you could use your skimpies to make a rag rug. Or you could cut your cotton underwear into pieces and use it to stuff cushions and soft toys.
Donate - Regift unwanted gifts
Smalls for All is a Scottish charity that collects underwear to give to adults and children in need in Africa and the UK. If you've been gifted some pants that simply aren't 'you', or have got a new or gently owned (read: laundered) bra that doesn't quite fit the bill, you can send your underwear to Smalls for All – along with a small donation – and they'll make sure they're redistributed to deserving recipients in orphanages, slums, refugee camps and schools across Africa in places like Somalia, Rwanda, Sierra Leone, and here in Britain.
Restock your underwear at SOCKSHOP
Of course, if it's out of the old it has to be in with the new. Having done your good turn by recycling, upcycling, or donating your old underwear to charity, you're going to be left with a gap in your underwear drawer. Thankfully, SOCKSHOP can fill that void with some gorgeous new undergarments that are as kind to the environment as they are to your skin. We've got plenty of pants in all shapes and sizes to suit all tastes.

As we're talking sustainability, the pick of the crop when it comes to sustainable materials has to be bamboo. This type of grass (we know!) offers impressive eco-credentials. You see, bamboo is one of the fastest-growing plants in the world, with some species growing nearly a metre in just 24 hours. It also self-generates from its own roots and needs far less water and fewer pesticides to cultivate than cotton. Plus, bamboo pumps out a whopping 35% more oxygen into the atmosphere than the equivalent acreage of trees.

If all that wasn't enough, bamboo is kinder to you as well as the planet. This wonderful material is naturally antibacterial, hypoallergenic, and wicks away moisture from your body to keep you fresh and dry (it's actually 3-4 times more absorbent than cotton). It's also thermoregulating, which means it'll keep you cool in the warmer months and warm when temperatures plummet. All in all, bamboo is the perfect underwear material.

If you need to stock up on underwear, shop the complete bamboo underwear range here at SOCKSHOP today. For more information about any of our SOCKSHOP products or for help with orders, please contact us on 08000 195 667.