How to get white socks white again
Posted by SOCKSHOP
You can't beat a nice, crisp pair of brilliant white socks. But with all the walking, exercise and general wear and tear we put them through, it isn't long before pure white socks begin to lose their lustre. But don't be disheartened. It's easy to restore white socks to their former glory if you know how and SOCKSHOP is here to help you redeem the gleam once more.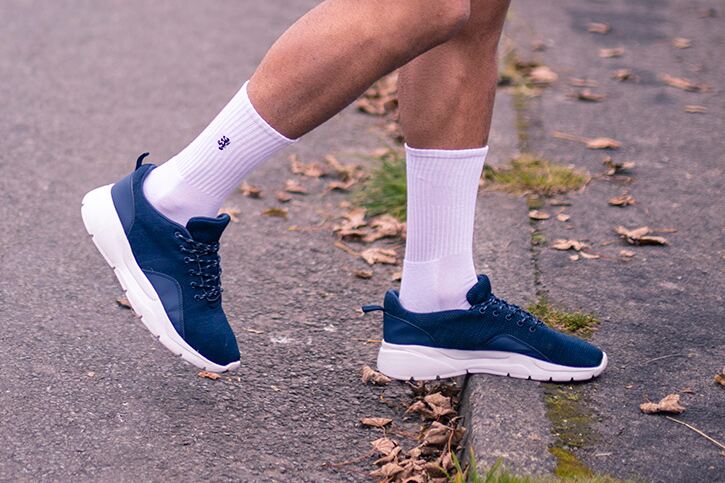 Most of us have got at least one pair of off-white (okay, grey!) socks lurking in our sock drawer. What starts off as a fresh, dazzlingly white pair of socks inevitably ends up losing its sparkle. Ultimately, in a straight contest between dirt and white socks, there's usually only one winner. But that doesn't necessarily have to be the case. Not with the help of a few common household items, including baking soda, vinegar and lemon juice.
White sock care guidelines
Before we get into how to wash the grey away, there are a few things you can do to care for your white socks to help them stay whiter for longer:
Don't wear them for more than one day and wash them regularly.

The material of your socks should inform which cleaning method you use.

Be careful not to rub your socks too vigorously, this can damage their shape.

Remember to always wash your white socks separately from coloured clothing.

Soaking your socks before washing is often the most effective way to banish stubborn dirt.
How to get socks white again with a few secret ingredients
Of course, it's impossible to prevent your white socks from getting grubby altogether. When that happens, there are a few secret ingredients, which you're bound to have knocking around the house, which can come to your aid. From kids' white socks that bear all the marks of rough and tumble, to men's and ladies' white socks that simply need a bit of TLC, the following tools and techniques will give your socks the refresh they need.

Baking soda
Baking soda is a great weapon in your armoury for tackling less-than-fresh white socks. There are a few ways to use it. Your best bet is to give your socks a soak in a warm sink filled with a liberal sprinkling of baking soda for several hours. Then, after wringing them dry, wash them in your machine by adding 150-200 ml of baking soda to the detergent drawer, along with your normal powder or liquid. Get your sunglasses at the ready because those bad boys are going to be gleaming!

Boiling
Another tried and trusted method of reinstating the whiteness of your socks is to boil them. Fill a large pan with water, add half a cup of lemon juice, some laundry detergent and your socks. Bring the water to the boil and leave your socks to simmer for 15-20 minutes. Then, take them out, give them a good wringing out and transfer them into your washing machine for a normal wash. This technique isn't recommended for wool socks. They need a gentler soak with lukewarm water.
Laundry soap
Of course, you can't go far wrong by using some simple laundry soap on tired white socks. The trick is to soak your socks in warm water with a squeeze of lemon juice before lathering them up with laundry soap. Then transfer them into a plastic bag, tie it up, and leave them overnight. The next day, simply take them out of the bag and wash them as normal. Having undergone this whole process they should come out snow white.
Lemon juice
You may have noticed already that lemon juice crops up time and again for its stain removal powers. This is because the acid found in lemons is antibacterial, antiseptic and acts as a natural bleach. Even just dropping your greying socks into a warm bowl of water infused with the juice of a freshly squeezed lemon for 2-3 hours can work wonders. After they've undergone their citric soak, pop your socks in the machine for a regular wash and voila!
Vinegar
Similar to lemons, white vinegar has its own acidic properties (acetic acid in vinegar's case) that cut through stubborn stains. In a litre of boiled water, add a cup of white vinegar and then throw in your socks to soak overnight. Your white socks should be noticeably perkier by the next day. By which time, all you have to do is put them through a normal spin cycle to rid your socks of any lingering grime… and vinegar odour!

Of course, no socks last forever. So when you've exhausted all these possibilities it might be time to restock your sock drawer with some crisp, new white socks. Check out our selection of white socks for kids, ladies and men today. For more information about any of our SOCKSHOP products or for help with orders, please contact us on 08000 195 667.