What socks should you wear when hiking in summer?
Posted by SOCKSHOP
Despite your happy and healthy feet being one of the key components of a successful day's hike, socks are often one of the most underrated pieces of hiking equipment. You can spend a small fortune on the very best hiking boots, but if you don't team these with suitable hiking socks, you're likely to spend the day with very uncomfortable feet.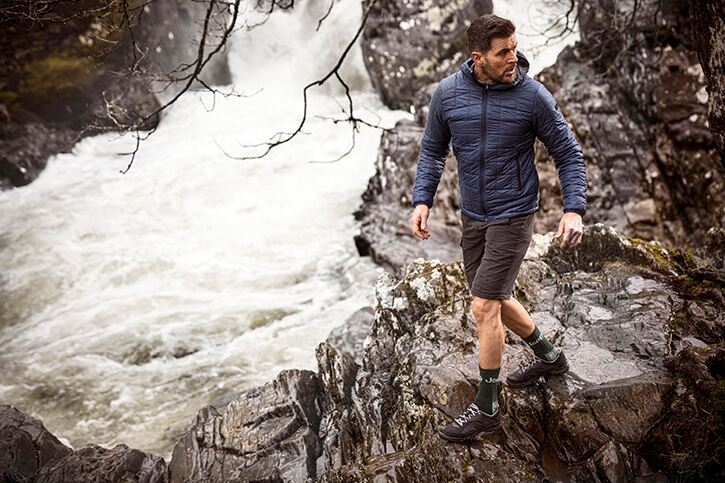 Why are good socks so important when hiking?
When you're enjoying a brisk hike, there's nothing worse than your feet becoming uncomfortable, wet or painful. Wet feet are likely to lead to increased friction, which creates blisters. Meanwhile, socks that are too thin are unlikely to protect your feet from rubbing against your boots.

Plus, if you have a particularly long day ahead of you, wearing socks that don't boast antibacterial properties could lead to discomfort caused by bacteria or fungal infections.

It is really important to keep your feet protected when you are walking. Particularly given that it's a long walk back to the car if your feet are heavily blistered and sore! Read on for SOCKSHOP's top tips on what to wear with hiking boots in summer.
Consider which type of socks you need
It might seem logical, but it's often easily overlooked. First things first, you need to figure out exactly what type of hiking socks you should be looking for. With lots of different options on the market, you do have a few different styles to choose from, but making the right choice for you can make or break your next big hike.

These are the main styles:
Crew socks - The most common and popular sock type, crew socks are generally thick, mid-calf length and are usually ribbed at the top.

Double layer walking socks - These are super thick walking socks that have a bit in the liner to prevent blistering.

Trainer socks - Whilst walking trainer socks might be okay for leisurely walks in your walking shoes, we wouldn't recommend them for longer hikes in tricky terrains.
Cushioned socks - With built-in cushion soles, these socks keep your feet comfortable and protected even on longer hikes.
What features should you look out for when choosing hiking socks?
When you are thinking about what to wear with hiking boots this summer, it is important to take into consideration a number of really key factors. These include:
Wicking - The very best hiking socks are moisture-wicking. This means that they move any form of moisture, such as sweat, away from your skin to help regulate your temperature and to keep your feet dry. This will stop you from getting blisters!

Cooling technology - In the summer months, the last thing you want is thick woollen socks, which will make you feel far too hot and uncomfortable. Why not invest in bamboo socks or ones with CoolMax technology, which works to keep your feet cool, even in the hottest climates?

Fit - Perhaps the most important thing to consider when you are thinking about what to wear with hiking boots this summer. Remember to choose socks that are not too tight as they will cut off circulation, or socks that are so loose they cause blisters and chafing.
Material - There are a number of different materials available, from bamboo to merino wool. Consider the qualities of each different material carefully before making a choice!

Thickness - Hiking socks are available in lots of different thicknesses, ranging from very thin lining socks, right the way up to ultra-thick layered socks. It's important to consider the thickness of your sock and how this will make your feet feel when walking long distances.

Padding - It is vital you choose comfortable hiking socks, particularly in the summer months. Most hiking socks have extra padding to protect the heel and toe area as these are the most vulnerable areas. When you're considering what to wear with your hiking boots this summer, pick ones with plenty of padding.

Anti-odour - Last, but not least, if you are planning a big hike over a few days, you might want to consider anti-odour socks. These will help to keep your feet fresh, mile after mile.
Buy hiking socks from SOCKSHOP
We hope our helpful guide has helped you to understand what socks you should wear when hiking in the summer. Before you head out on your next big adventure, browse our range of hiking socks to find the perfect pair for you.