How do flight socks work?
Posted by SOCKSHOP
As the UK and the rest of the world tentatively starts to open up again, the prospect of finally enjoying some summer sun is edging tantalisingly closer. If you're lucky enough to be jetting off for a beach flop sometime this year, as well as packing your sunscreen and flip-flops, you might want to stash a pair of flight socks for your journey too.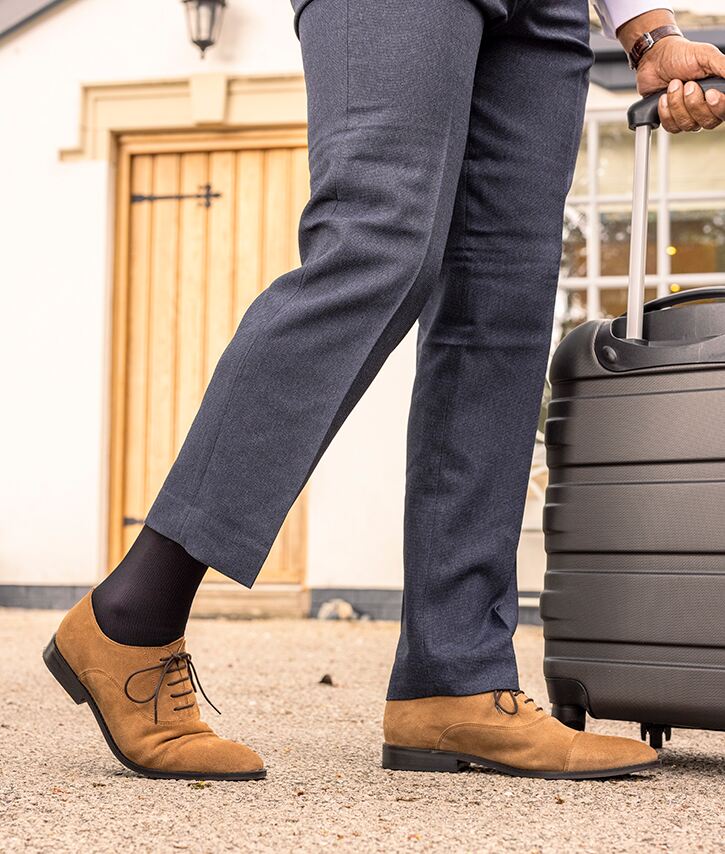 In this blog, SOCKSHOP explains how flight socks work and how they can make your journey safer and more comfortable for the long haul.

Whisper it quietly, but summer holidays could be on again! As you edge closer to living out your daydreams of sun-kissed beaches and topping up the tan, the last thing you want to take with you is deep vein thrombosis (DVT). Investing in a good pair of flight socks is an easy and affordable way to look after your circulation on long-haul journeys, so the only thing you'll need to worry about is which sundowner to sip by the pool.
Wish you weren't here DVT
If you're embarking on a journey that's likely to last three or more hours – whether by plane, train or automobile – wearing flight socks can help to reduce the risk of deep vein thrombosis (DVT) which comes with prolonged periods of sitting still.

So how do flight socks work? Well, they are usually knee-length and work by applying gentle pressure to your calves, ankles and feet to help with blood flow.

Flight socks and compression socks come in a variety of different sizes and different levels of compression. Class 1 stockings have the lowest compression but are more than enough to prevent DVT. Flight socks are easy to pick up from pharmacies, airports and here at SOCKSHOP. We stock a wide range of flight socks from many leading brands, including Atom, Falke, and HJ Hall.
Bon voyage swollen feet and ankles
Discreetly designed to look like normal socks, SOCKSHOP's wide range of flight socks have been carefully hand-selected for their ability to ward off DVT, as well as providing an energising effect for tired legs. When you slip on a pair of our flight socks, you can say bon voyage to swollen feet and ankles when you safely touch down at your destination. That means your legs will be fresh enough to hit the beach immediately!

Our extensive selection of flight socks offer class 1 to class 2 compression and are constructed from a range of functional material blends that will help you to take long journeys in your stride. Amongst the range, you'll find flights socks pairing the stretch and flex of elastane and spandex with breathable cotton, thermoregulating and odour-resistant merino, and even innovative and super-soft milk fibre strands.

As well as boasting the perfect mix of materials, many of our specialised flight socks also feature a shoe full of other advanced design features to make your journey that little bit more comfortable. We're talking non-restrictive cuffs, plush extra cushioning for door-to-door cosiness, and hand linked toes for smooth seams that won't rub your feet red raw before you expose them to the world!

Check out our selection of ladies' compression socks and men's compression socks to find your perfect pair of travel companions. For more information about any of our SOCKSHOP products or for help with orders, please contact us on 08000 195 667.