How SOCKSHOP is celebrating Pride
Posted by SOCKSHOP
June is finally here and it is time to celebrate Pride! Pride Month is an extremely important celebration of sexual diversity and gender variance, and it is so important that we stand up, show our solidarity, and celebrate these communities that have faced so much discrimination throughout history. Here at SOCKSHOP, we show our support of Pride throughout the year, with our year round range of Pride socks. Read our latest blog and discover how we plan on celebrating Pride.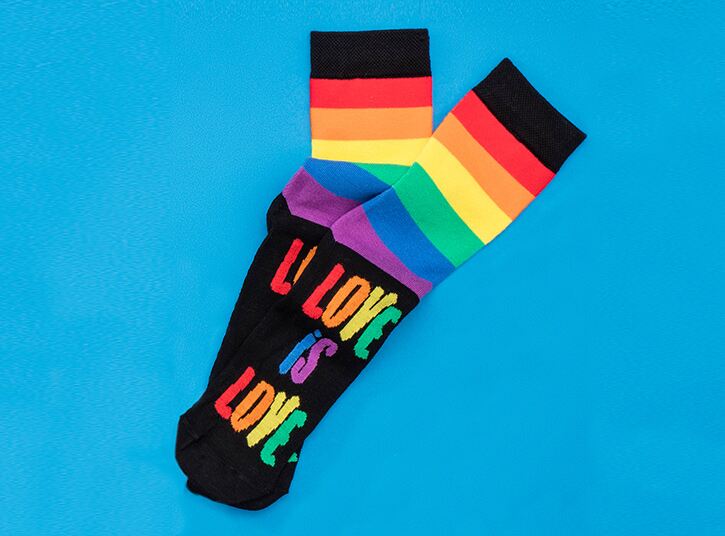 Proud of our Pride socks
Here at SOCKSHOP, showing our support for LGBTQI+ communities is important to us, which is why we decided to celebrate Pride through the way we know best - socks!

Our Pride Rainbow Love is Love socks have been designed to help those celebrating Pride showcase their support and alliance by getting their feet looking jazzy. Make a statement today with our gorgeous Pride socks.

Our Pride socks are a fabulous way of showing that you are proud of who you love and how you love, and they are also a great way to show your support to the community. Not to blow our own Pride trumpet, but the socks also feel and look great thanks to their exclusive design.
How are we celebrating Pride?
We don't just stop with Pride socks. Not only do our Pride socks look and feel great but they are a way for us to support the LGBT Foundation. The LGBT Foundation is an incredible charity that works to provide support services to lesbian, gay, bisexual, trans, and other gender identiftying people every year. From sexual health advice to substance abuse support, the LGBT Foundation provides much needed help and support to thousands of people.

Here at SOCKSHOP, we recognise the need for charities like, which is why we donate 20% from every sale of our Pride socks to the LGBT foundation, so you'll be helping others with every step you take - quite literally.
What can YOU do to celebrate Pride?
If you're looking for ways to get involved with Pride celebrations, we have a range of suggestions for you. As normal life is slowly starting to resume, see if you can get involved in celebrating Pride:
Host your own fundraiser. From a sponsored walk/run to a cake sale, there are many ways you can raise money for Pride charities yourself.
Have a Pride party. Whether you want to raise money or not, this can be a great opportunity to show your support for LGBTQI+ communities and open up conversations with your friends and family. You never know, someone close to you could really benefit from this.
Go to a Pride festival. Pride festivals are usually celebrating annually (when they are not interrupted by a global pandemic) and these events are a great way of celebrating Pride by supporting gay-owned businesses and advocating for gay rights.
Celebrating Pride with SOCKSHOP
Use this month as your chance to celebrate Pride in style with SOCKSHOP. Head over to our online shop to grab your own Pride socks now.