Make a racquet as the Wimbledon Championships return
Posted by SOCKSHOP
Covid-19 has been the scourge of many sporting events over the past 15 months. One of which being the UKs prized possession on the World Tennis tour, the jewel in the crown, the Wimbledon Championships. However, following an enforced year off in 2020, the nation's favourite tennis tournament returns to SW19 this summer.

Order the strawberries and cream, dig out the old tennis gear and prepare for two weeks of tennis highs and lows. Will Novak Djokovic defend his Men's Singles title after two straight Wimbledon final defeats? Can Serena Williams enjoy one more day in the UK sun...or rain? It is Wimbledon, after all.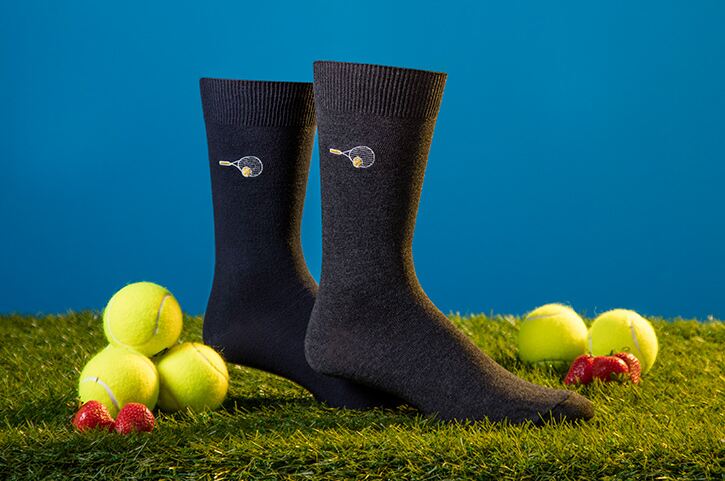 In this article, SOCKSHOP takes a look at the upcoming Wimbledon Championships, looking at the wider impact of its return for the UK's lawn tennis and croquet clubs and what you need to get Wimbledon-ready.


Who is 'courting' success in 2021?
Much has changed since the last Wimbledon Final day. With many of the usual suspects undergoing surgeries to prolong or even save their careers, the outlook at the top is very different in world tennis in both the men's and ladies games. So who are the runners and riders? Will Federer 'net' what will likely be one final championship at 39 years of age? Will Serena Williams 'serve' up a tennis masterclass? Will there be new pretenders to both singles crowns? Or will Novak Djokovic and Simona Halep hold serve and retain their Wimbledon Championships? Let's take a look at who stands a chance in 2021.
Ladies title up for grabs?
Let's start with the ladies' Wimbledon Championships and the defending champion Simona Halep from Romania. In 2019, Halep produced a stunning performance to sweep aside seven times winner Serena Williams in her maiden Wimbledon Final. Since then, Halep has only added an Australian Open Semi-Final appearance in 2020, which could be considered disappointing following her Wimbledon success. However, despite an injury-ravaged 2021 that forced her out of the French Open, she must be regarded as a threat should she recover in time to defend her title.

So with the defending champion struggling for form and fitness, who are the form players in the ladies game going into Wimbledon? One player that certainly would have been in contention is Naomi Osaka, following her Australian Open win at the turn of the year. Sadly, Osaka will not be competing this year as she looks to overcome issues with her mental health. This could pave the way for the current World Number 1, Australian Ashleigh Barty who has been named as the number one seed. There had been doubts regarding her participation in this year's tournament due to hip injury which forced her to pull out of the French Open at the second round stage but she seems to have recovered and is in the draw.

Naturally, it would be silly to rule out seven-time winner, Serena Williams'. Her form often means nothing when it comes to Wimbledon. The adulation of the crowd, coupled with her past exploits at SW19 and her love for the grass surface is enough to put her in with a chance.

Could there be, dare we say, a British hope this year? It has been 43 years since a British woman last lifted the title, so can Johanna Konta, Britain's front runner in the ladies tournament, finally end the wait? Of course, she will have to reach another level to surpass her previous best performance in 2019, where she made the quarter-finals. Still, with some of the top names in tennis struggling going into this year's Wimbledon Championships, this could present her with her best chance since joining the circuit.

One thing is for sure, it will be two weeks of exciting action, and there are many others who can pose a threat. This could be one of the most open ladies' Wimbledon Championships in recent memory.
Federer's last hurrah?
With the ladies' championship being a pretty open affair, the men's on paper is perhaps not. Over the last two years, the form player has been 2019 Men's Wimbledon Final winner, Novak Djokovic. We'll discreetly overlook his disqualification from the 2020 US Open for his little temper tantrum.

Since then, Djokovic has been dominant, claiming his 18th Grand Slam title at the 2021 Australian Open and number 19 at Roland Garros last month. In short, he should scoop his sixth Wimbledon Championships this year, but tournaments are not won on paper and bigger upsets have happened. So in case of an upset, who are the other pretenders?

When you think of the Men's Wimbledon Championships, you automatically think of Roger Federer. He is an eight-time winner at SW19, after all. However, he has reached 39 years of age, and with his age, injuries have become a frequent extra challenge. Not that he doesn't conquer these challenges, he is Roger Federer! If Federer is fit and can avoid any early marathon matches, he most definitely can't be written off.

Could there be a new challenger to the throne? Greek tennis star Stefanos Tsitsipas is highly rated and was second only to the imperious Djokovic at the French Open. With this in mind, he is currently rated as the second favourite for the tournament.

Also in this mix is the Russian, Danil Medvedev, who was beaten by Djokovic in the final of the Australian Open earlier in the year. A lot depends on the form of Djokovic here, but there is the prospect of a new champion at SW19 outside Roger Federer, Rafa Nadal, Andy Murray and Novak Djokovic for the first time since 2002 when Australian Lleyton Hewitt won the famous gold trophy.

And what about the Brits? Andy Murray may well be entering the draw. However, he is very much on a recovery journey following hip resurfacing surgery in 2019 and has not played a lot of tennis since that time, particularly when it comes to grand slams. The best of the rest include British number one Dan Evans, Kyle Edmund and Cameron Norrie, who impressed on his way to the final at the Queen's Club warm-up tournament last week.
The wider impact of Wimbledon
It is great from an entertainment perspective to get one of the nation's most prominent sporting events back on. However, there are wider impacts surrounding the return of Wimbledon, most notably for the UK's many lawn tennis and croquet clubs. The impact of Covid on sports clubs has been felt the length and breadth of the country and tennis and croquet clubs are no different.

Wimbledon season is a critical time for these clubs as interest in tennis increases along with new memberships. The loss of the 2020 Wimbledon Championships would have been keenly felt by these clubs, alongside the forced closure of sporting facilities. Hopefully, the 2021 tournament will drive more interest than ever and get people out onto their local courts.
What do I need to look the part on a tennis court this summer?
Pretty much anyone can go and play tennis at their local lawn tennis and croquet facility. Most will provide the option to hire equipment. But it goes without saying that the first thing you need is a tennis racquet. Then you need to consider what you are wearing. With the warm weather, you want to dress in light clothing. T-shirts and shorts are often the preferred repertoire. However, we are a little footwear biased here at SOCKSHOP, and there is nothing more important than making sure you have a comfortable pair of tennis socks to go with your tennis shoes to guarantee optimum performance.

You can choose from the SOCKSHOP tennis sock range in preparation for Wimbledon season. There is a 'tie-break' when it comes to the choice of brands here at SOCKSHOP as we stock socks from both Thoros and Falke. So order online with SOCKSHOP today and turn your summer tennis season into a Grand Slam.