Batman v Superman – who dresses better?
Posted by SOCKSHOP
This week, Batman v Superman: Dawn of Justice finally shows two iconic comic book characters go 'mano a mano' on the big screen.

And while it's unfair to suggest they're equally matched in the physical strength department, when it comes to sartorial choices it's a closer call.

But who dresses better?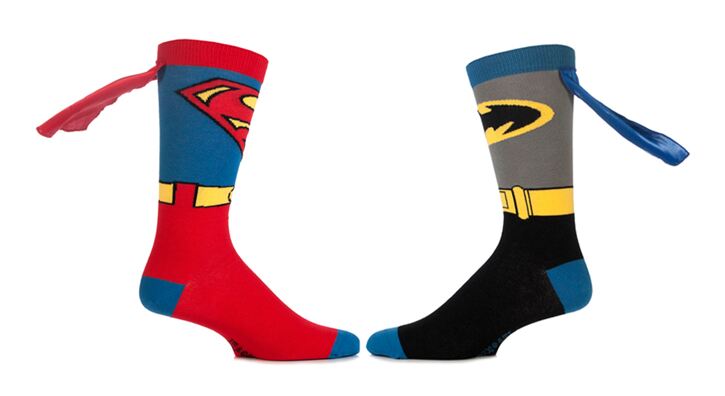 An iconic outfit

Both outfits are instantly recognisable – Batman's logo, cape and pointed ears have been around since the start, while the Man of Steel's classic blue and red leotard with cape and big 'S' are just as familiar.

Superman wins

Superman takes this one for two reasons. Firstly, the Bat outfit has changed over the years from the grey and blues of early incarnations through the unfortunate nipple suit in Batman & Robin. Superman has maintained his colour scheme and basic style, even if he's lost the underpants.

Practicality considerations

This is a tough one to call as the two heroes have different needs. Superman's outfit is as streamlined as you can get, with the cape the only needless addition.

The Dark Knight's outfit is the opposite – full of bulletproof chest plates, a Kevlar cowl and dozens of hidden weapons.

Superman wins

Another victory for Kal-El. While Batman's outfit provides a lot of his strength, he's also been hindered by it in the past.

Great accessories

Good accessories can make an outfit. And while capes are in this season, Superman's get-up lacks any additional bling. Batman, however, has a number of wonderful toys.

Batman wins

The first victory for the Bat. Throughout the ages, Batman's accessories have ranged from the crazy (Shark Repellent Bat Spray) to the inspired (we're pretty sure his new suit is accessorised with some powerful green jewellery to make the fight a bit fairer)

Going casual

Forget Batman v Superman, this is Bruce Wayne v Clark Kent. Bruce opts for Playboy chic – he loves a Tux and wears immaculately tailored suits to his day job at Wayne Enterprises. Clark Kent goes the other direction, choosing a dressed-down/country-boy look when jobbing at the Daily Planet.

Batman wins

It's got to be Master Wayne's sharp-suited look.

Master of disguise

Keeping your true identity hidden is important as a superhero, so your costume had better come with a good mask or other form of disguise.

Batman covers his whole body with only the chin on show. Superman, well, there's the glasses. Though some argue his choice of clothes, changed posture, different voice and general manner are all part of the disguise.

Batman wins

While both are pretty weak disguises at least Batman tries. One theory is that the lack of mask is Superman's best disguise as it suggests he has nothing – i.e. a secret identity – to hide. But we think a mask would work better.