Which sock length is right for you?
Posted by SOCKSHOP

Socks come in all shapes and sizes, from the smallest liner socks to full-length thigh-high pairs. But which is right for your outfit?

Shoe Liner
Size: Less than 6cm. Below most shoe lines.

Description: Very low-rise socks covering the sole of the foot and coming up just past the heel and over the toes.

When to wear: Great in the summer with low cut slip-ons, high heels and even some sandals.

Trainer
Size: Around 8 cm. Below the trainer line.

Description: Low-rise socks coming up just below the ankle bone.

When to wear: Casual styles are great for trainers and pumps teamed with shorts, skirts or cropped trousers. More specialised styles are ideal for running and other sports.

Ankle
Size: Around 10cm. Just above trainer line.

Description: These socks will just poke out above the trainer line and are often referred to as anklet socks.

When to wear: These are more casual and fashion-y than trainer socks, usually worn with bare legs. A go to for summer outfits, especially with trainers or pumps.

Low crew
Size: Around 15cm. Few inches above ankle.

Description: Also called mini-crew, these are midway between ankle socks and standard ones and will cover your ankle.

When to wear: Good for use under ankle boots, or for adding a bit of colour just above the trainer line. Also useful if your trainers rub your ankles.


Standard
Size: Around 20cm. Equal distance from toe to ankle as from ankle to top.

Description: The everyday sock, also called crew fit.

When to wear: Pretty much every outfit. You can be brave and combine them with shorts or skirts making the sock a feature, or just stick them on with jeans when you're heading out to the shops.

Trouser Sock
Size: Between 22-25cm. Bit longer than the standard.

Description: Sometimes called the three-quarter sock as they should go that far up the calf.

When to wear: These are often used in the office under suits, so that the risk of skin being shown when sat down is minimised. This size is also used in sportswear, especially skiing socks that need to rise above ski boots.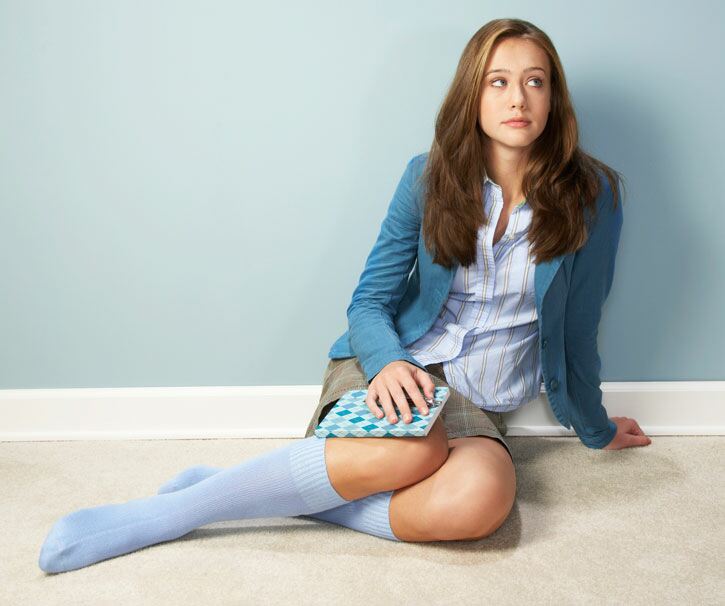 Knee High
Size: around 28-30cm. Just under the knee.

Description: Does what it says on the tin, these socks go up to just under the knee line.

When to wear: Great with boots or with skirts and shorts to add funky looks to your outfit. They come in a variety of colours, designs and materials and can really transform an outfit.

Over the Knee
Size: 50-55cm. Just over the knee.

Description: Sometimes call high cut socks, these go over the knee.

When to wear: Wear pulled right over the knee for added warmth as a longer version of the knee high, or pull them down and make a feature of the rolled up material 80s-style.

Thigh High
Size: Over 55cm. Up to mid-thigh.

Description: Full length socks that reach mid-thigh. Elasticated tops are often used to keep them up.

When to wear: A great alternative to tights, these long socks can be warm when using wool or almost double as trouser in a variety of patterns when worn with short skirts. A more relaxed version of hold-up tights.