How to wear socks and sandals
Posted by SOCKSHOP
Throw out whatever pre-conceived notion you had about socks and sandals because they are in, and they're in fashion in a big way. Maybe our dads did actually have a fashion sense when they wore sandals over their socks?! If you're unaware of this new trend, keep reading to discover how to wear socks and sandals together.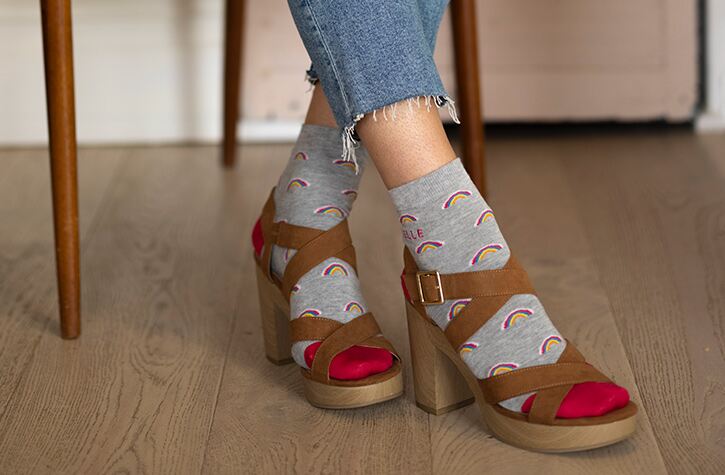 Why are socks and sandals fashionable?
The socks and sandals look was always more of a middle-aged dad type of fashion. They would go to the shops in them, drive in them and wear them around the house. It was a versatile fashion choice, but now it's fashionable for the younger generations too. Why is that?
Well, thanks to COVID-19 locking the world up behind closed doors for months (it seemed like years!), the idea of wearing socks with sandals became more popular. It was comfortable, warm and easy to wear.
The ease of slipping them off and on with all the warmth provided by socks was too much to ignore. Real-world clothes and footwear, like office shoes, trainers, boots and more became a thing of the past as comfort trumped style.
Eventually people started heading outdoors again, and carried on wearing their sock and sandal combo. And with that, a new fashion trend was born.
Cosy clothes
Similar to the socks and sandals boom, cosy clothes is now a huge fashion trend. Because of being cooped up at home, soft, baggy, comfortable clothes became the go-to option. No longer did we have to dress up to go into the office. Our jeans took a backseat and our joggers took priority. And just like the socks with sandals look, the cosy style went outdoors too.
Socks and sandals and baggy, loose clothing is now one of the most popular looks in world fashion. Joggers and tracksuits were not deemed to be suitable for outdoors, but comfort became a priority, outdoors as well as indoors.
How to wear socks and sandals
As we now know, the key to wearing the ultimate socks and sandals combination is comfort. That is the main reason why it's become such a popular look. So think about your comfort ahead of anything else. Socks and sandals combine softness and comfort with warmth. It's not the best footwear when it's raining or the temperature has dropped, but during spring and summer it's ideal.
In terms of the footwear you can choose, the world is your oyster. This fashion trend is all about comfort and expressing yourself, so go for whatever feels right.
Do you prefer Birkenstock sandals, Uggs, or are you more of a slider/flip-flop type of person? Whatever you prefer on your feet, just make sure they're paired with comfortable socks and are practical for where you're going. If you think you're going to be doing a lot of walking, picking out a secure pair of sandals would probably be better than flip-flops.
Conversely, if you're just running to the shops or know you won't be out for long, sliders may be best for you.
Personalise with colours
Now, the next part in figuring out how to wear socks and sandals is getting the socks right. This is the best part as you can express yourself through the colour of your socks and even with personalised socks.
You can go one of two ways with socks. One would be to play it safe. Plain and simple white, black, or navy socks - cotton or polyester - are the choice of many people. They don't want too much colour on show, and they just want comfort over style. It's a fair choice for many, but with socks and sandals you should be bold.
Personalise your look with colourful combinations. Fun and novelty socks are trendy and give you the chance to show off your favourite colours, tv shows, movies and more. In the socks and sandals world, your socks are your fashion statement.
Socks at SOCKSHOP
Here at SOCKSHOP, we care about what you put on your feet! We create socks that make a difference and, to us, socks are never just socks. They are the unsung hero of the wardrobe, they can help you look good, feel good, have fun and keep you warm, cool, comfortable, dry, healthy and energised.
If you're looking to hop on this latest trend, get in touch with us here at SOCKSHOP for expert advice and guidance. We have a wide range of colours, styles, sizes and materials for you to choose from.