How to wear tights in the summer
Posted by SOCKSHOP
Tights are a staple of a woman's outfit throughout the cold winter months. But did you know that tights can also be worn in the summer? You don't have to put them away into storage just because the weather has improved and the sun is shining. Continue reading our helpful guide to discover how to wear tights in summer.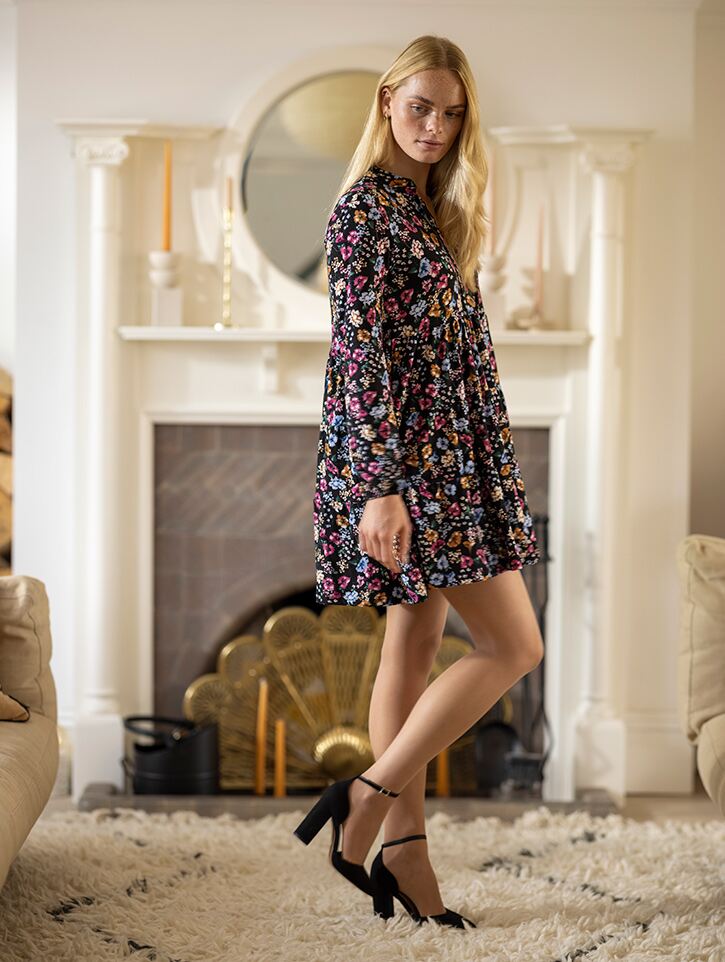 Should you wear tights in the summer?
The simple answer to this question is: yes. Fashion does not dictate that tights can only be worn in the winter months. Also, it comes down to your personal choice as well. You may feel very comfortable in tights, and just because the weather has warmed up doesn't mean you have to ditch them.
All you have to do is react to your environment and the rise in temperature. The last thing you want to do is wear those same thick, black tights you've sported all winter while out and about in the hot sun. Being uncomfortably hot is unbearable, so plan ahead for wherever you're going and dress accordingly. Select the right tights for the weather, and box up your thick, insulating tights for later in the year.
Which tights to wear in the summer?
Now that you've got your mind set on wearing tights in the warmer weather, you've got to know how to wear tights in summer. This means selecting ones that are thin enough to comfortably wear in the heat.
During the summer, the lighter the denier the better. This means a lightweight pair of tights. For the summer, an ideal denier would be between eight and 15 for an ultra sheer and barely-there look.
When picking out thinner tights for summer, don't forget that these are the months of the year where you can truly splash some colour. You don't have to go for the plain old black or darker tights, so pick a pink or a nude colour. Pink is a striking colour, but perfect for summer when flowers are blooming.
Nude is also a great colour to wear as you can match it with an out-on-the-town outfit, as well as an outfit for a more professional setting. Tights that appear to show you have a tan are a great choice for summer too. Pale legs contrast with the face, so showing off a slight tan is an option to consider.
Summer outfits with tights
In the summer months, you should pair your tights with lightweight, shorter clothes. This could be a light summer dress or high-waist shorts. Skin tone tights look fantastic during the warmer months, so try to avoid darker colours.
In terms of outfits to wear with tights, you can try short dresses or skirts. There's no need to wear a long dress now as the weather doesn't require it. Choose a material that is light and airy, which will help to cool you down in the heat. When considering dresses and skirts, try to pick out ones with flowery designs. These always look fantastic in the summer, and with a nude or coloured pair of tights, will be even better.
If a dress is not to your fancy, then consider wearing a t-shirt and shorts with tights. It's been proven to look great, especially with short shorts or high-waist shorts.
Tights are stylish and comfortable, and there are no definitive rules about how to wear tights in summer. But incorporating our tips will help to make you happier when the weather heats up.
Tights at SOCKSHOP
At SOCKSHOP, we don't just sell socks. We actually sell tights, gift sets, underwear, accessories and more! If you're in need of new socks or undergarments, or you would like to gift someone a special pair of socks, then you're in the right place.
Shop for tights & hosiery at SOCKSHOP and discover our massive selection of fabulous styles! Rifle through footless tights, black tights, sheer hosiery, fishnets, stockings, hold ups and find your perfect pair.
If you require any more assistance in your search for tights, socks and more, do not hesitate to contact us.