What does denier mean in tights?
Posted by SOCKSHOP
It can be hard when trying to pick the perfect pair of tights, especially if you're not sure what the denier count means. Depending on the time of year you're purchasing your tights, checking the denier is an important step in the process. So, is it cold outside or has the weather started to warm up, and, what does the denier mean in tights? Continue reading to find out everything you need to know about tights!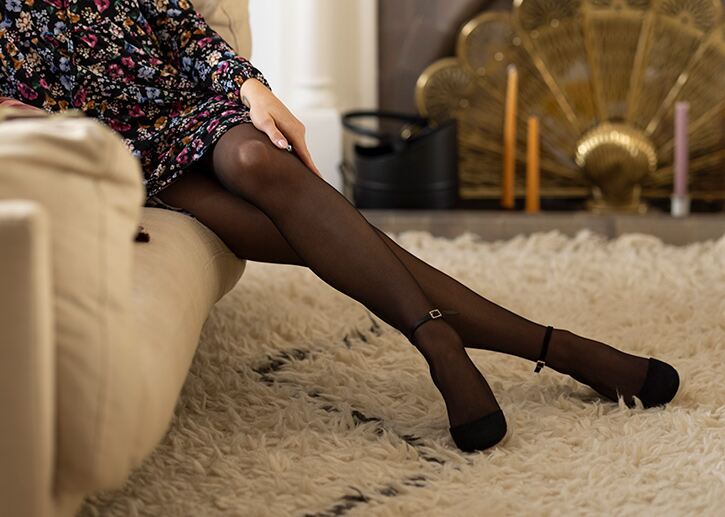 What does denier count mean when it comes to tights?
When buying tights, you may have noticed each pair has a different number on the packaging. This is the denier and represents the amount of transparency a pair of tights will have, which is directly related to their thickness. The higher the number, the thicker and more opaque the tights. Denier ranges from five to 100 and anything over 50 is classed as opaque, while sheer and transparent tights are found between five and 50.
Because the higher denier tights are thicker and more opaque, they provide more warmth, so are more likely to be worn in the winter month. It would be handy in the winter to stock up on thick black tights, and the higher the denier the darker your tights will be.
If you're not sure what denier you need for warm tights, pick out a range of tights between 50 and 100 and try them all. For some, tights with a denier of 100 may be a little too thick. Although, it may come in handy in the depths of winter when temperatures hit zero or below.
Depending on the time of year and the weather, the opaqueness of your tights will differ. So when purchasing a new pair of tights, pay close attention to that number on the packaging. Spring and summer time dictate a low denier, which would be much cooler.
How is denier measured?
Denier is measured by weight, in grams, of 9,000 metres of fibre. If the fibres are thick, the weight of the 9,000 metres is heavier than if they're thin. For instance, a human hair has 20 denier, which means that those metres of fibre weigh 20 grams.
Picking the right pair of tights
Depending on the time of year, the weather and the location you're planning on wearing your tights, the denier will prove to be an important factor during your purchase.
If it's winter and you know you'll be outdoors for a while, then a high denier count is recommended. The thicker the pair of tights are, the better they are in cold conditions. However, if it's spring or summer and the temperature outside is warmer, you can afford to go for a lower denier and a more sheer, transparent look.
Choosing the right tights can also depend on the outfit you've chosen. If you're wearing a lighter dress - possibly with a floral print - then a nude, sheer pair of tights would be ideal. Black tights can sometimes be difficult to style.
High denier vs low denier
High denier tights have four key concepts that differentiate them from low denier tights, which are that they are thicker, stronger, more opaque and more durable. A high denier pair of tights will be less likely to snag on a fingernail or surface compared to more sheer, low denier tights.
Low denier tights are thinner, more sheer and a little more susceptible to a snag or tear. This isn't because they're not made as well as high denier tights; it purely comes down to the level of thickness in the thread.
Low denier tights are great for the summer months because they provide some comfort and warmth, as well as accessorising an outfit. The warmer temperatures allow for brighter colours too, which gives you the chance to express yourself more compared to the winter.
Tights at SOCKSHOP
Shop for tights and hosiery at SOCKSHOP and discover our massive selection of fabulous styles! Rifle through footless tights, black tights, sheer hosiery, fishnets, stockings, hold ups and find your perfect pair. We not only sell a wide range of colourful, professional and personalised socks at SOCKSHOP, we also provide accessories, underwear, tights and more. If you'd like any more assistance, please do not hesitate to contact us.