What socks should you wear with shorts?
Posted by SOCKSHOP
Finding the right combination of colours and styles to create your outfit can be a frustrating task. This can be especially difficult when you're wearing shorts and aren't sure which socks you should wear. There are a wide variety of sock types, sizes, colours and materials, so what's the answer? Well, you're in luck, keep reading to find out what socks to wear with shorts in this handy guide.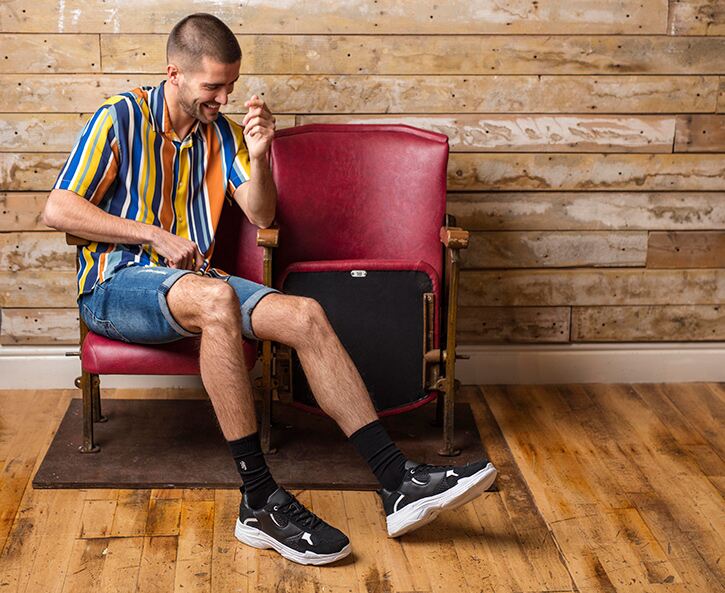 Ankle socks
Figuring out how to wear socks with shorts can be an arduous task, especially if you're running late and need to be somewhere fast. It's hot outside and your chosen item of clothing is your favourite shorts. That's great, but you need to figure out which socks you're wearing to match them.
Typically, when choosing what socks to wear with shorts, people will choose ankle socks. They're a safe bet and don't cover up half your lower leg. But they aren't actually the best choice for matching with shorts.
Ankle socks poke out over the top of your shoes, aren't trendy, and can actually take away from your whole look. If you want socks on display, you may as well go for colourful tube socks. Your best bet, though, is invisible socks.
Invisible socks
If you're unsure how to wear socks with shorts, invisible socks are the best option. Otherwise known as shoe liners, they provide comfort for your feet and soak up moisture throughout the day. The clue is in the name too, as invisible socks can't be seen above your shoes.
This means your outfit still looks great because the eyes aren't drawn to the socks protruding over the top of your shoes.
A quality pair of invisible socks will stay in place all day too. There's nothing more frustrating than having to reposition your socks every couple of minutes because they've slid underneath your foot. Some socks actually have little pieces of non-slip rubber grip on the heel to keep you comfortable all day.
Tube socks
If you want to wear longer, more comfortable socks then make sure they match the colour of your shoes. Tube socks are a popular choice in daily clothing because of their comfort. However, they're not the best look with shorts. In some cases, tube socks actually make for a good look, but it can be difficult to pull off.
Colourful socks
Just like tube socks, colourful variations can be hard to match with your shoes and shorts, but there are ways around it. Colourful socks are the style choice for someone who is very confident in their look and wants to show it off.
If that's not you and you'd just like to know which colours to wear, then try a minimal look with grey, or grey and black. With these colours you can match with socks that have lighter shades or a pattern.
What shoes are you wearing?
The final thing to consider when matching socks with shorts is matching them with your shoes. This whole time you've been focusing on your shorts, but your shoes are just as important to the overall look.
Wearing no socks is becoming more popular, especially with loafers and boat shoes in warmer weather. With smarter shoes or trainers, it's always a good idea to wear a pair of socks. For anything else, like sliders, sandals and flip-flops, go with no socks unless you're uncomfortable!
Verdict on what socks to wear with shorts
After careful consideration, the verdict is in! Invisible socks are the go-to option to wear with shorts. They're stylish, discreet, comfortable and still do a good job of providing ventilation and soaking up any moisture throughout the day.
If you prefer no socks at all then go with it, but be aware that bare feet can sometimes leave odour in the shoes you've been wearing all day. No-show socks are a cleaner look than any other type of sock and mean you don't have to worry about matching socks to your shorts.
Socks at SOCKSHOP
Here at SOCKSHOP, we care about what you put on your feet! We create socks that make a difference and, to us, socks are never just socks. They are the unsung heroes of the wardrobe, they can help you look good, feel good, have fun and keep you warm, cool, comfortable, dry, healthy and energised.
We have an enormous collection of socks in all sizes, styles, colours, fits and materials. You'll have no problem at all finding the right socks to wear with shorts when shopping with SOCKSHOP.