What socks work best with a blue suit?
Posted by SOCKSHOP
Blue suits are perfect for almost any occasion. You can wear them at a formal event, in a professional environment, and at a social event like a wedding or a garden party. There are a number of factors to consider when picking a blue suit to wear, including socks, suit pattern and colour. Keep reading to find out the best socks for blue suits.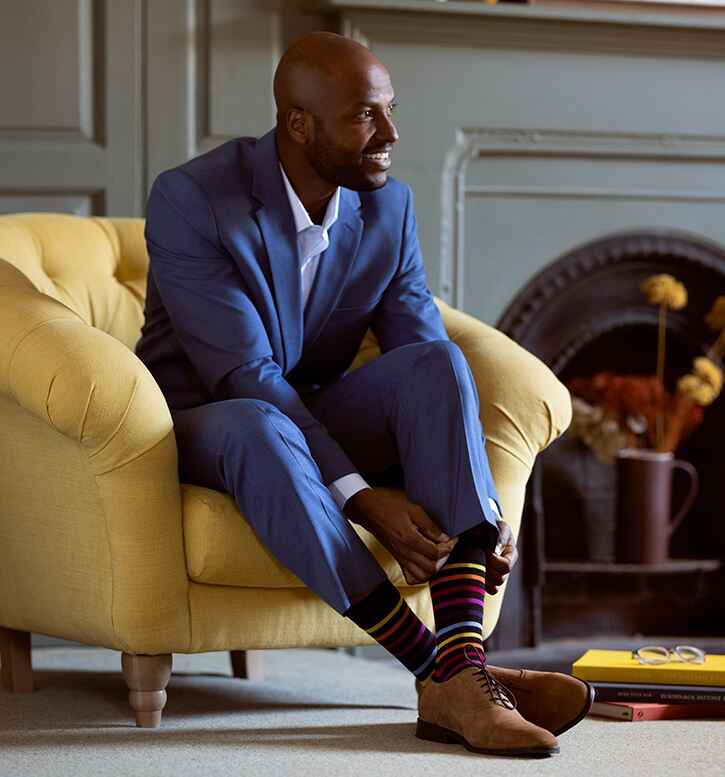 What type of blue suit?
Picking the right suit can be difficult, but you can never really go wrong with a blue or navy suit. Except at funerals, where you should wear black. When choosing socks to wear with a blue suit, you must first consider a few aspects, as the colour and pattern of the suit may change the socks you can wear.
Suit colour
Of course, there are different shades of blue suits. The most common colour suit that people will choose is navy, though light blue and royal blue are also looked upon favourably.
Navy works well in most settings, especially at the office for a big meeting and just sitting at your desk. It also looks great for weddings all year round, so you're unlikely to go wrong with a navy suit.
If the social event you're heading to is during the warmer months of the year, then a light blue shade would look fantastic. To make the outfit shine and stand out even more, ensure you have picked the best possible footwear to match your suit.
Matching shoes
Shoes play an important role in your look. Matching shoes to a blue suit, whatever the shade, can be difficult. Brown shoes are often the go-to for blue shoes, especially when wearing a lighter shade. Black shoes, though, still look great with blue suits, and are a good choice for a professional setting.
If you've chosen to go with brown shoes with your blue suit, you must also select the right socks to match. If you're unsure of which socks to wear with brown shoes, you're in the right place as SOCKSHOP has a helpful guide just for you.
Socks for blue suits
Now comes the important part: your socks. You've picked out your suit - the shade and pattern - and the shoes. Now, you're probably thinking the socks will be easy, right? Well, picking matching socks for blue suits can be difficult, as there are a variety of things to consider, especially the colour.
Which colour socks for a blue suit?
Picking the right colour sock can make or break your blue suit look. There are a variety of colours you can wear with a blue suit, including red, navy, grey and brown.
Red socks for blue suits are a bold move as the colour really stands out. Wearing red means you don't have to take any other risks with your outfit to stand out, because the colour pops and grabs attention.
For something a little more understated, a navy sock is a safe bet and matches very well with blue suits. It streamlines your suit and provides a powerful, professional look.
For formal occasions, a grey sock would be a smart choice. They go extremely well with a blue suit and create a professional look, making them ideal for wearing at the office or for an interview for that big job you want.
A brown sock can be a more pleasing contrast on the eye, but try not to wear brown shoes as it may clash a little.
Patterned socks for blue suits are also an option, but you must ensure you pick a good pattern. Striped socks work well in a professional environment, and if you can match it with a pocket square, it looks even better. One important thing to remember is that if your suit has a pattern, wear plain socks.
Sock material
Choosing the best socks for a blue suit not only involves the colour and pattern, but also the material.
The material of the sock depends a lot on the type of activity you'll be doing while wearing the suit, and your personal preference. If you're likely to be on your feet all day at a wedding, then cotton, wool, or cashmere would be a good choice. They would also be good materials for a winter setting.
If you're likely to be very warm then bamboo socks and polyester would be ideal due to their ventilation and ability to soak up moisture well.
Socks for blue suits at SOCKSHOP
We have a wide range of socks that are perfect to wear with suits. If you're looking for the best socks for a blue suit then you're in the right place at SOCKSHOP. Pick from any size, pattern, material and colour to give your outfit the final touch it needs.
Here at SOCKSHOP, we care about what you put on your feet! We create socks that make a difference and, to us, socks are never just socks. They are the unsung hero of the wardrobe, they can help you look good, feel good, have fun and keep you warm, cool, comfortable, dry, healthy and energised.
We like to "shake things up" and get people excited about their footwear, working with compassion, creativity and purpose to achieve that goal! If you'd like to know more about the best socks for blue suits, contact us now.