"So this season!" – The design of the sock
Posted by Katrina
So the design team have read the right books, completed their homework, and now the design work can begin! At this point, I have been reliably informed that the process should go rather quickly and smoothly, as long as enough research has been done!
Designs are completed on a programme called Adobe Illustrator, using a template that is a very basic outline of a 2D sock. The artwork is arranged on the template in the exact place the designers want to appear on the final product.
Designer Kim said: "We have to always keep in mind the final sock, and how our artwork will translate onto it."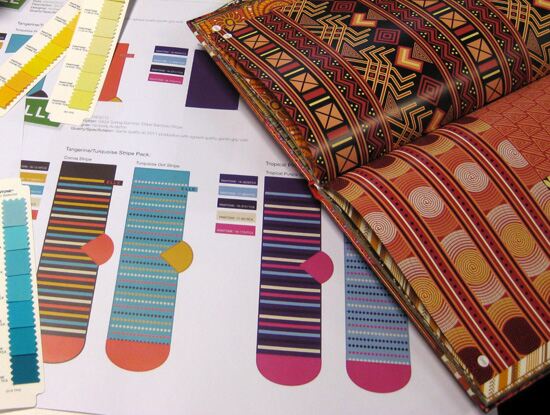 The designers use a 2D sock template to try out new patterns and colours
Once the designs are complete, the team will then 'swatch them up'. This involves choosing a swatch for each colour that is used in every design, which is then sent to the factory where the socks are made. The yarn used to make the socks is then dyed exactly the same colour as the swatch.
Kim said: "Sometimes we will send a 'swatch' that is a piece of material or even a piece of fabric cut from a previous sock style, that the factory can then match the colour to. We also have a library of pre-cut colours that we can choose from that we have built up over time."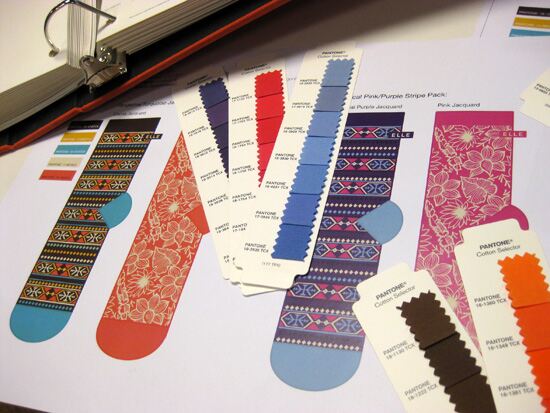 Swatches are sent with the designs so the yarn can be dyed the correct colours
Once they have compiled their swatches, the designs are ready to be sent to the factory to get made! The team will have to wait around four weeks to receive the first samples. They will then get to see if what they had imagined and created on the computer looks good as an actual sock!

As soon as the samples are in, I'll pop them on the blog so you can compare, and see for yourself which designs look the best.


Katrina x