Extreme testing!
Posted by Katrina & Craig
Whenever we need a new pair of socks or items from the site testing/reviewing it's normally quite easy to find a volunteer – either a team member or customer – who can use them for every day wear.
But I've been looking for someone to do some extreme testing and try out some of our specialist products as they're meant to be used – namely through being really active. And there was only one person in the SOCKSHOP office that is up to the task – our designer Craig!
Craig loves to complete rather intense cycling challenges, sometimes for fun and sometimes for charity. At the moment he's training with the intention of completing in the 'Three Peaks Cyclo-Cross', a gruelling 38-mile race which takes place in the Yorkshire Dales National Park in September and requires riders to cycle 34 miles and climb 5000 feet carrying their bikes (rather him than me!).
So to help with the rather daunting task of being fit enough to tackle this race, we equipped Craig with the below items, which he's very kindly reviewed for us.
Men's 1000 Mile 'Tactel' Fusion Blister Free Socks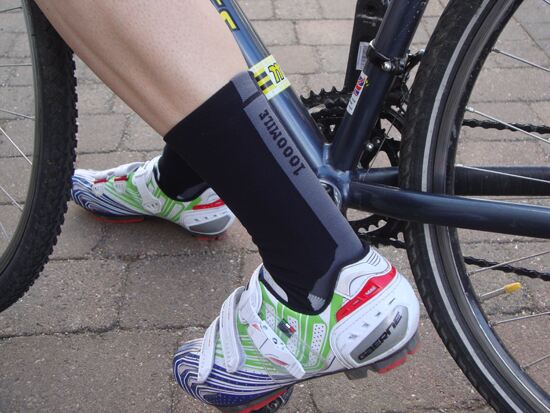 Craig says: "When I saw the 1000 Mile Fusion socks I knew they'd be great for cycling. They're constructed from a double layer, which is something 1000 Mile has done for a long time now, but the brand has taken things one step further with these socks. Instead of two layers of the same construction, padded sections have been added to one of the layers, which create a welcome cushion around typical impact zones (toes, ball of foot and the heel area). They have also added a padded stripe up the back of the leg, which cushions and protects the Achilles.

Once wet you'll be in no discomfort either due to the tried and tested two layer blister-free construction (the idea here is that the two layers in the sock rub together, not the sock and your skin). There's good news for toes too as the toe closure is a tidy and fine affair.

As you can see I like these socks a lot! My only concern is that those who wear tight-fitting cycling shoes might find them a little bit of a squeeze due to the dual layer and padding. But if your shoes can accommodate a cushioned sock (much like the thickness of a sport sock) then you'll not be disappointed and they'll no doubt be the socks you look for first when you get your bike out."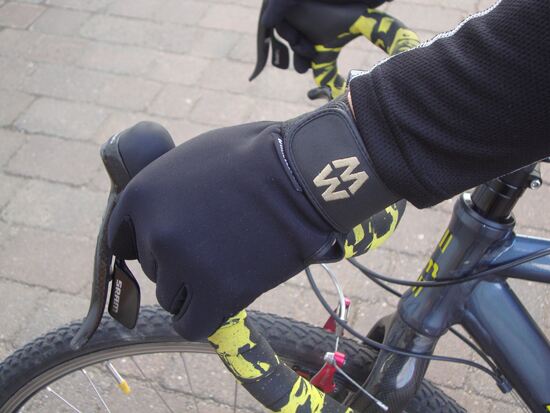 Craig says: "I've been using the MacWet gloves when cycling now for some years. Yes, you can get warmer gloves and you can also get padded gloves; but I don't believe you can get a better fitting glove! A cycling glove really takes some abuse; it's in constant contact with your bars, sometimes for hours on end, day after day. The MacWet glove takes everything thrown at it! Wash it, dry it, time after time and it doesn't cause any ill effects either. The 'Non-Slip' technology means I'm as confident on my bars in the wet as I am in the dry! The unique MacWet Aquatec fabric also allows for a sensitive touch (If you've worn big thick gloves you'll know how cumbersome they can be when changing gears and braking). When wet they dry out quickly due to the high wicking properties in the fabric. Moisture is transported around the glove which, in turn, helps evaporation. Unless it's seriously cold, MacWet gloves is all I wear when cycling! With 14 sizes available you'll be sure to get a millimetre perfect fit."
Falke Running Athletic Seamless First Layer Longsleeved Shirt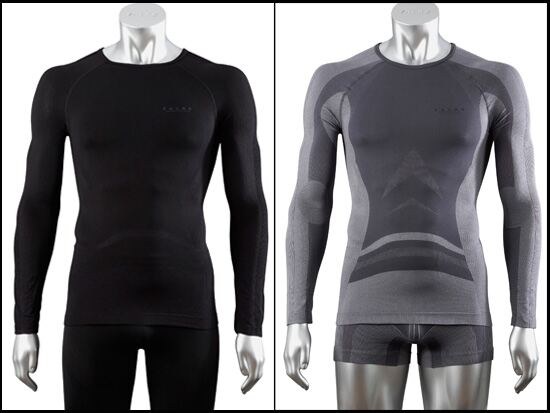 Craig says: "Before I even saw the Falke long sleeve base layer I knew it was going to be a quality garment. For one, Falke only makes high quality clothing and secondly, I have to say, that the box it comes packaged in is a work of art! The first thing that I noticed was how light and fine the base layer is - it has no problem fitting under the closest-fitting clothes. Secondly the whole garment is seamless, which is a feature you don't often see, and means there's little chance of abrasive points and uncomfortable chaffing.

You'll notice the shirt looks small out of the box; it is an athletic fit but it has sooooo much stretch in it! It will really mould around your body shape like a second skin. It will hug every part of your upper body leaving no parts unprotected. The construction, which Falke call '3D Knit' and 'Open Mesh Weave', is also a bit special. If you look closely you'll notice the layup of the yarn is a complex one with a multitude of compression areas and open weave areas. One area that utilises the 'Open Weave' construction is the armpits and crook of the arm. This not only help abrasion but it helps cooling in areas prone to sweating.

This is the first thing I put on when cycling and no doubt I'll be wearing it throughout the year."