SOCKSHOP Corner - Puzzles and tips
Posted by Danielle

Have fun with sock related puzzles and advice and tips on many things from how to 'stay sockwise' to what to do with your old tights!

Games

SOCKSHOP Word Search
Which word from the list below is not in the word search? (Scroll Down for the Answer)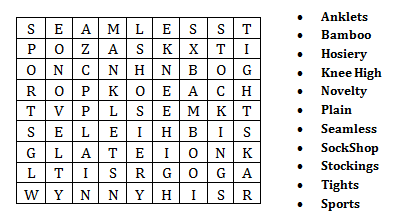 Sock Lyrics -A Short Guide to Sock Related Songs
- Aretha Franklin: Respect ("Sock it to me") Atlantic Records
- Van Morrison: Drivin' Wheel ("Sock it to me baby") Cleopatra Records
- The Beatles: Eleanor Rigby ("Look at him working, darning his socks in the night when there's nobody there") Capitol Records
- The Beatles: I've got a feeling ("Ev'rybody pulled their socks up")
- Cat Stevens: Portobello Road ("Cuckoo clocks, and plastic socks")
- Elvis Presley: Santa Bring My Baby Back ("Fill my sock with candy")
- The Beastie Boys: Intergalatic ("Kick off your shoes and relax your socks")
- The Eagles: James Dean ("Sock hop, soda pop, basketball and auto shop")

Do you know of a Sock Song? Email:
How to stay 'Sock Wise'
- Socks are part outerwear - part underwear - they're inside your shoes but show a tantalising glimpse from under your trouser leg.
- Red isn't the only colour for statement socks - there are lots of other colours around and you know where to find them - right here of course @ sock shop!
- Wearing the wrong socks may make others question your judgement.
Tights can last for ever - What to do with Discarded tights
A fact of life about hosiery is that it is frequently discarded after a number of uses. Environment conscious consumers might reasonably be concerned about how to dispose of them. Here are a few imaginative ideas about how discarded hosiery can be "recycled":
- Filling material for pillows, handmade dolls and stuffed animals.
- A bathing cap to wear in bath or shower to keep hair away from the face.
- Hanging storage for vegetables.
- Shoe polishing cloth.
- Placed around the base of strawberry plants in the garden to prevent the berries from being splattered with dirt.
- Cut into small pieces and stretched around wire frames to make a decorative floral arrangement.
- Hair ribbon with just the right amount of stretch to knot around a pony tail.
- A quick fix for a broken fan-belt in the car.

The important point is that used hosiery does not need to be simply thrown away! It can be considered a useful resource.

Word search Answer: SOCKSHOP