SOCKSHOP tests Healing Socks... Yes, you heard us!
Posted by Danielle

If you're signed up to the email newsletter list (if you're not, then why ever not?! You're missing out on some awesome exclusive offers and deals!), then you'll have noticed that we recently asked for some volunteers to test some 'Healing Socks' for us.

The jist is basically this, nobody likes that rough and often painful feeling of cracked, dry heels, and it can be expensive to pay for creams etc. to rectify the problem. So why not fix it with each step... or even in your sleep!

The 'Healing Sock' we sent out to trial is a plain black sock, with a difference! The heel area on the inside of the sock contains a unique 100% Cotton "pad", containing a special mixture of soothing elements, Chinese Herbs and some fairy dust (okay, not that last one but you can check out the full composition of the socks further below).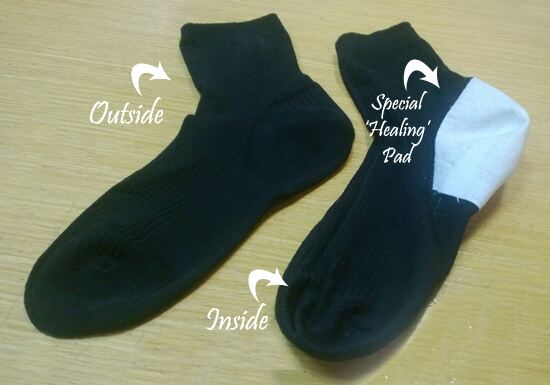 Sound too good to be true? No siree, these 'Healing Socks' really do exist... We're not even April Fooling... because it's May, but even so they're really real! I even got the chance to test some out myself and WOW! I could feel the difference after just one wear.

Whether wearing out and about or teaming them up with my pyjamas and wearing to bed, the 'Healing Socks' were able to work their magic, leaving my relatively cracked, dry heels a heckuva lot smoother and more comfortable!

Don't just take my word for it! Check out some of the responses from other wear testers (for legal reasons we can't provide any names but we assure you they're legit...)

"The sock is very magical. It works perfectly and effectively to heal my cracked heels and improve the condition dramatically."
"Comfortable to wear, noticed improvement after 1st wear!"

"Very pleased, will do well on the market. Good results without spending lots of money on creams. Good results."

And if you want some physical evidence...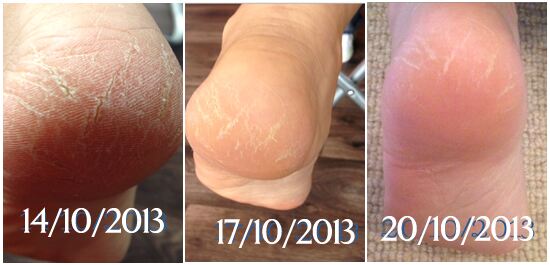 One of our wear testers found a seriously notable difference after less than one week of wearing!

And what's in these miracle socks, I hear you ask?

Fibre composition: Main: 81% Polyester, 18% Cotton, 1% Elastane Pad: 100% Cotton
Ingredients of pad: natural latex, potassium, hydroxide, allantoin, acetylsalicylic acid, accelerant, zinc oxide, lanolin, nano silver solution
Chinese herb: Fang Feng, Jing Je, Tougecao, danggui, baizhi, honghua, saqi

Keep your eyes peeled for more news on the development of these no less than... well... revolutionary socks! They're still in the works for now but, as soon as they're available, we're sure our buyer will be snapping these up then you can get your hands on a pair... or five!

Danielle x