Half-term crafts to keep the kids entertained – using your old socks
Posted by SOCKSHOP
Schools around the country have closed for the half term holidays, and with the kids at home, it's a great time to get stuck into some arts and crafts together. But forget coloured card and felt tip pens – have fun and recycle by turning your odd socks and old pairs into handcrafted works of art. Here's how…

1. Play with sock puppets
It's the age-old solution, but it's a good one after all. Transform your lonely socks into puppets by adding googly eyes and felt to create noses, mouths, tongues and ears. The internet has a huge range of templates for you to choose from, each as creative as the next – from dragons to dinosaurs.

Want to take it a step further? A spare carboard box doubles up as a fabulous theatre stage – simply cut a rectangle out of the bottom of the box, decorate with grand red and gold curtains, and get your kids to write a script for a production fit for the stage.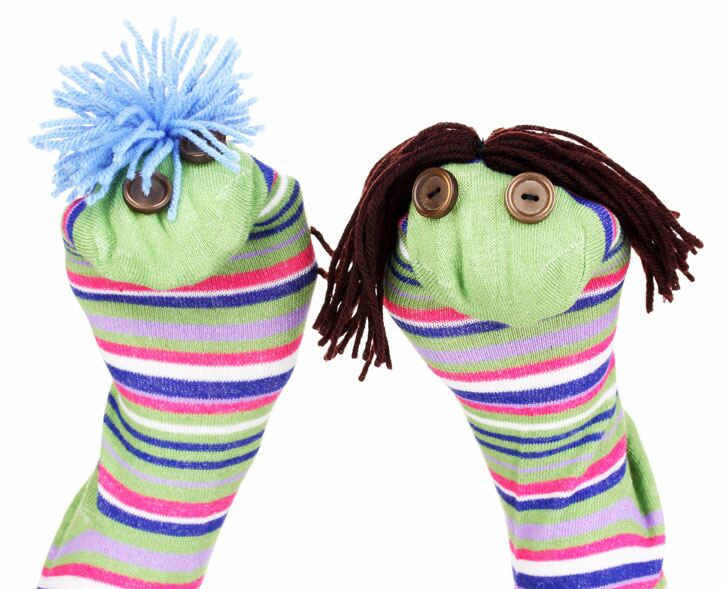 2. Stitch together a sock snake
A soft and squidgy sock snake is endless fun for kids and pets alike, so if you have a lot of socks spare, create your own stuffed creature. All you need is 10 or more odd socks – they don't need to be the same length – that you can snip the toes off (but save two for the start and end of the snake) and stitch together. Before you sew up the end, stuff the snake with pillow stuffing, then add button eyes and a ribbon tongue. The result is a fun addition to the stuffed toy family. If you've got so many odd socks, make your snake as long as you like!

3. Rattle off a rattle
If you have a new baby in the family, rally your older children, nieces or nephews in to make a homemade rattle using some odd socks. First take a CLEAN odd sock - preferably a child's sock as the rattle needs to be small enough for baby to hold (don't worry if you only have adult socks, you can get creative and make a ring rattle!) Cut off the toe and cuff, and stitch one end closed. stuff the sock with some polyfil and one or two jingly bells. Stitch up the other end for a cute, simple homemade gift! Colourful striped and polka-dot patterns are perfect for this as the bright colours, along with the sound of the bells will add to baby's sensory experience.

If you want to get even more creative, make little animal heads out of felt and thread to stitch onto one end of your rattle, or use a larger sock which you can stuff and stitch together into a ring shape.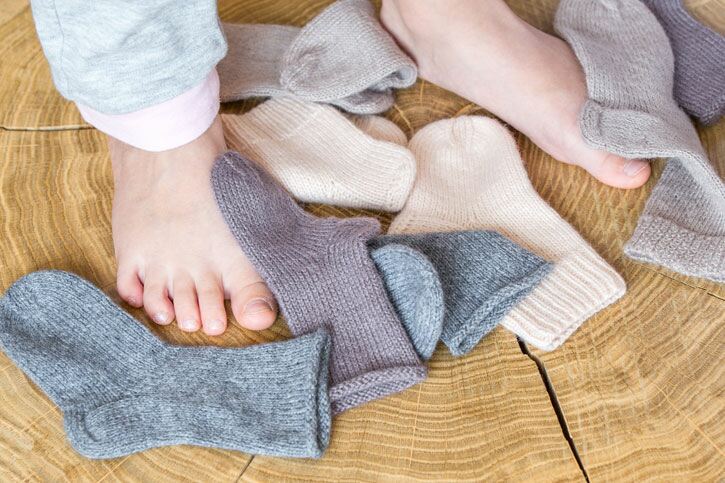 4. Sew your own socktopus
A quirky, colourful octopus that will quickly find its place amongst your kid's favourite stuffed toys. Simply stuff the toe of a sock and tie it off with some string, then cut the end of the sock up to the neck to create eight tentacles. Add felt eyes and you have a super-quick craft project that your child will love.

5. Make stegosaurus socks
Does your child have an adventurous sense of fashion? Indulge their creative side and bring new life to unwanted knee-highs with a funky pair of stegosaurus socks. Get your little one to cut some small triangles or pentagons out of colourful felt, then turn the sock inside out and cut small incisions down the back of the sock. Sew the triangles or pentagons next to the incisions, (taking care to secure and splits in the sock so as not to create tears), then push the felt shapes through and turn the socks back the right way! Your kid will be the talk of the school.

For a simpler version, double up the triangles and stick onto the back of the sock with some fabric glue!