When were socks invented?
Posted by SOCKSHOP
When were socks invented?
Plain or patterned, fun or sporty, socks come in all colours and sizes. Here at SOCKSHOP we are passionate about making your feet look good while crafting socks that provide ultimate comfort. As the UK's leading experts in all things sock related, we thought it was probably time to share with you some of our expert knowledge. So, if you've ever wondered when socks were invented, read on to get the lowdown on how socks came to be part of our everyday lives!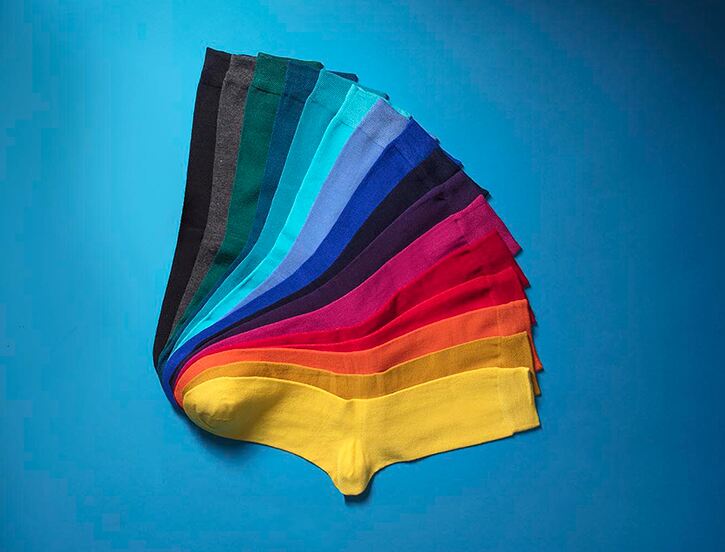 Why were socks invented?
It's not difficult to understand why socks needed to be invented. Not only do they keep our feet protected from the elements by keeping them warm and dry, but they have a number of health benefits too.

By increasing blood flow to the feet, sleeping with socks on helps to improve your circulation, while diabetic socks are specially designed to help prevent infection which diabetics are often susceptible to. A sock covered foot is a happy foot!

Socks also protect our feet from uncomfy shoes which can rub and cause blisters. They also are useful in moisture management, wicking away sweat - always a good idea to avoid stinky feet if you can, right?!
When were socks invented?
We love the fact that socks are a practical way to keep our feet toasty warm, whilst also providing a fashion statement at the same time, but when exactly were socks invented?
We can thank the Ancient Greeks for the invention of socks! Back in the 8th century, these guys were busy wrapping matted animal hair around their feet to provide warmth and protection from the elements. Thankfully, things have moved on considerably since then and these days the unsung heroes of the wardrobe are made out of much more comfortable materials. Let's take a look!
What are SOCKSHOP socks made from?
As a leading retailer of socks in the UK, SOCKSHOP are proud to stock socks made from a huge range of materials including:
Cotton

Bamboo

Wool

Cashmere

Alpaca

Cotton socks are natural, heat-resistant, they absorb and retain moisture, and have abrasion resistance and shape-keeping resilience.

Bamboo socks are beautifully soft, keeps your feet cool in warm weather and warm in cold weather, naturally antibacterial and hypoallergenic and keeps your feet fresh and dry.

Wool is an ideal material for socks as it is warm but also breathable and wicks moisture away from the feet keeping them dry and comfortable.

Cashmere socks are several times warmer than wool socks, meaning they are great for when you're out in the cold weather and don't want to wear several pairs of socks.


Discover every type of sock imaginable
Socks are more varied than they have ever been. Our range of socks come in all sorts of fibres, from basic cotton or wool to naturally-derived bamboo and modal, with technically advanced synthetics, we have a sock in stock for your every need, and every task!

Now you know when socks were invented so you can shop the range of men's socks, women's socks and kids' socks safely in your newfound knowledge. Socks are the ideal self care treat, or they make excellent gifts! If you're looking for the ideal gift for someone special, shop our range of luxury gifts, sure to put a smile on anyone's face!