Then all the Reindeer (and everyone else) loved him - The origins of our famous Rudolph sock
Posted by Danielle
Christmas time means Rudolph socks, right? Long and brown, smiley face, big red nose/toes? They're certainly among our favourites here at SOCKSHOP, both in house and with our customers, but would you believe they're actually the product of a children's 'design a sock' competition entry?!

The popular Rudolph sock is the brilliant creation of Catherine, now 17, who was 12-years old when she sent in her design. Catherine's entry, among others a few years back, was chosen as a winner and made into a real life sock which has been sold at SOCKSHOP ever since. It's safe to say the design certainly flies off the shelf around Christmas time!

We recently caught up with Catherine to see how she feels about having designed such a popular sock, and hear about what she's up to now.

"In year 8, at 12 years old, I didn't think that I'd have designed a sock that would go on to be a best seller. I didn't even think I would win the competition with my 'Rudolph' design. Now at age 17, my sock has featured as a part of my Personal Statement for university, something that hadn't even crossed my mind when I designed it.
Five winners of the competition would have their sock manufactured and sold by SOCKSHOP for Christmas. I wanted to create a simple sock that (hopefully) everyone would like. I was so happy to find out my sock had been picked and was excited to visit the factory and see the whole manufacturing process, from my drawing on a piece of paper to an actual, real sock.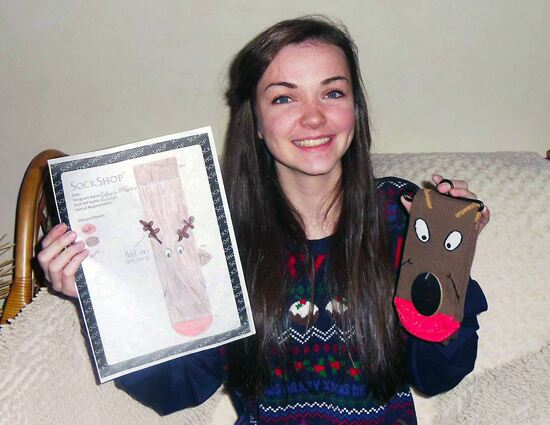 Catherine with her winning design and the finished product
I think everybody I know got socks for Christmas that year and it's crazy to think that people other than my family were given my sock for Christmas as well. I never really knew how many people until this year when I contacted SOCKSHOP. Amazingly they told us that 14,000 pairs of my sock have been sold and, at its peak, it reached the top ten sellers in clothes on Amazon!
I am now in sixth form and have recently applied to study Chemical Engineering at university. Hopefully through this I can combine my interest in design and manufacture with maths and science.
It has been a great experience seeing my socks in production and taught me that even a very simple design can be very successful. I'm really happy people liked my socks as much as me and hope that they carry on being given as presents for years to come!"


We're sure they will be Catherine!