SOCKSHOP staff fit the missing pieces for charity
Posted by SOCKSHOP
Members of the team at SOCKSHOP HQ have been getting crafty in their free time in the name of charity! Several SOCKSHOP staff members have completed a selection of Disney jigsaws, from Beauty and the Beast to The Jungle Book.

The jigsaws, which were kindly donated by Ravensburger, have been framed and donated to Puttinu Cares, a charity which provides care and support for Maltese children who travel to the UK for medical treatment, and their families.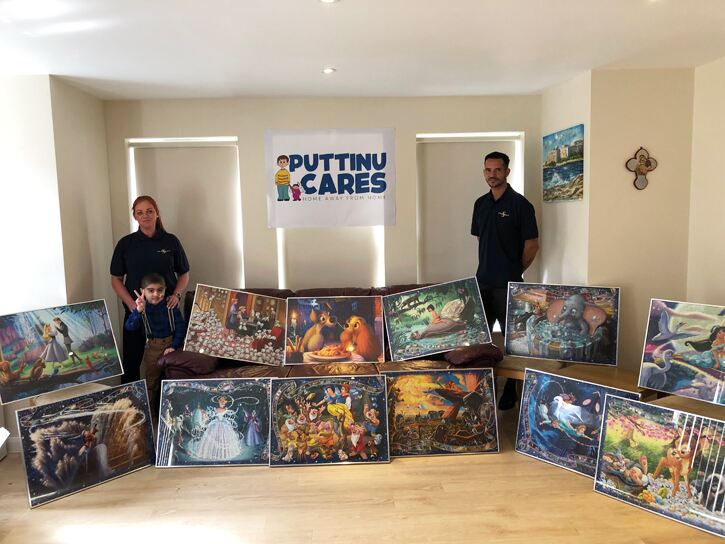 Vicky and Ste from SOCKSHOP presenting the completed framed jigsaws

The Puttinu Cares Cancer Support Group was set up in 2002 and began from an idea and a desire to offer a holistic approach of care for families with children suffering from cancer. Dr. Victor Calvagna and Mr. Rennie Zerafa were the founders of this group.

Completed jigsaws have been framed and donated to Puttinu Cares to brighten up the walls of the UK apartments which home children and their families who are visiting the UK for their treatment.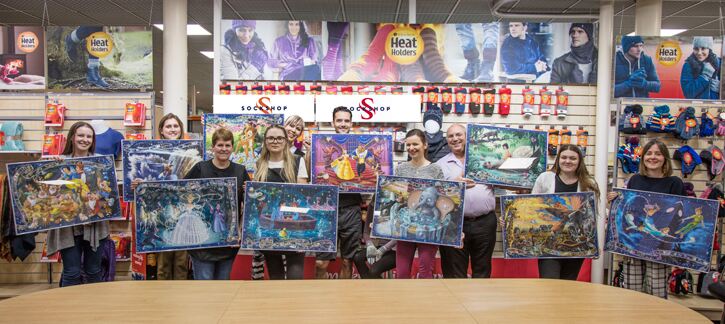 Members of the SOCKSHOP team with their completed jigsaws

Initially accommodation for the families was being rented in the UK, in close proximity of the hospitals in which they were receiving treatment. With this motive, and seeing the pressing need for accommodation, Puttinu Cares acquired its own house in Sutton UK, in the vicinity of the Royal Marsden Hospital where most of the Maltese young patients travel for treatment. Initially three flats that could house six families were purchased, and made available.

The success of this project, encouraged the Charity onto another bigger and ambitious project, in order to expand the accommodation from three to twelve apartments, so that more families can benefit from such help.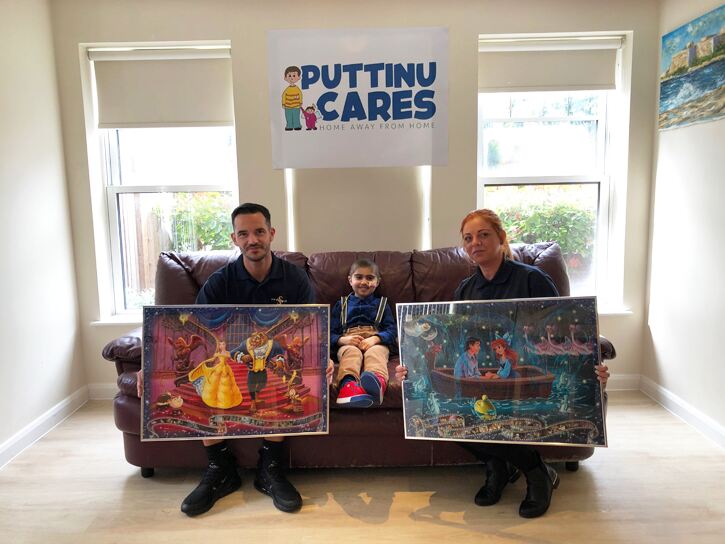 The effort was organised by SOCKSHOP's Operations Manager (and jigsaw enthusiast!), Derek Pickles, who rallied the SOCKSHOP staff to complete the puzzles for Puttinu. Many jigsaws have already been put together with many more being worked on!

SOCKSHOP have also donated £2500 to the Puttinu Cares charity.

You can visit their website at www.puttinucares.org and follow their Facebook page.