How We're Celebrating World Vegan Month
Posted by SOCKSHOP
The vegan movement has been growing steadily for many years now, with more individuals choosing a meat-free and plant-based life. With this growing movement comes World Vegan Month. Every November, vegans from all over the world come together to celebrate veganism and all of the benefits that come with this lifestyle, from health and wellbeing benefits to the positive impacts on animals and the environment. Veganism should be celebrated, so let us tell you how the SOCKSHOP team intends on celebrating this November.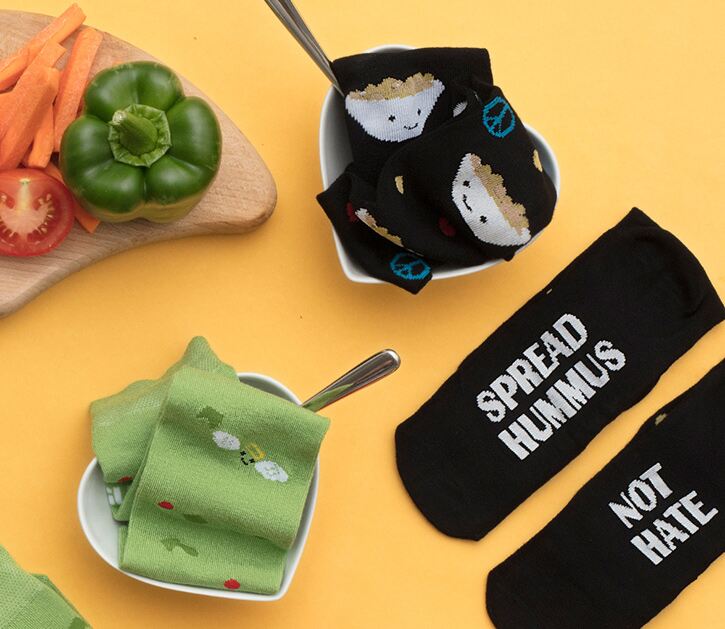 Why do we celebrate World Vegan Month?
Before we begin, let us tell you exactly why we celebrate World Vegan Month.

World Vegan Month is celebrated globally to recognise and celebrate the veganism movement. It is celebrated to shine a light on the benefits of this lifestyle and to motivate more people to follow a vegan lifestyle.

Here at SOCKSHOP, we are open to exploring new lifestyles and branching out from what we're used to, so keep reading to learn more about how we're celebrating World Vegan Month.


World Vegan Month calls for a treat
The easiest way to celebrate World Vegan Month is to go meatless in your meals. There are tonnes of recipes online that are easy, quick to follow, and most importantly, are vegan!

Although among all that meal planning, there's always time for a treat - and there are plenty of vegan treats to be had! There are a whole array of vegan brands on the market, from WICKED Kitchen to Candy Kittens, that offer a range of delicious sweet treats.

In November, you'll find us indulging in vegan goodies. We know it's a hard life, but someone's gotta do it, right?! After all, we are celebrating World Vegan Month.


Taking our work lunches to the next level
As we're sure many of you can relate to, there's nothing better than downing tools at midday for a cheeky lunch with your colleagues. If you're anything like us, you'll have a few work lunch dates scheduled for November. So why not kill two birds with one stone and step into a vegan cafe or restaurant?
This way, you'll be able to celebrate World Vegan Month AND support a local business at the same time!


Vegan gifts
With Black Friday quickly approaching and, yes, we've said it, Christmas, now is the time to do something a little bit different this year. Instead of shopping at your usual places for treats for yourself or others, try doing it vegan style.

Support ethical and sustainable businesses by shopping for vegan gifts, whether that be clothing, bath, and beauty products, or even a selection of delicious vegan food treats.

These are the kinds of gifts that will go a long way towards supporting World Vegan Month and will help to raise awareness of veganism. Also, if you've got any vegan friends or family, this is a great way to show your support and appreciation for their lifestyle.

At SOCKSHOP, we've got our eyes peeled on our top picks of vegan gifts. So trust us when we say, we'll be shopping vegan this November. Will you?


World Vegan Month at SOCKSHOP
At SOCKSHOP, we don't just celebrate World Vegan Month and then call it a day. We actually have a range of vegan-friendly products, including our fabulous selection of gift sets.

These sock gift sets have been specifically designed to use vegan glue, therefore providing the very best gifts for the vegans and vegetarians in your life. With gift sets for men and ladies' gift sets, we've got something for everyone in our range. Shop our vegan-friendly gift sets now and show your support for World Vegan Month.