Planning the perfect Halloween outfit
Posted 25th October 2017 by SockShop
Come October 31st, the streets of your town will be filled with ghosts, ghouls and an odd few skeletons thrown into the mix, too. Halloween is the best time of the year to flex your creative skills and go all-out with your costume.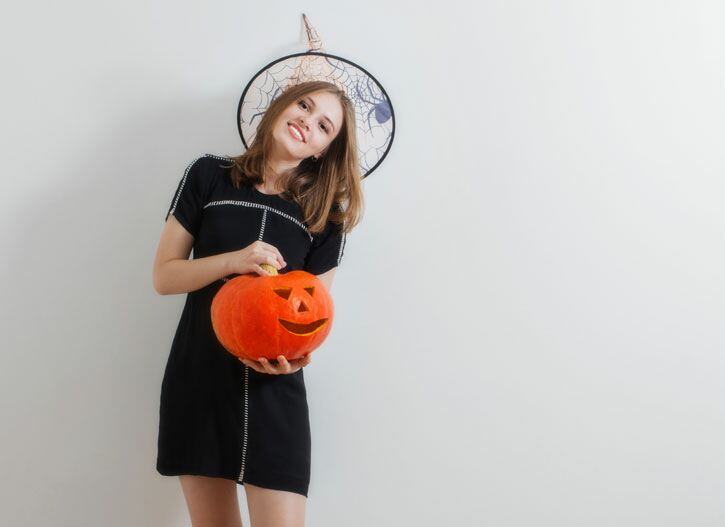 Not sure where to start? Our ideas for planning the perfect Halloween costume are here to help you out. And if you're looking for last-minute inspiration, you'll be able to throw most of these together in a matter of hours.

Vampire
If you can get yourself some fangs and some fake blood, you've got yourself an easy vampire costume. With those basic accessories, you can create any vampire look – from the traditional Dracula style to the vampy enchantress. It's the perfect last-minute costume for anyone who's left it a bit too late.

The wicked witch
A Halloween classic, all you need for this look is a plain black dress, some boots, stripy tights and a broomstick. Any style of dress, long or short, will do – but if you're feeling especially creative and don't mind cutting up your clothes, cutting a zig-zag pattern along the bottom will add a witchy feel.

Pair your dress with stripy tights and some black boots then, using some green face paint, colour your face and neck. Add some ghoulish eyeliner and a dab of red lipstick, and you're ready to cast a spell over your fellow partygoers.

Zombie
Bring your old clothes back from the dead and create a scary zombie look with just a few simple alterations. You can use normal clothes for this look, or get more creative with a theme – for example, a zombie cheerleader or a zombie bride. Scout out cheap clothes in second-hand shops if you'd rather not ruin your own.

Spray old clothes with brown hairspray or rub them with handfuls of mud to create a worn-in look, and don't forget the fake blood: blood-splattered clothes are the trademark of the zombie. Add a few rips and gashes and some uneven hems, and you've got yourself an easy Halloween outfit.

Superhero
Dressing up as your favourite superhero is a great child-friendly option if you're going to a party with kids. You can fashion a cape out of scrap material or a black bin liner, and create a mask with felt and an elastic band. And with our Superman, Batman and Wonder Woman cape socks, your feet can look the part, too.

From fishnet tights to x-ray socks, you can check out our full Halloween collection here!