Devilish decorating hacks in time for Halloween
Posted by SOCKSHOP
With Halloween creeping ever closer, we thought we'd help get you in the ghostly spirit with these top DIY decorating hacks, guaranteed to turn your home into a haunted house.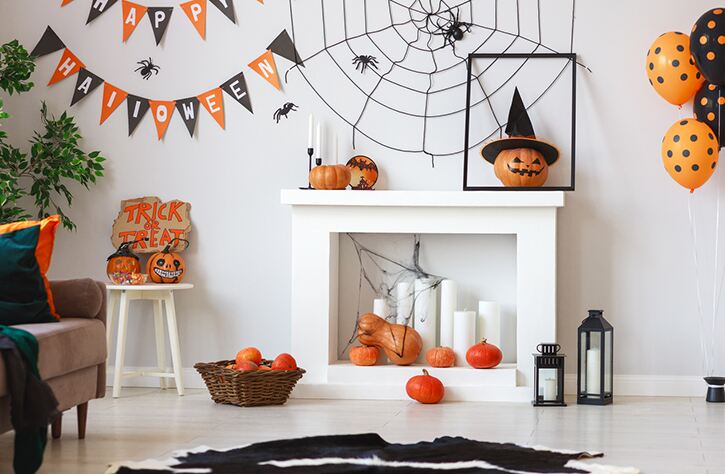 Wine bottle candlesticks
Try recycling a different way this Halloween, by turning your empty wine bottles into sinister flickering lights. Paint the whole bottle black and fill them with orange taper candles once they've dried. Commit to making a few, so you can scatter them around the house or group them together in one spot for effect. Just make sure they stay safe and secure amongst all the fun!

Tattered curtains
As you might not want to start snipping your own curtains, swap yours for an old pair, or get some cheaply. Dotted swiss fabric, or anything that's slightly see-through in parts will work best, as you'll be able to see any light flickering from outside, accentuating the rips and tears you'll need to make in them. Keep curtains shut for full effect. Terrifying!

Sheet-draped chairs
This hack does what it says on the tin. All you need to do is gather all the spare white sheets you can find and hang them over sofas, armchairs, tables and anything else you can find, for an eerie living room look. Then dress up your ghostly sheet-covered furniture with cobwebs, branches and skull or pumpkin lights.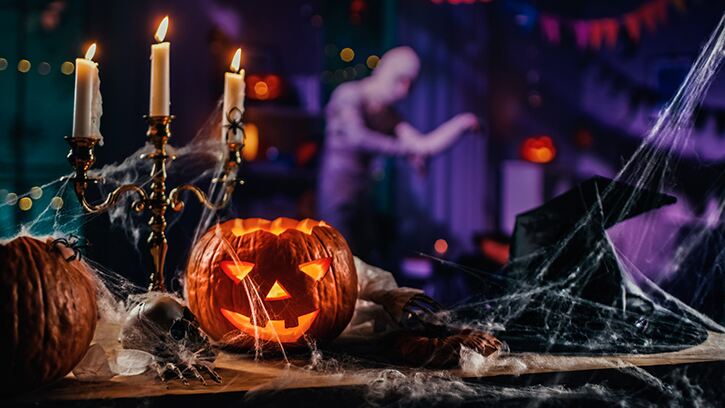 Candy-filled pumpkins
Instead of just carving pumpkins the normal way, utilise them as sweet-treats dispensers too. Simply trace a circle the size of the bottom of a glass bowl and carve the shape out, as well as all the pulp and seeds. Pop the bowl into the pumpkin, fill with candy and decorate as you please. You can also use these when answering the doors to trick or treaters…

Bubbling cauldron
This will bring your decorated room to life, and will make for a suitably spooky table centrepiece. All you need to do is equip yourself with a cauldron-esque cast iron Dutch oven, fill it with dry ice and add some water (or a Halloween cocktail) to create a bubbling fog. You can even decorate the cauldron too by resting it on a wreath, or styling with stuck-on flames.