Should you wear socks to bed
Posted by SOCKSHOP
Here at SOCKSHOP, we take our sleep seriously, and after a busy and tiring day, we love nothing more than to climb under the sheets and have a long and restful sleep. However, when preparing for our slumber, we are faced with one of life's most asked questions; should you wear socks to bed?

While some people may feel icky about the prospect of having their feet restricted during sleep, for others the risk of having cold feet could disrupt a good night's sleep completely. But do not worry, SOCKSHOP is here to tell you the facts about whether you should wear socks to bed, the benefits, and which of our socks are the best to sleep in.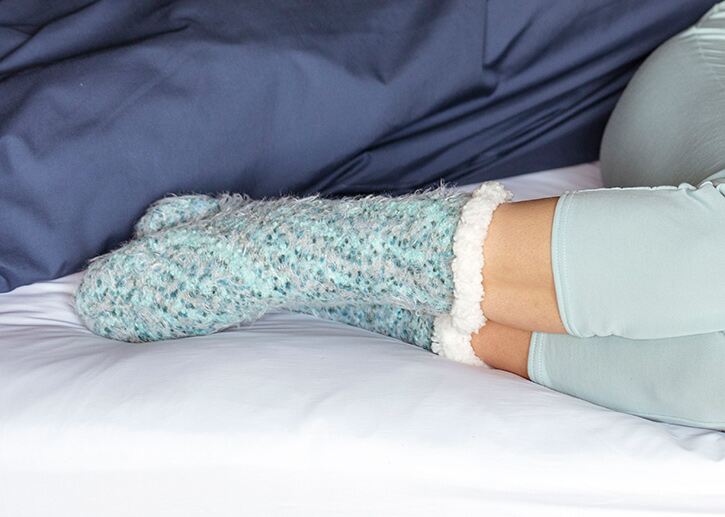 Should you sleep with socks on?
Wearing socks in bed can be a very contentious topic, and while some can't think of anything worse, others can't sleep without them. While of course, to a certain extent wearing socks to bed depends on personal preference, there is some science behind the benefits and how it can improve your health, as well as offering you extra comfort while sleeping. So we are here to tell you the benefits and disadvantages of wearing socks to bed, as well as which of our SOCKSHOP products are perfect to keep your toes warm at night!
Benefits of wearing socks to bed
Improved circulation
One of the biggest benefits of wearing socks to bed is that they increase blood circulation to your feet. Of course, we all need good circulation to ensure a healthy oxygen flow to ensure that our heart, lungs, and muscles are working effectively.

Improved circulation is also a good thing while you are sleeping as it causes your core temperature to drop. A low core temperature is crucial for getting to sleep, and being too hot throughout the night can wake you up. So, by wearing a pair of our very own slipper socks to bed you can get to sleep quicker and easier than if you weren't wearing any at all. Beats tossing and turning for hours doesn't it?!

Prevents hot flushes
If you are currently going through the menopause then getting a good night's sleep may be a bit of a touchy subject. This is because hormonal changes can cause hot flashes, which can leave you feeling uncomfortable throughout the night. But this can be prevented by wearing SOCKSHOP's ladies' socks to bed as it triggers the vasodilation process which can help to cool you down faster and make getting to sleep easier to achieve.

Thermoregulation
One of the main reasons why people wear socks to bed is because they help to regulate our temperature during the night. There is nothing worse than being too hot or too cold in bed, so by wearing socks to bed, you can avoid being woken up by changing temperatures.
Improved cracked heels
Cracked heels are a common problem and are often caused by not giving your feet the tender loving care that they need and deserve, and what better time is there to give your feet a pamper than while you are sleeping? By applying moisturizing foot lotion and then popping on your socks before going to bed, you can lock in that moisture and help to ease dry and painful cracked heels. But be sure to always wear a fresh pair of socks at night to avoid bacteria growth- nobody wants that!
Potential disadvantages to wearing to wearing socks to bed
While there are many health and wellbeing benefits to wearing socks to bed, you need to know the potential pitfalls in order to avoid suffering from any disadvantages.
Poor hygiene
Wearing socks to bed can cause poor hygiene if you don't always wear a clean pair. We also recommend that you spend some hours of the day without socks on to regularly give your feet time to breathe. If you already suffer from sweaty and smelly feet, then keeping your toes locked up in socks 24/7 is likely to make any bacteria and odours worse. So, our SOCKSHOP top tip is to always wash your feet and apply clean socks before bed.
Overheating
While having cold feet can keep you awake at night, wearing socks also runs the risk of keeping you awake if your feet get too hot. However, this is easily solved by wearing the right type of socks for you. You need ladies or men's socks that are made from breathable materials such as cotton, cashmere, and bamboo. You can search for socks made from these materials on our SOCKSHOP website.
What are the best socks to wear?
While most of us focus on the question, should you wear socks to bed? Instead, we recommend that you should focus on which are the best socks to wear to bed? This is because everyone can reap the benefits of wearing socks while sleeping, as long as they find the right socks for them. Whether you prefer bed socks that are thick and cosy or cotton socks which are breathable and help to regulate your temperature, we have the perfect sock for you.

Here at SOCKSHOP we can help you find your perfect socks, and think that your socks should be determined by what support you need. For example, compression socks are also a popular choice amongst men and women who are looking to reduce their risk of blood clots, muscle cramps, and leg swelling. For this reason, ladies' compression socks are popular amongst pregnant women.
Our verdict
Whether or not you should wear socks to bed largely depends on what helps you get the best night's sleep. SOCKSHOP can help you find the right socks for you, and we recommend that you experiment with the different sock materials we have available. Believe us when we say your feet will thank you for it!