The biggest autumn/winter sock trends
Posted by SOCKSHOP
Paisley, ruffles and plaid. We run through some of the prints and patterns to upgrade your autumn/winter wardrobe…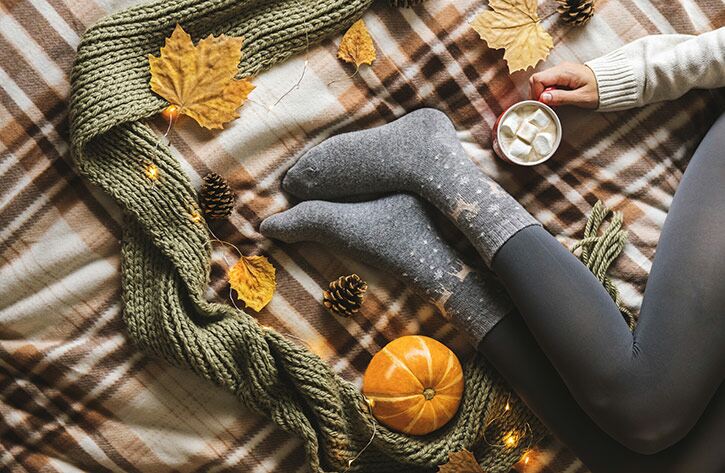 Paisley
Autumn/winter catwalks were filled with hippy prints on flowing silhouettes earlier this year. Celine and Chloé's Paris shows included long, loose dresses finished with a folky motif for the latest chic look. Paisley-esque patterns were a common feature across designs, and we predict the trend will make its mark in the sock world too. Corgi's paisley socks are available in a rich port and quirky purple to add a bohemian touch to your collection.

Shop the look: Classic All Over Paisley Lightweight Cotton Socks

Ruffles
Think Marie Antoinette and a touch of Shakespeare. Chanel and Prada were among the big names adding layers of lace and ribbon to their designs in a look that harks back to the 1980s' new romantics. If a tailored shirt or refined bib doesn't fit with the rest of your wardrobe, there's always the opportunity to add some frills with your socks. A simple ruffle top and delicate pattern will keep your outfit on trend without going the full Austin Powers.

Shop the look: Romance Pelerine Cotton Socks

Silver
Metallics play a star role in this season's most important looks. Picture ultra-reflective materials, rhinestones and cascades of mesh, so you can shine brightly as the early nights roll in. Shimmering designs from Balenciaga and Burberry wowed the crowds during fashion week and now your socks can do the same. Burlington's sequinned offering ensures your outfit sparkles from the feet up, the perfect party accessory.
Shop the look: Pailletten Sequin Sparkle Cotton Socks

Mini check
Givenchy and Gucci turned heads during Paris Fashion Week with outer layers covered in small checks. The fashion-forward will recreate the preppy look for themselves starting with help from Pantharella's Cooper Gingham socks and other check options. Traditional plaid on a big scale makes for a bold statement and we love the merino wool materials for a soft and naturally warm fit during the colder months.

Shop the look: Cooper Gingham Check Socks

Pantone Palette
Sometimes a well-chosen colour is all you need to stay on trend. Pantone is the authority on fashionable hues and according to its experts, a range of widely available tones make up the autumn/winter colour palette. Our 'true blue' colour burst socks share their name with Pantone's favourite blue hue, while our 'tangerine dream' socks bear a striking resemblance to 'exuberance', a "good-natured and expensive" shade of orange for 2020.

Shop the look: Colour Burst Bamboo Socks