PRODUCT INFORMATION
69% Viscose from Bamboo 28% Polyamide 3% Elastane
25 Pair Pack
Standard toe seams
Standard cuffs
Giant advent calendar gift box; 25 pairs of cotton socks; No two pairs the same; A gift for every day of Christmas; The ultimate Christmas socks gift! Machine washable at 40°
Thickness: Regular
SORRY, WE HAVE NOW SOLD OUT OF THE MEN'S 25 DAYS OF SOCKS ADVENT CALENDAR.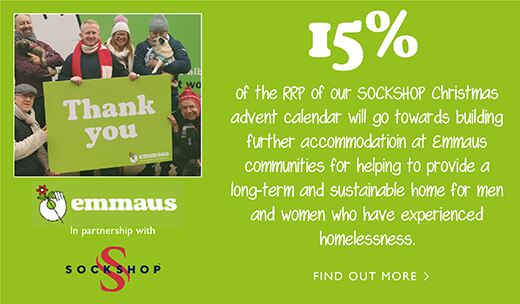 For anyone who really loves clothes – and loves socks in particular – this is the ultimate Christmas present! The SOCKSHOP 25 Pair Christmas Advent Calendar is the giant sock gift set that keeps on giving throughout the holiday. This huge gift box is packed with 25 all-different, all-new pairs from our equally giant range of socks, and from right across our own quality sock brands. Untie the satin bow, open the big doors to reveal 25 more smaller doors, and behind every one, a fresh, fabulous new pair of regular length socks for every day from the first of December right through to Christmas Day itself!
The SockShop 25 Pair Christmas Advent Calendar is available for both men and ladies. Both calendar boxes are filled with a curated collection of either our men's or women's socks, with both sets containing a different, very varied mix of quality bamboo socks. You'll get plain and patterned styles, spotted socks and striped socks, Christmas-themed novelty socks and socks in a whole rainbow of colours. This Christmas gift box measures a simply massive 11cm High, 34cm wide and has a lenght of 33cm – anyone receiving this festive package will be seriously impressed!