The Beautiful Game is Back
Posted by SOCKSHOP
Following a summer of unbelievable highs and devastating lows(dare we mention the Euros?) football fans
haven't had to wait too long to get their fix. Yes, that's right, the beautiful game is officially back! And as teams
up and down the country begin their preseason preparations, we take a look at what football has in store for
the 2021/22 season.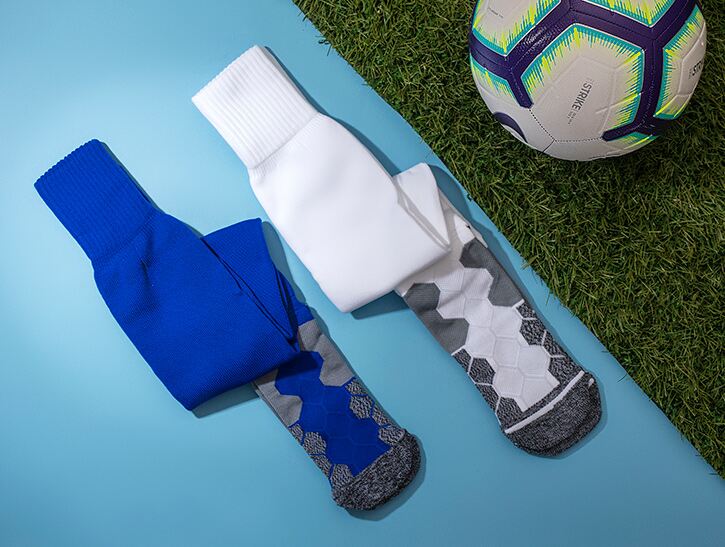 Will Manchester City storm the league once more? Will Liverpool bounce back from a disappointing seasonlast time out? Can the other team in Manchester kick on once more and return to the top of the English game following eight years since their last title win? And what of our local side, the mighty Bolton Wanderers? Can they secure back-to-back promotions and return to the Championship?

In this blog, we assess the runners and riders and look at what the return of football and, in particular, the return of fans to stadiums will mean to people at the grassroots level.

Who will rule in 2021/2022
Manchester City will be desperate to retain their title following a dominant campaign last time out, and for
obvious reasons, they're the favourites. They can be encouraged by the form of Raheem Sterling in the Euros,
and fans of the Citizens can also expect some big signings to make their way to the Etihad. Top of the list of
players linked with Manchester City is England captain and Premier League Golden Boot winner Harry Kane.
It's undoubtedly a position Pep Guardiola will be looking to improve on, following the departure of the club's
greatest-ever goalscorer Sergio Aguero.

With that prospect, it's difficult to look past City, but if we have to, there's always the uncertainty that comes
with a transfer window. What if they don't get their man in Kane? Which team is going to step up and take the
challenge to them? Last season's runners up and city rivals, Manchester United, will be considered, but
Liverpool are still the team most people will expect to mount the most serious challenge.

Last season's title defence did not go to plan. However, it's easy to forget the many injury problems that
Liverpool endured. Head of that list is their talisman, Virgil Van Dijk. In big games and big moments, Van Dijk
has been the difference for Liverpool. His towering presence at the back empowers the rest of the team to go
on and ruthlessly dismantle their opponents, particularly at Anfield and with his return to action during
preseason, their supporters will be expecting more of the same. There's also the return of Joe Gomez and
captain Jordan Henderson to lift spirits in the dressing room following lengthy spells on the sidelines. Then
there are the new additions. Jurgen Klopp has already added highly-rated defender Ibrahima Konate from
Leipzig, who'll help deliver the depth that Liverpool so sorely missed last season. With other players being
linked, Liverpool should be back to their best come the start of the new season.

Manchester United have been an improving force under Ole Gunnar Solskjaer. Yet there are still question
marks over whether he can be the man to deliver trophies at Old Trafford. This was not helped by their defeat
in last season's Europa League final against Villareal, who finished seventh in La Liga.

There's a split in opinion over Solskjaer's United. Some sections call for patience as the club rebuilds, while
others call for a more experienced winner to come in and take the team on. Nevertheless, Solskjaer remains in
the hot seat and is already making smart decisions in the transfer window, with England and Borussia
Dortmund star Jadon Sancho joining the club following the Euros. Alongside this, the French World Cup,
Champions League and La Liga title-winning centre back, Raphael Varane is also on the verge of putting pen to
paper and signing for the Old Trafford club. Are United genuine challengers? There is no doubt they have
improved in terms of league finishes in recent seasons, so they certainly can't be ruled out.
Best of the rest
What if the top 3 teams from the last two seasons fail to show up? What if they do but an outsider overtakes
them? Who are the teams to watch? The obvious choice would be last season's Champions League winners
Chelsea.

The Blues already have a squad jam-packed with talent, and with Thomas Tuchel getting the chance to have an
entire preseason with the team and the prospect of further improvements coming from future signings,
Chelsea is one of those teams that you can never write off.

Below Chelsea, there is the ever-improving Leicester team. Leicester are a bright, vibrant football team with a
manager famed for his attractive, high intensity attacking football in Brendan Rodgers. However, Leicester's
focus surely has to be seeing out a top-four finish after missing out on the last day for the previous two
seasons.

Further down the table lie the likes of Spurs and Arsenal, both of which are way off the levels of previous
seasons. Spurs have a new manager, and it will probably take time to impose his playing style on the current
squad. While Arsenal desperately needs to strengthen their squad to be in with a chance. Of course, you can't
rule out West Ham either after a fantastic last season.. The biggest challenge for David Moyes' men will be
managing the league and European football schedule in the same season, which will probably be a little too
much for them.
The new boys
It's not all about winning the title and Champions League qualification. For some clubs, just staying in the
league is going to be the focus of their season. With that in mind, let's look at who the new boys are for the
2021/22 season.

Ironically, the top two sides who have come up are anything but new to the Premier League. Norwich will be
desperate to rid themselves of the tag of 'YoYo Club' after another promotion last season. Norwich play
attractive, attacking football which is perfect at getting out of the Championship. If they are to stay up this
time around, their biggest challenge will be to adapt defensively.

For Watford, an immediate return is what they wanted, and an immediate return is what they've got. The
biggest challenge for Watford's manager will probably be keeping his job. With a somewhat trigger-happy
board, a bad start could see Xisco Muñoz come under fire. However, prior to their relegation two seasons ago,
Watford stayed in the league for five years, so despite a somewhat turbulent regime, they do have experience
of staying up.

The last of the newly promoted teams is a genuine Premier League new boy in the Bees of Brentford.
Brentford have been on the cusp of achieving promotion for a few seasons but have often fallen short when it
matters. Last season they ended their wait for promotion, securing a 2-0 win at Wembley in The Championship
Playoff Final. This season will likely be tough for them, and they'll be many people's favourites to go straight
back down. However, their attacking brand of football could serve them well.
What of the mighty Wanderers?
Football exists well below the Premier League, as our local side Bolton Wanderers have found out in recent
years. Following their glory years in the top tier, being a Bolton supporter has been a sobering experience over
the past five years. Poor running of the club and poor on-pitch performances saw them suffer multiple
relegations and end up in the bottom tier of the English football league. However, new ownership, new
management and a fresh look on the pitch saw Bolton secure promotion back to League One for the
forthcoming season.

How will they fare? Well, they should be fancied to perform strongly. Manager Ian Evatt has already been busy
in the transfer market, bringing in last season's loanees Oladapo Afolayan and Declan John on permanent
deals from West Ham United and Swansea City respectively. In regards to new faces, defender George
Johnston joins from Dutch side Feyenoord, Josh Sheehan has joined from Newport County to bolster the
midfield, and Will Aimson joins from Plymouth Argyle to provide a further boost to the Wanderers' defence.
With more transfers expected as Bolton build towards the new season, there's plenty of optimism among fans
that they can challenge for promotion once again, and of course, everyone here at SOCKSHOP is right behind
them.
Return of fans
Perhaps the most significant return this summer is the fans to stadiums and grounds around the UK. With the
Government announcing that the country will 'get back to normal' from next week as part of their roadmap
out of lockdown, grounds will be able to welcome supporters once more.

To many fans, football isn't just a game. It's a way of life. Not to mention that local clubs up and down the
world have been blighted because they can't welcome supporter income through their turnstiles. For the fans,
a return to their usual Saturday routine will be cherished, regardless of what level their team plays at. If we
have learned anything from the pandemic, it's that hobbies or things we enjoy should not be taken for
granted.

Grassroots football can also expect to be boosted as more teams can get back to playing. The success of this
summer's Euros should see many mini Raheem Sterlings and Harry Kanes making their way to their local
football clubs or venues. It truly is time to get kitted up and ready to go. Pull on a pair of your best football
socks, lace those boots, grab your goalkeeper gloves and get back on the pitch.

SOCKSHOP can't pick your preferred team or the position you want to play. But we can help you find the best
football socks with our extensive range. We have a mix of socks from brands such as Umbro and Adidas, as
well as London Made and Falke. Find the best football socks for you with SOCKSHOP.