When were tights invented?
Posted by SOCKSHOP
With the nights drawing in and autumn just around the corner, it won't be long before we'll be reaching for our favourite pairs of tights once more. We love these functional but stylish fashion staples here at SOCKSHOP. But when were tights invented? Let's find out, as we take a look through the hosiery history books to find out how this essential legwear found a place in our wardrobes and our hearts!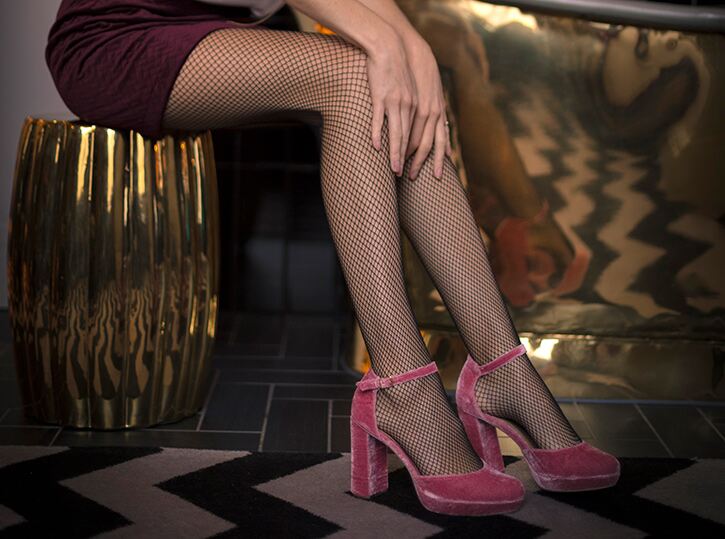 When were tights invented?
The type of tights that we know and love today are a relatively recent invention. But hosiery – which stems from the Anglo-Saxon word "hosen" or covering – has been around for centuries. In the 9th century, fashionistas of the Dark Ages wrapped bandages of material around their legs for warmth and comfort. By the 15th century prototype tights, featuring woven stockings connected to a codpiece, were all the rage.

Stockings were worn exclusively by men right up until the 18th century. It wasn't until the onset of the Industrial Revolution that the Victorian men of the 1800s peeled off their stockings one last time in favour of trousers. Then a new wave of altogether more feminine hosiery took off. By the 1920s low-cost sheer hosiery became available, with seamed nylons becoming the "must-have" legwear of the Forties.

It wasn't until the Fifties that tights, as we know them, were introduced in this country by Aristoc. But it was the Swinging Sixties, when supermodel Twiggy shot to fame wearing Mary Quant mini-skirts, that tights really exploded into the mainstream. Pretty Polly one-piece tights made them even more desirable and by the 1980s, Lycra introduced the world to the levels of comfort and fit that we're well-accustomed to now.
SOCKSHOP has the perfect tights for you
Tights are the unsung hosiery heroes of our sock drawers. Versatile enough to juggle workwear and eveningwear (often on the same day!), tights are the go-to legwear if you want to look and feel fabulous. SOCKSHOP has a huge range of tights and hosiery available in classic nylon or breathable bamboo. From sheer tights to opaque tights, patterned tights to shapers and leggings – your perfect pair awaits.

Our selection of tights and hosiery starts at a barely-there 10 denier through to transparent 20 and 40, semi-opaque 60 and 80, up to fully opaque 100 denier and above. We also stock knitted tights and thermal leggings to keep you snug in winter. SOCKSHOP tights come in a range of colours, from classic nude, skin tones and black to whimsical red, white or blue, as well as all sorts of patterns – including fishnets and polka dot.

Our tights range also stretches to pairs for taller and fuller figures, which are designed to fit longer or wider legs and hips. For darker skin tones, why not try our stunning legwear range from Pendeza? You'll find a huge array of brands to choose from, including the likes of Calvin Klein, ELLE, FALKE and Trasparenze. Plus, we have a cute and contemporary assortment of kids' tights to keep little legs warm and comfy.

Check out our full selection of tights and hosiery today. Plus, if you've ever wondered when socks were invented, you might like to jump feet first into another one of our illuminating articles on the subject!