5 of the Best Secret Santa Gift Ideas for Coworkers
Posted 20th December 2021 by SOCKSHOP
Before you know it, that time of year has come round again and we are all busy preparing for the Christmas season. Whether you love getting involved in the festivities or are secretly a bit of a Grinch, you can be forgiven for dreading the words 'Secret Santa'. Even though you may spend every day with your work colleagues, thinking of Secret Santa gift ideas for coworkers can be a lot more challenging than you'd expect.

It doesn't matter how close you are to some of the people you work with, you can pretty much guarantee that the name you pick out of the hat is always the person you know the least! But fear not, as here at SOCKSHOP we are seasoned professionals when it comes to Secret Santa. We've put together this ultimate guide with 5 of the best Secret Santa gift ideas for coworkers to help you with your Christmas shopping woes.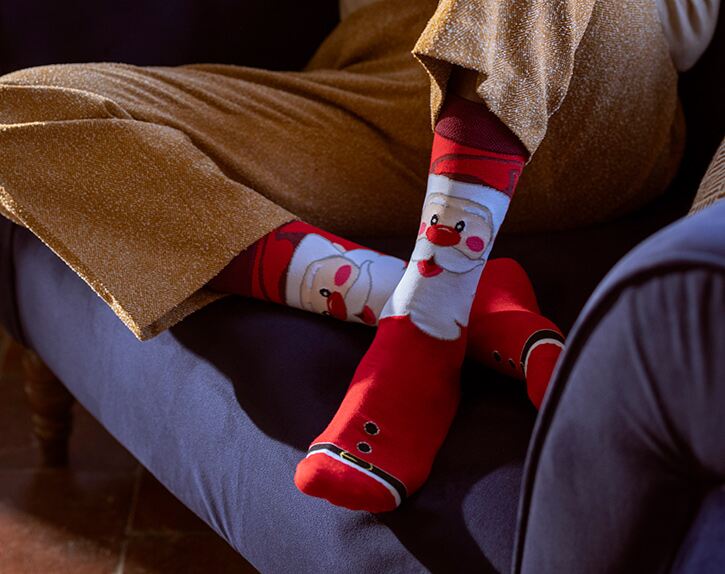 Festive socks
If there is one gift that we can all pretty much guarantee will feature in our stockings this year, it is a pair of socks. You can't go wrong with a pair of socks as a Christmas gift, no matter the age or gender of your Secret Santa recipient.
However, many people make the mistake of thinking that socks are a dull and boring Secret Santa gift idea - those people clearly haven't shopped at SOCKSHOP.
We have a range of festive sock choices that make for the perfect gift, including men's Christmas gift boxed socks and unisex gingerbread cookies socks.
A travel mug
If there is one thing that most work colleagues have in common then it is their need for a cup of coffee first thing in the morning. So if you are looking for Secret Santa gift ideas for coworkers then we recommend a travel mug. This is one of those items that you could really do with, but rarely remember to make the purchase for yourself.
There are many different travel mugs out there on the market for you to choose from, so whether you are buying for a busy executive at work or a new starter that you don't know that well then you will find the perfect one for them.
Family favourite board games
Christmas is one of the only times of the year where we all get some downtime to relax and have fun with our family. So, depending on the budget you have to work with, you could buy your Secret Santa gift recipient a fun board game that they can enjoy over the holidays. When it comes to buying the right board game we always think that the older and more nostalgic the better!
From a traditional game of Monopoly or Cluedo to Uno or Connect 4, a favourite game or board game makes for the perfect Secret Santa gift.
A good book
During the hustle and bustle of everyday life, many of us struggle to find the time to get stuck into a good book. But during the Christmas period, we all have a bit more time to spend on the hobbies that we enjoy the most.
Therefore, a good book always makes for a good Secret Santa gift idea for coworkers as there is a topic or genre out there for everyone. Whether there's a girl in the marketing department who loves fashion or that guy in accounts who loves ancient history, you can find a book that they are sure to enjoy.
We here at SOCKSHOP think that this guide provides the perfect Secret Santa gift ideas for coworkers, no matter who you are buying for or how well you know them. From a pair of
festive socks
to a good book that will keep them hooked over the holidays, the elusive perfect Secret Santa gift doesn't have to be as challenging as you might think.