Christmas Gift Guide for Dads from SOCKSHOP
Posted by SOCKSHOP
The most wonderful time of the year is nearly upon us again. Every year Christmas seems to come around faster and faster. Finding a great gift for your dad can be one of the hardest boxes to tick off your Christmas list. Luckily, we have put together our Christmas gift guide for dads to help!

We have some amazing gift ideas that are available all year round, and much more than simply socks too. Check out this gift guide for dad and where we are sure you'll find some great gift ideas and maybe the perfect pair of socks for him.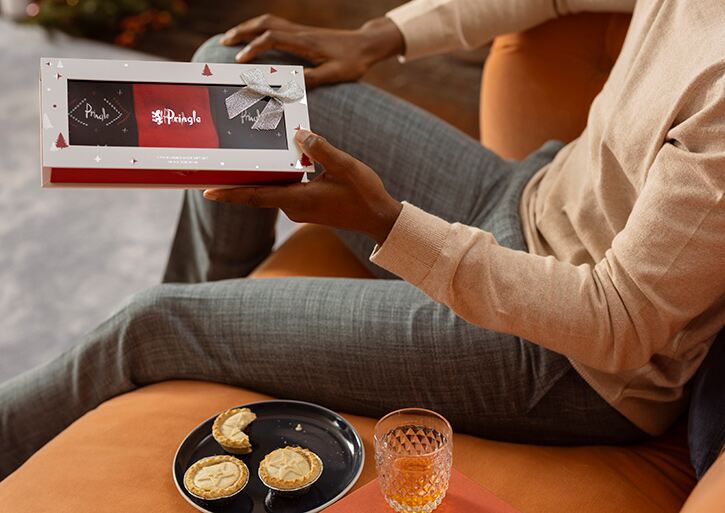 Get Him a Warming Winter Hat, Gloves of Scarf
The cold months come quickly and all of a sudden you need to wrap up with a scarf, gloves and hat before going outside, but where are they? These simple but essential accessories always go missing when you need them most. Why not give your dad some luxurious and fashionable warm winter gifts that are so good he will keep them safe?

This luxury winter cashmere scarf might make the ideal winter scarf for your dad. The full range gives you a choice between many patterns, and shades made from some of the best natural fibres you can find. You should be able to find cashmere gloves and a hat to match from our winter accessory range too.

Find a Fun and Festive Stocking Filler
Whatever the time of year you can find the perfect pair of socks here at SOCKSHOP and at Christmas, you can choose from our fabulously festive selection of socks. Christmas socks make a great stocking filler, and can even be a tradition for some families.

This pair of Christmas slipper socks are a great gift for Christmas morning. You might find your dad keeps them on all day to stay in the Christmas spirit. These fun socks would even make the Grinch enjoy Christmas! They will keep his feet warm all day, and the silicone grips on the sole will help him stay on his feet around the house.
Pick a Perfect Pair of Socks for Your Dad
No Christmas gift guide for dad would be complete without a shoutout to our amazing bamboo socks selection. If you want to give your dad some socks that are more than just a festive stocking filler then these comfortable and gentle bamboo socks make the perfect gift, with three pairs in the set in different patterns and colours.

You can find some amazing sock sets in our men's sock range, giving you lots of options to choose from to find the perfect pair for your dad. Whether he needs work socks, dress socks, or something fun and festive; SOCKSHOP has you covered.
We Have Great Gifts For Fans of Films and Music
If your dad is a big fan of films then we have a huge range of film-themed socks available, helping you find a great gift no matter what your dad's taste in films.

For music fans, we have some amazing and unique gift sets to choose from, like this box set of Beatles socks! This set includes three premium pairs of officially licensed Beatles themed, limited edition socks in a beautiful presentation box.
The 25 Days of Socks Christmas Advent Calendar
If your dad is in serious need of a sock makeover then this is the perfect gift for him this Christmas. There is only one catch - you need to give him this amazing gift on the first of December for maximum effect!

Inside our special sock advent calendar are 25 pairs of socks each in individual boxes. No two pairs are the same and the collection includes some of our favourite festive socks, as well as ribbed and plain socks that are a treat for your dad's feet all year round. The socks are all made from our high-quality bamboo blend, making them soft on the skin and breathable. We have a range of advent calendars to choose from to help you find the perfect gift for him this Christmas.
Shop the range of sock gifts at SOCKSHOP!
With this Christmas gift guide for dads, you should have plenty of ideas for gifts and stocking fillers for him this year. Take the headache out of this year's gift-giving and find a great gift for your dad at SOCKSHOP.