How are socks made?
Posted by SOCKSHOP
Socks are a wardrobe staple that no one can live without. But have you ever considered how socks are made? A report by Global Edge in 2019 noted that a total of 21,239 million pairs of socks are created every year - that's quite a figure! At SOCKSHOP, we are passionate about socks, and so we have written this article to highlight the step by step process of how our socks are made.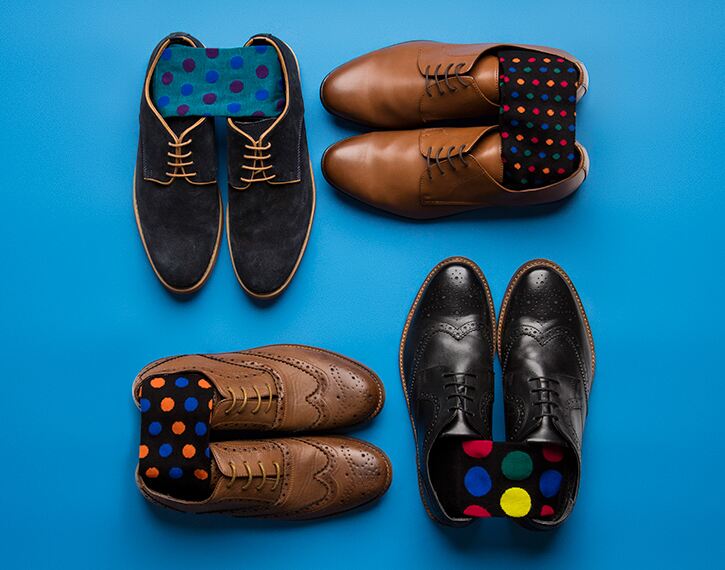 Socks serve many functions, including protecting our feet from blisters, keeping us warm, and serving as the perfect present or Christmas stocking addition. Throughout history, socks have been worn for the same reasons that they are worn today. Except in historical times, socks also protected feet from the cold and any infections that could have resulted in death.

What are the different types of socks?
As we all know, different styles of socks are appropriate for different functions or occasions. Dress socks are good to wear for both formal and work settings and now people have started to wear brighter colours and crazier patterns. Casual socks are suitable for most occasions and can be found in different shapes and sizes.

Athletic socks are usually made of a stretchy, breathable material that is comfortable and suitable for wearing at the gym. Our woollen socks are the perfect choice for a cold winter's day and can be worn with boots, or simply as a way of keeping your feet comfy when out and about.

Once made by hand, the process of making socks now requires complex, industrial manufacturing equipment and a lot of planning. The process involves knitting, seaming, shaping, pairing and numerous quality control checks to ensure the socks are of the finest quality.

The materials used in the creation of your socks differ depending on what your socks are made for and where your socks are made. Some of the materials socks are made with include: nylon, acrylic fibre, wool, cotton, polyester, spandex, Lycra, bamboo, and silk.
Everything begins with an idea
The first step in the long process of making socks is to design the perfect pair of socks to suit the customer's needs. Many things need to be considered in this process, including the choice of material and the style of the sock.

At SOCKSHOP, we also consider the unique function of each pair of socks. We offer a wide selection of socks, including our range of bamboo socks available for both men and women. Our bamboo socks are made from 95% bamboo, meaning that they benefit from the material's natural qualities. We offer a broad range of bamboo socks for men, women and children in various styles, colours and patterns, so find your perfect pair today.
The knitting process
Once we've chosen the perfect fabric or material to use and selected a design pattern, we begin by thoroughly washing all of the materials. All of the material is then spun into a very thin yarn. It is then coloured at one of our numerous factories. The yarn is then added to a much larger spool, and the threads and yarn are knitted together to form interlocking loops. This process helps to create a thicker, woven material that is then used to create our socks.
At SOCKSHOP we're passionate about providing our customers with the maximum comfort level. We use individual stitching machines that use different diameter needles to do this. Our machines are capable of working at extremely high speeds, and they can be programmed to create a variety of products with ease.
Sewing
Once our knitted material has been created, we inspect it to ensure that its quality is nothing less than perfect. As we pride ourselves on creating comfortable socks, we like to minimise the number of seams in the sock, which will help prevent the possibility of rubbing.
Once the material has been inspected, it is turned inside out for the final seaming process. Once this fabric is created, the end of the sock is sewn together by a seam. Each sock is usually shaped on a metal frame and a low level of heat is used to ensure that they keep their shape for longer. Then one of each kind of sock is paired together in a set.
The final step
The final step in the process is to ensure that our finished items are clean and ready for sale, so we make sure that they are thoroughly cleaned and dried. Our socks are then labelled and sent to our stores across the country, ready to be sold.
If you've been thinking about purchasing a new pair of socks, why not explore our new range of socks? There are many new styles and patterns to choose from, including our Heat Holder range, perfect for this cold weather.