Happy New Yurt: A stylish (but wet) start to the year!
Posted 10th January 2012 by Katrina
The SockShop team has kicked off the New Year with a bang (or, more appropriately, a splash) by heading off into the rainy wilderness for the Elle Autumn/Winter 2012 photoshoot.
Yes, while most folks are spending the first couple of weeks in January counting their pennies, starting the detox and dreaming of longer and warmer days, here at SockShop we are preparing for next winter - when we can share with you the fantastic range of socks and tights that will be available.
And what better a place to display our gorgeous new styles than in a yurt up a hill in the Lake District!

What's a yurt, I hear you cry? Well it is a wood-framed structure which originates from central Asia (and not, as one SockShop team member thought, Albania!). Ours looked like this…



…and made for a fantastic location.







Throw in our gorgeous model Sophie, and the

brilliant hair and make-up team Lauren and Nat, and we had the makings of an amazing shoot.





| | |
| --- | --- |
| | It was cold, it was windy, it had only just stopped raining, but Sophie was a real pro and did a great job modelling some of the gorgeous new styles that will be out this year. |






The outside locations were everything we hoped they would be, rugged, dramatic, beautiful; but they were also some things we hoped they wouldn't be, namely wet and slippery!

However, the whole team pulled together to make sure we nailed the shots. Our very own photographer Rick even gave Sophie a lift to one particularly pretty spot… on his back!



| | |
| --- | --- |
| | Luckily our beautiful (and warm) yurt also provided us with plenty of opportunities to get some fantastic photos. |

The items and the actual pictures from the day will be up on the SockShop website later in the year, but here's a sneak peek of what you can expect…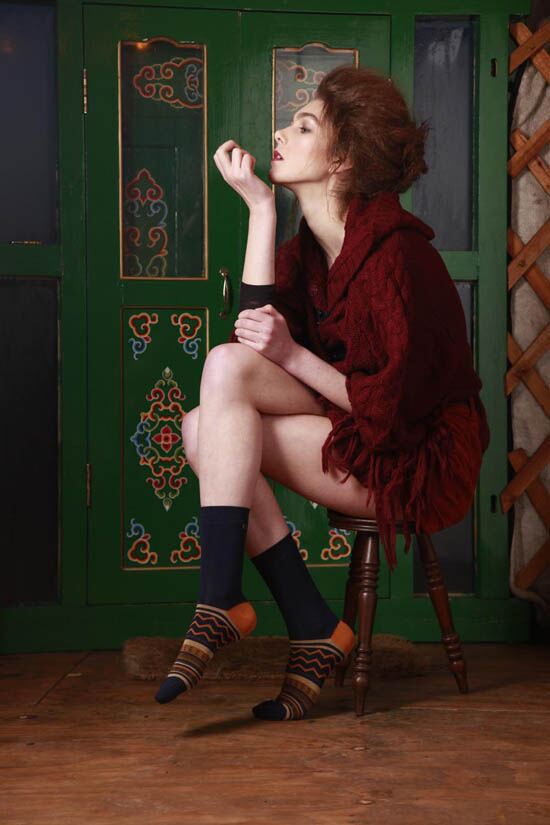 If you can't wait to get your hands on some stylish tights and socks that keep you all warm and snug, make sure you check out the winter socks and tights collections already available on the SockShop site.


Katrina x