How to wash period pants
Posted by SOCKSHOP
Period pants provide leak-free protection that's kinder to you and the planet! Our functional but fabulous period pants from best-selling Australian brand, Love Luna, feature a four-layer formula of cotton-rich comfort, absorbent padding, waterproofing, and microfibre or cotton outer for total peace of mind. If you've ever wanted to know how to wash period pants, SOCKSHOP has some handy hints and tips to get the most out of your period underwear.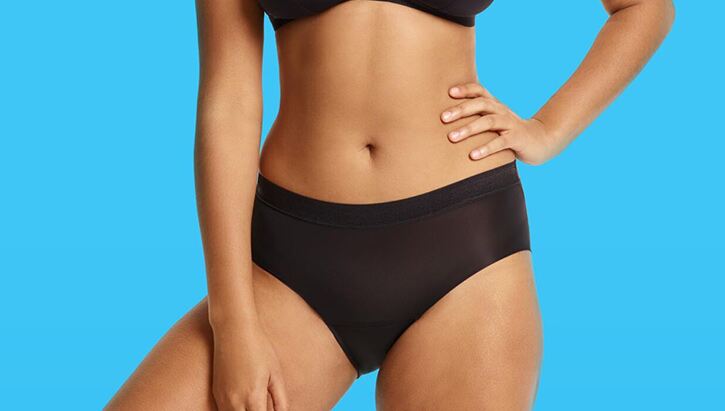 What are period pants?
Period pants offer an eco-friendly alternative to disposable protection products. Period underwear looks uncannily like regular underwear – with a wide range of options available in midi briefs, full briefs, and even workout friendly styles – except with several extra layers of absorbency for a convenient and sustainable alternative to single use sanitary products. All designed to suit your preference and desired coverage.

All of the fabulous Love Luna period underwear that we stock here at SOCKSHOP feature an inbuilt liner with four different layers of protection. Soft cotton sits against your delicate bits, followed by breathable and absorbent padding, a leak-stopping waterproof barrier, and a cotton or microfibre outer – depending on your choice of brief. You can use them on their own or allied with a tampon or menstrual cup to suit your flow.
Who are Love Luna?
Love Luna are experts in leakage products that are good for the planet. These Australian trailblazers have been working on reducing the pointless and destructive use of plastics since 2017. Their goal is to provide sustainable, affordable and comfortable leakage products that offer an alternative to sanitary disposables. For this purpose, they've created a comprehensive range of menstrual and light bladder leakage products.

Love Luna is committed to changing habits in a personal care industry that doesn't do enough to reduce plastic pollution or the use of potentially harmful chemicals. They have carefully developed their current range of eco essentials and continue to bring to market personal care products that promise maximum effectiveness, minimum cost and the most benefit for our planet. After all, protection doesn't have to cost the earth!
How to wash period pants correctly
So you want to know how to wash period pants properly and safely? We've got you! Follow these simple but effective instructions to get the best out of your period underwear.
Rinse out your briefs and pad. Rinse your period underwear and reusable pads with cold water as soon as you can once you've removed them. Rinse them until the water starts to run clear.
Machine wash on a 30-degree wash. Pop your period pants into a washbag (this will help them last longer) with like colours and wash in your machine on a 30-degree wash.
Air dry your briefs, ideally in the sun. Then hang your undies on the line to dry. Did you know sunlight has natural anti-microbial properties that are good for your period underwear?
All of our Love Luna period underwear is washable and reusable. If you follow all the care instructions on the label, during and after you use them, your period underwear should last between 9-12 months. Just remember to rinse after use, wash in cold water only, and line dry. Avoid bleaches, fabric softener and the dryer.
What not to do when washing period underwear
There are certain things you should avoid when washing your period underwear if you want to prolong their life. Many of your usual washing and drying habits have the potential to ruin the technology in your period underwear, so are best avoided at all costs. Here's what NOT to do when washing period pants:
Soaking

Adding softener or bleach

Tumble drying

Ironing

Dry cleaning
Where can I buy period underwear?
If the freedom and sustainability of period underwear appeals to you, you might be keen to give them a try. Well, you don't need to scour the internet for specialist stores. Because you can buy fabulous period pants from Love Luna right here at SOCKSHOP. These sleek, affordable and highly protective undergarments give you an alternative choice to disposal sanitary products; one that's kinder to you and to the planet. Win-win!
We've got Midi Briefs and Bikini Briefs that deliver 10-15ml (2-3 regular tampons) of absorbency for lighter flow days. If you prefer a higher waist and fuller coverage, these Full Briefs are sure to fit the brief, providing 15-20ml (3-4 regular tampons) of absorbency for heavy flows. Plus, our Luna Lady Leaks Full Briefs and Luna Lady Leaks Midi Briefs provide five layers of leak-free protection (up to 40ml) for light bladder leakage.
Every person with a period deserves complete peace of mind and one of the best ways to do this is to invest in good quality period underwear. Check out our selection of period and leakproof underwear today. For more information about any of our SOCKSHOP products or for help with orders, please contact us on 08000 195 667.