WHAT IS PERIOD UNDERWEAR AND HOW DOES IT WORK?
Posted by SOCKSHOP
SOCKSHOP's extensive selection of period underwear offers a simple, convenient and reusable solution that prevents any unexpected leaks. As a result, your period proof underwear will leave you feeling more comfortable and confident than ever. Here, SOCKSHOP answers all your most frequently asked questions about period underwear.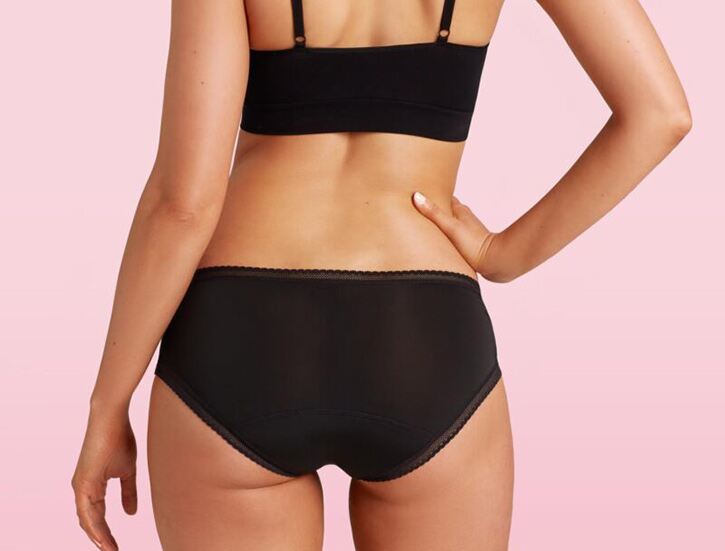 All your period pants FAQs answered
Okay, let's answer some of your most frequently answered questions about period pants. So you can make an informed choice about whether you'd like to incorporate period underwear into your routine.
What is period underwear?
Period underwear offers the ideal replacement for disposable protection products. Period proof underwear looks remarkably like regular underwear – with a wide range of options available in midi briefs, full briefs, and even workout friendly styles – except with several extra layers of absorbency for a convenient and sustainable alternative to single use sanitary products. All designed to suit your preference and desired coverage.
When was period underwear invented?
Makeshift rubber bloomers were worn by women in the late 19th and early 20th centuries. But it wasn't until 1999 that period underwear went commercial, with Vancouver-based Aisle (or Lunapads as they were known then) the first company to sell period pants. One of Aisle's founders, Madeleine Shaw, devised washable cloth pads for her own personal use in 1993 after suffering from regular bladder infections as a result of using tampons.
Why use period underwear?
Period underwear is easy to use and provides a reusable option that allows you to face your period with confidence. If using disposable personal care products just doesn't sit right with you from an environmental perspective, then period underwear offers an ethical and sustainable alternative. They also provide an extra layer of security for ladies who experience particularly heavy periods or have weakened pelvic floors.
How does period underwear work?
Period underwear typically consists of a highly absorbent material, a moisture barrier for extra comfort, and a further layer to prevent any leaks. But the Love Luna period underwear that we stock here at SOCKSHOP actually consists of four to five layers of protection, providing anywhere between 10-15ml (the equivalent of 2-3 regular tampons) and 40ml (8 teaspoons) of absorbency respectively.
What is period underwear made of?
Most of our Love Luna period underwear is made from skin-kind and breathable cotton. All except our workout briefs, which are made from nylon for extra freedom of movement. Whether for everyday use or a more active lifestyle, all our period underwear features a soft cotton layer closest to your skin, a layer of absorbent padding, a waterproof layer, and a microfibre or cotton outer – depending on your choice of brief.
Is period underwear safe?
Yes. The period underwear we sell at SOCKSHOP is made from skin-safe, non-toxic fibres. That includes waterproof layers too. So you can wear your period pants with total confidence.
Do you need to wear a pad with period underwear?
No. Love Luna period underwear is designed to replace disposable pads and tampons. Although, depending on your preference, you might choose to reserve them for lighter days. You could also opt to use them with other sanitary products, such as a menstrual cup or tampon, as extra protection on heavier flow days. The great thing about period pants is that they give you the freedom to choose what works best for you.
Is period underwear reusable?
Yes! All of our period underwear is washable and reusable. Simply rinse out your briefs and pad, then wash them with like colours on a 30-degree wash. Where possible, air dry them to take advantage of the sun's anti-microbial properties for the best results.
Can period underwear be used for swimming?
No. Regular period underwear is designed to be worn on land! But you can buy specialised period swimwear if you don't want anything to come between you and your daily swim.
Where can I buy period underwear?
If you like the sound of period underwear, you might be wondering where you can buy it from. Well, you don't need to scour the internet for specialist stores. Because you can buy fabulous period pants from Love Luna right here at SOCKSHOP. These sleek, affordable and highly protective undergarments give you an alternative choice to disposal sanitary products; one that's kinder to you and to Mother Earth!

Every person with a period deserves complete peace of mind and one of the best ways to do this is to invest in good quality period underwear. Shop our selection of period proof underwear today. For more information about any of our SOCKSHOP products or for help with orders, please contact us on 08000 195 667.