5 ways to wear your wellies
Posted by Danielle
Grab your sunnies... and better bring that a Pac a Mac too; it's festival season in the UK! From Glastonbury to V Fest, the biggest music acts in the world are taking to the stage in parks and fields up and down the country and, while the sun might answer your prayers and beam down through those inevitable British summer showers, there's more than a fair chance you'll need your trusty wellington boots to trudge through the muddy patches. Give your practical footwear a fashionable flair with these ways to wear your wellies.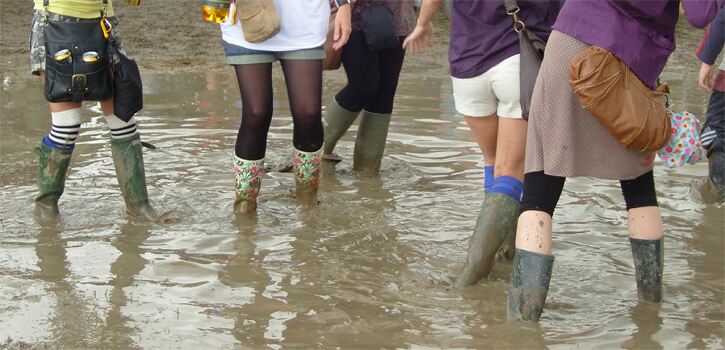 Image from
1. With over the knee socks and shorts
A festival favourite in recent years, over the knee socks give you the chance to flaunt a funky pattern out of the top of your wellies, break up prints with a plainer style or just simply cover up legs from the chill. Team them with shorts, hot pants or a play suit for a fool-proof festival style.

2. With knee socks and... Pretty much anything!
Knee socks are super versatile when it comes to welly style. As they finish just below the knee, they're around the same height as most wellies and great for keeping feet and legs cosy underneath. Pick a general welly sock and team with dresses, shorts, or even pop them on over your jeans or tights for extra comfort.

3. With tights and printed dresses
Tights are the perfect choice for under your wellies if you can't quite bear to bare, and are great for layering on cooler days. Team your tights with a floaty, printed dress for complete festival chic.
Tip: Be sure to wear a pair of cushioned boot socks (or similar) on top of your tights too as wellies can be quite uncomfy for unprotected feet.

4. With jeans or leggings
If you fancy covering up, wellies work wonders with a pair of skinny jeans or leggings. Wear with a slogan tee and leather jacket, a check shirt or even a pretty vest top. Be sure to keep feet comfy in a pair of cushioned boot socks or you could even layer up with a pair of knee highs or over the knee socks.

5. With super funky socks in a see-through style
Yes, see-through wellies are actually a thing and they're AWESOME for showing off tights while keeping your feet and legs protected from the mud.

Which festival are you off to this summer? How will you be wearing your wellies? Let us know in the comments below.