Find your Fairtrade Feet: Competition WINNER announced!
Posted by Danielle

Over 6000 entries came in from 142 schools across England, Wales, Scotland, Northern Ireland, and even Switzerland, but finally we have a winner!

Back in 2013, to celebrate the 20th anniversary of the first exclusive Fairtrade-themed sock.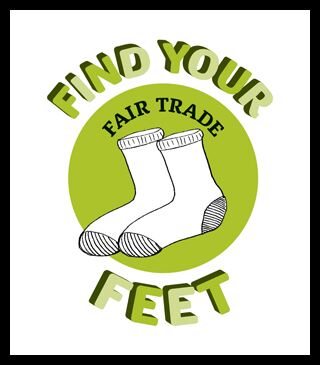 Entrants could use crayons, felt tips, paints etc and had just three colours, our famous 'design a sock' template and their wonderful imaginations to come up with a creative design that captured the heart of Fairtrade... And boy were there some fabulous ideas!

Pupils from St Francis De Sales RC Primary School in Tottenham, London, show how many children took part in the design competition with CAFOD and SOCKSHOP.

The judging panel - including our very own senior designer Craig and actress Jo Joyner - certainly had a task on their hands. Carefully making their way through the thousands of creations they managed to whittle it down to just ten final designs from which to choose a winner!

The beginning of Fairtrade Fortnight (24th Feb-9th March) last week saw the long-awaited announcement of the ten finalists! Check out their fantastic designs below!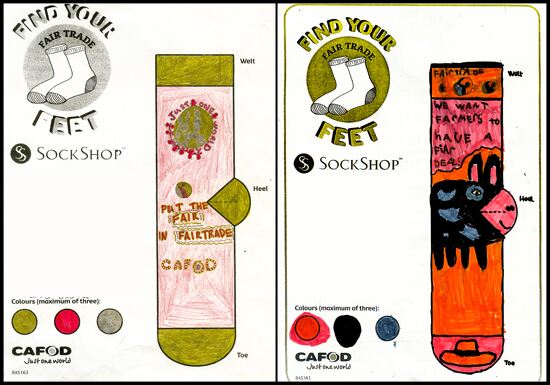 Designs from Charlotte, 11 in East Hendred (left) and Christina, 7 in Guildford (right)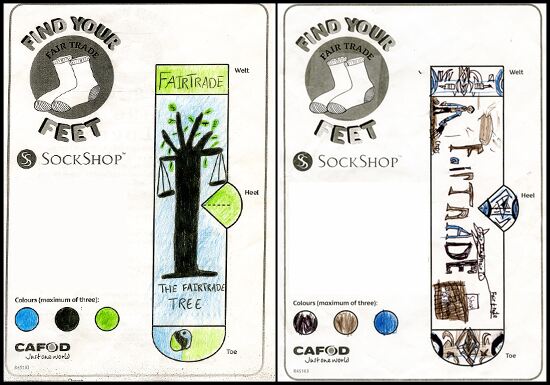 Designs from Ellie, 10 in Putney (left) and Gabriel, 8 in Huddersfield (right)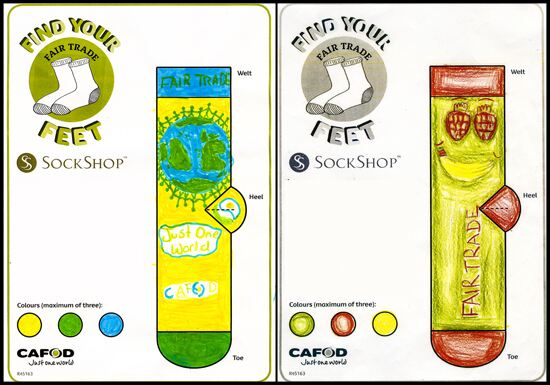 Designs from Julia, 10 in Gateshead (left) and Elliot, 10 in Wythenshawe (right)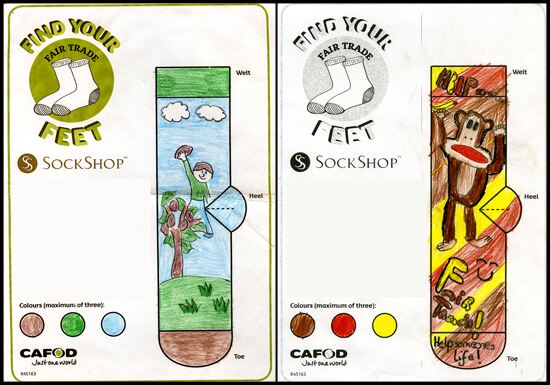 Designs from Milly, 10 in Nottigham (left) and Olly, 10 in Bournemouth (right)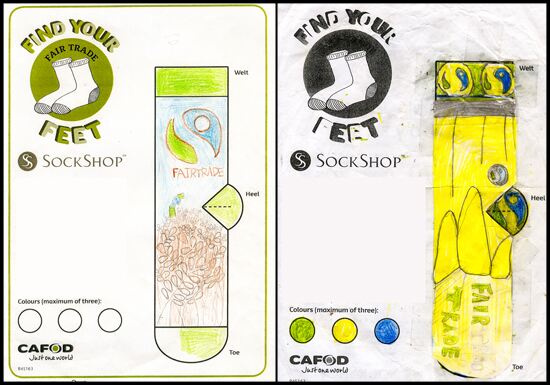 Designs from Sarah, 10 in Chesterfield (left) and Sofia, 10 in Tunbridge Wells (right)
There were so many fantastic designs, we wish we could make them all! The finalists did all receive a lovely SOCKSHOP gift voucher but, unfortunately, there could only be one winner. Over to Jo Joyner and the judging panel to reveal the lucky winner...

Congratulations Elliot! Here he is with his winning design which will now be made into a limited edition cotton sock to be sold on the SOCKSHOP site, with 10% of every sale helping to fund CAFOD's work with some of the poorest communities in the world.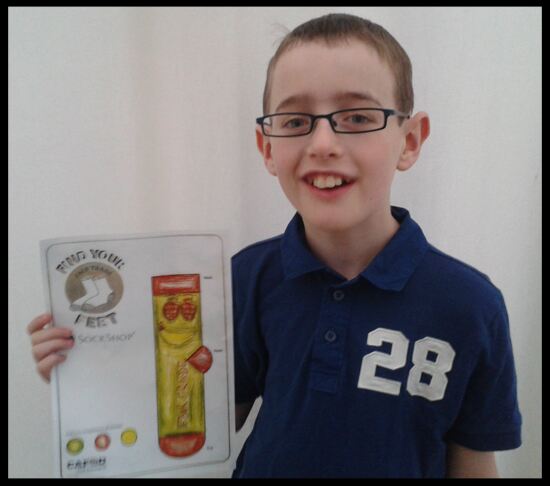 Of his design, Elliot said: "We learned about Fairtrade in school and I really enjoyed it because it's interesting to see how you can help other people. When I was designing my sock, I remembered that Fairtrade is about paying people a fair wage for things that they produce. It's about making people happy. So that's why I designed a sock with a smiley face made out of fruit.
I can't believe that I won the competition. It really is amazing and I'm so excited that my design has been made into a sock and is going to be sold by SockShop. There are no words to describe the feeling!"

Judge, actress Jo Joyner, said: "Elliot's design impressed the judges because it said so much in a very simple way. The smiling face out of the fruit demonstrating the happiness that fair trade brings. Crucially, in terms of a design, the colours, the fact that the design is on the ankle and the sense of humour displayed made Elliot's a really wearable sock. Congratulations!"

A huge congratulations to Elliot whose sock is NOW AVAILABLE to buy!