Planning your spring wardrobe from top to toe
Posted 1st March 2017 by SockShop
As the seasons change it's time for a spring clean of your wardrobe. Pack away your thick winter jumpers and warm jackets and invest in a few key items that will see you through to October.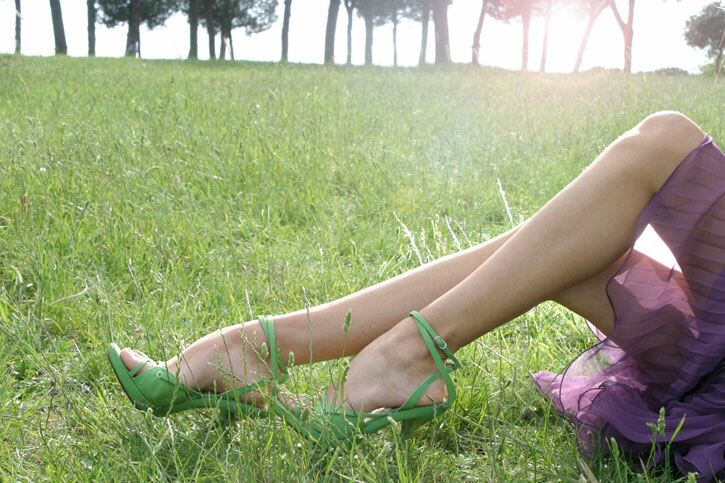 Socks

Bright colours are back this spring. Think bold, primary colours in solid blocks.

Socks are a great place to introduce a bit of colour as they won't overwhelm your outfit. And thanks to another key trend – mixing varying styles and materials – you can pair your brightly-coloured footwear with pretty much anything.

Shoes

For women, platforms are back in a variety of forms, along with stiletto heels for smarter outfits and sporty sandals for everyday wear. Straps that wrap your ankle will also be popular this season.

For men, brightly coloured 80s trainers are still a good day-to-day shoe. They can be paired with jeans or shorts for a perfect retro summer look. Smart sandals are also big along with leather brogues with chunky plastic soles.

Men's trousers and shorts

There are two ways to go with what's on your legs this year. One is classically tailored and smart in pale pastels like pink or neutral stone colours.

The other extreme is the technical style, with big pockets and a 1990s vibe. Stripes will also be a key look. If you're not brave enough for striped trousers, then go for brightly coloured striped shorts.

As for sizing, trousers will be shorter this season, finishing above the ankle, with a wider cut than the skinny jeans of past seasons.

Skirts and dresses

For women, the sheer skirt and dress are a top choice for designers.

Pastel is the colour palette for these light and airy items which let you flash some skin but in a classy way. Stripes are also still big, with classic pin stripes usually found on banker's suits being brought up to date on skirts and dresses.

Tops

The big trend is off the shoulder tops – but only a single shoulder with tops having cut-out sections.

For sleeves, think long slits that give a 70s vibe. These offer coverage during hot days but enough room so you won't overheat. Florals are still big, so go big and bright with your prints – and for those brave enough, combine floral print tops with the same print on your skirt or trousers.

Taking a cue from the 90s, camouflage will be big in menswear come April. Combine with the trend for neutral stone colours for a more understated look. Again, with a 90s feel, stitched, embellished and over-designed tops will be big. Think bold prints, hand-stitched badges on t-shirts and the return of the logo.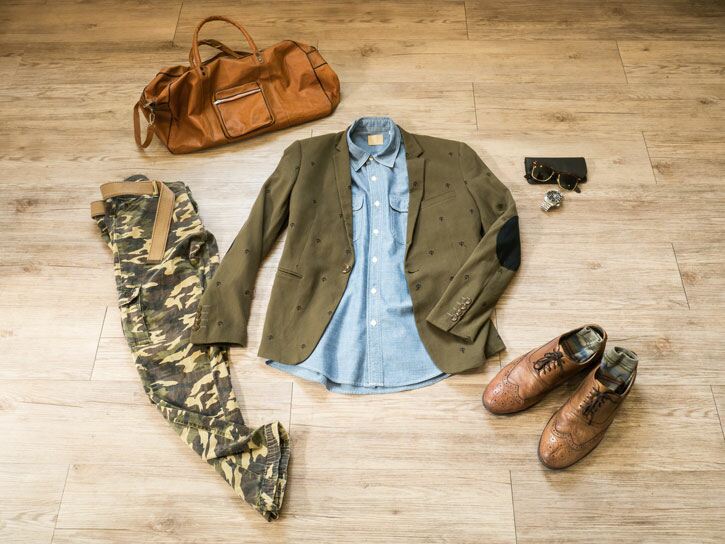 Jackets

For an everyday jacket, sportswear is back in with retro feel anoraks and tracksuit tops with a bit of glam. And for the cooler weather, the classic raincoat's back – a perfect all-rounder and probably the best investment of the season.

To combat the unpredictable British weather, it's all about lightweight waterproof jackets for men. Simply cut, classically styled parkas will be the jacket of choice. Add some colour with an on-trend burnt orange or mustard one.

Hats and glasses

Sunglasses will be getting lighter this season with tinted glasses back in vogue. Get a rose-tinted view of the world – or even an orange-tinted view – as colours come back in eyewear. And you can go big with circular, heart-shaped or oversized aviators. For men, classic ray-ban styles and rounded frames should be on your shopping list.

For hats, baseball caps are a good option for both men and women, while berets will be the go to choice for nights out. For the beach, try over-sized straw hats.