SOCKSHOP on the Underground
Posted by Katrina
A couple of months ago I featured a few behind the scenes shots of a photo shoot we were doing in the Lowry Hotel in Manchester.
At the time, I couldn't really say what the photos were going to be used for, but I can now reveal that they were for our advertising campaign on the London Underground!

We're often told by customers about how they loved to stop off at one of the SOCKSHOP train station kiosks to pick up their socks and tights, so we thought: "Lets remind those commuters that they can still get a great range of SOCKSHOP items, and now they're online."

So below is a selection of the final adverts which are currently being displayed at Oxford Circus Tube Station.
Shop SockShop of London rib cotton socks with contrast heel & toe >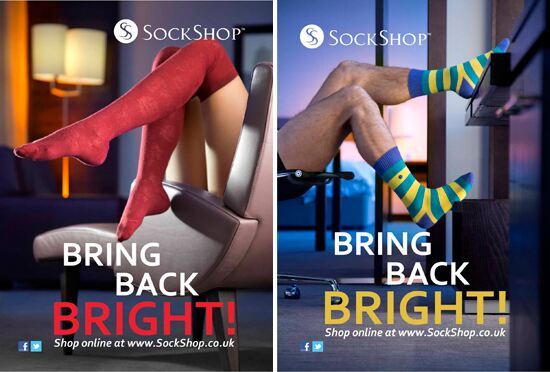 Shop Pantherella Audrey merino wool damask over the knee socks >
Sockshop striped colour burst socks >
Shop Pringle Louise Argyle cotton socks >
And here it is on the actual Underground! We've very excited about our little (or should that be big?!) ads. Hope you like 'em :)
Shop SOCKSHOP bamboo polka dot knee high socks >
Katrina x